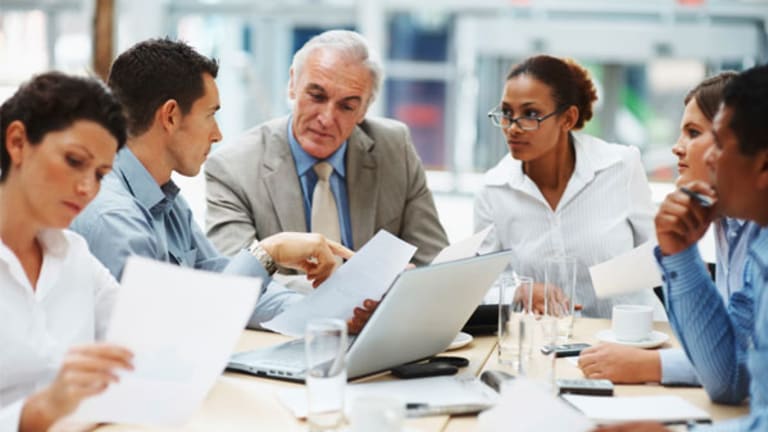 An Economic Policy Blueprint for a President Romney
Mitt Romney should fire Fed Chief Ben Bernanke and launch a Main Street recovery plan.
NEW YORK (TheStreet) -- Governor Mitt Romney has already told the world that, if elected president, he will not reappoint Federal Reserve Chairman Ben Bernanke when his current tenure comes to an end in January 2014. In my judgment, a President Romney should ask Bernanke to resign as his first act right after Inauguration Day.
Why wait and waste a year in the implementation of a new economic plan for our country?
After we hear Mitt Romney's acceptance speech tonight in Tampa, the focus will shift to Bernanke's speech in Jackson Hole, Wyo.
In an Aug. 22 letter to Congressman Darrell Issa, Bernanke explained that the Fed had room to ease monetary policy further to strengthen the economic recovery. He also defended Fed policy actions to date, explaining that two bond-buying "quantitative easing" programs known as QE1 and QE2 "helped promote a stronger recovery than otherwise would have occurred, and to forestall the possibility of a slide into deflation."
Many on Wall Street expect Bernanke to commit to another round of quantitative easing, QE3, but will he in his speech in Jackson Hole?
In my opinion, the Beige Book released Wednesday for the Sept. 12 Federal Open Market Committee meeting does not justify additional expansion of the Fed's balance sheet.
The highlights of the Beige Book include these facts: The U.S. economy is expanding gradually, manufacturing has softened on overseas economic weakness, credit conditions are improving, the housing market is experiencing a rise in sales and construction, and employment is holding steady for the most part. If you are a member of the FOMC, this backdrop means "don't panic."
I know that in his acceptance speech tonight Mitt Romney cannot get into Fed policy specifics, but he could say, "When I am elected the 45th president of the United States, my first change in economic policy will be to ask Fed Chief Ben Bernanke to resign. There are several qualified candidates who are better suited for the job."
The Romney economic recovery plan should target the Main Street economy by helping the housing market with a program that allows all borrowers who are current on their mortgage payments to refinance at low rates, even if they are underwater. Savers on Main Street, who have been hurt by nearly four years of extremely low rates on money market funds and bank CD's, should be given access to a interest rate close to the prime rate in the banking system. Putting money in the pockets of retirees and homeowners is a key to economic growth.
Four years ago, I was critical of the Bush administration as the "Great Credit Crunch" began. Back on Nov. 5, 2008, right after President Obama was elected, I posted some notes that I summarize today. Some of the failed policies of the Bush Administration include:
A $165 billion Economic Stimulus:
Former Secretary of the Treasury Henry Paulson pounded the table saying that the stimulus plan would create 500,000 new jobs by the end of 2008. Instead the economy lost jobs during every subsequent month and the unemployment rate rose to 6.1% from 4.7%.
A $200 billion Backstop for Fannie and Freddie:
Government sponsored enterprises were instructed to use this money to buy toxic mortgage-backed securities. The conservatorship of the GSEs has cost taxpayers $187.5 billion to date, and their portfolios are supposed to begin to be unwound in 2013.
TARP, the $700 billion Rescue of the Capital Markets:
The U.S. Treasury made a mockery of the Troubled Asset Relief Program before it began by providing funding to every bank holding out a tin cup. Today there are more than 100 community banks that have reneged on at least one quarterly TARP dividend payment. The total sum still outstanding is about $200 billion.
I also made specific recommendations for the Obama administration:
Step One:
Send Fed Chief Ben Bernanke on his helicopter back to Princeton and change the leadership of our central bank to a competent individual worthy of your trust. Appoint your advisor, former Fed Chairman Paul Volcker, as the interim leader.
Step Two:
Bring in a Treasury secretary who can reform our economic policies and address the failures of Bush administration. Finding a qualified person who is against these programs may be difficult, but we must change direction to avoid the imposition of trillions of dollars in additional losses to the taxpayer. Unfortunately, President Obama selected Tim Geithner, who was at the center of the crisis headlined by the failure of Lehman Brothers.
Step Three:
Appoint a chairman of the Federal Deposit Insurance Corp. who understands that "The Great Credit Crunch" is not temporary and that we need to restructure the banking system. The original intent of TARP was to buy up toxic mortgage-backed securities. I was against this plan and was relieved when the Treasury Department announced that TARP would take equity positions in major, healthy U.S. banking institutions. This could have been the cornerstone for a move to a smaller -- and stronger -- consolidated banking system.
Step Four:
Institute a "mortgage mulligan" to adjust the terms of mortgages that are defaulting, causing foreclosures and clogging the arteries of credit markets worldwide. Fund a program to encourage first-time homebuyers to buy using tax-free early withdrawals from retirement accounts. The "mortgage mulligan" should be open to all citizens with a mortgage. Giving taxpayers more money in their pockets every month will provide a natural fiscal stimulus -- and we won't have to rev up the Fed helicopter.
President Obama did not follow my guidelines, and it seems to me that we wasted four years on the clock and trillions of dollars out of our pockets. And we have a Federal Reserve with a bloated balance sheet. Most importantly, Main Street U.S.A., where the economic problems began, remains under stress today.
If we have a 45th president next year, I hope Mitt Romney has a plan to reverse these mistakes and an economic plan to end the "Great Credit Crunch."
This article is commentary by an independent contributor, separate from TheStreet's regular news coverage.
Richard Suttmeier has an engineering degree from Georgia Tech and a master of science from Brooklyn Poly. He began his career in the financial services industry in 1972 trading U.S. Treasury securities in the primary dealer community. In 1981 he formed the Government Bond Department at LF Rothschild and helped establish that firm as a primary dealer in 1986. Richard began writing market research in 1984 and held positions as market strategist at firms such as Smith Barney, William R Hough, Joseph Stevens, and Rightside Advisors. He joined
in 2008 producing newsletters covering the U.S. capital markets, and a universe of more than 7,000 stocks. Richard employs
a "buy and trade" investment strategy
and can be reached at
.