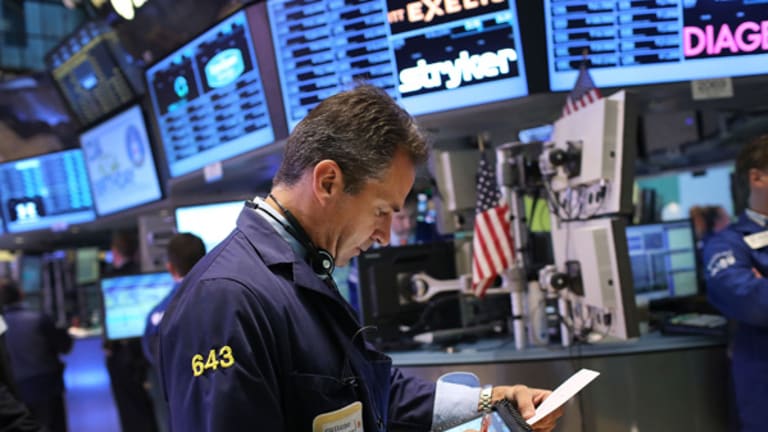 An Economic Nothingburger
If government austerity cuts the economy by 2.5%, and the private economy grows by 2.5%, a stock market correction seems in order.
NEW YORK (TheStreet) -- Let me start with a full disclosure: My investment account is sitting on a lot of cash.
That's because markets do not yet anticipate what policymakers on both sides of the Atlantic have baked in -- a recession starting on April 1.
The reason for the recession can be summed up in one word. Austerity.
Austerity with growth is a good thing. You want to hold the brakes on a boom so that you're ready for a bust.
But we are not experiencing a boom, despite what the markets are saying. Growth is very slow, even slower than in the last growth cycle during the 2000s. Unemployment remains stubbornly high.
Yet, we're about to take a 2.5% annualized hit to GDP, thanks to the political popularity of austerity.
Part of a Goldman Sachs Global report on the economy,
, tells the story. Tax hikes cut growth by 1% starting in January, other spending cuts are cutting it by another 0.5%, then the sequester provides another 1% hit, its impact set to maximum over the next two quarters.
It's the reverse of the stimulus effect seen in 2009-2010. Government is a big part of the economy, and changes to government fiscal policy do impact upon the economy. What do you think happens if you're taking 2.5% (at an annual rate) from an economy the Conference Board predicted in January
Isn't 2.5% more than 1.6%? It is where I come from.
At the same time, Europe's economy continues to contract under austerity. The UK economy, for instance, contracted by 0.3% in the fourth quarter of last year, according to statistics
The European Commission is forecasting anemic growth and rising unemployment
across the continent for this year
, with countries undergoing the most austerity doing worst.
Against this gloom we have to place the decade's biggest story -- growing energy abundance. Fracking works, if your aim is simply to extract oil and gas from played-out fields.
The Energy Information Administration expects U.S. oil production to average 7.3 million barrels/day this year,
up from 6.5 million barrels/day last year
, which Mark Green of
The Energy Collective
calculates could mean we'll be
exporting more crude than we import by the end of 2013.
This sea change, and the wealth effects from it, are just one part of the story. Conservation and lower costs for renewable energy mean we may finally have a thumb on the energy price scale, allowing more growth in the private economy, which brings down deficits naturally. Times should be getting better, and in the long run they are.
But in the short run the two may just balance out. Cut government by 2.5%, and maybe the Conference Board is underestimating the impact of energy and the private economy may grow by 2.5%. But the optimistic result is a Nothingburger. It all balances out.
That's not a platform for higher stock prices. That tells me a stock market correction is in the offing, once traders realize what's going on.
As I say, it's natural for government to apply a brake to growth, in the form of austerity, when times are good. But too much of a brake just breaks things, and that's what has been placed on your economic calenda, starting next week.
Thanks, Washington. Thanks, Brussels. Thanks, Austerity Fairy. Thanks for nothing.
At the time of publication, the author has 17% of his investments in cash
This article is commentary by an independent contributor, separate from TheStreet's regular news coverage.