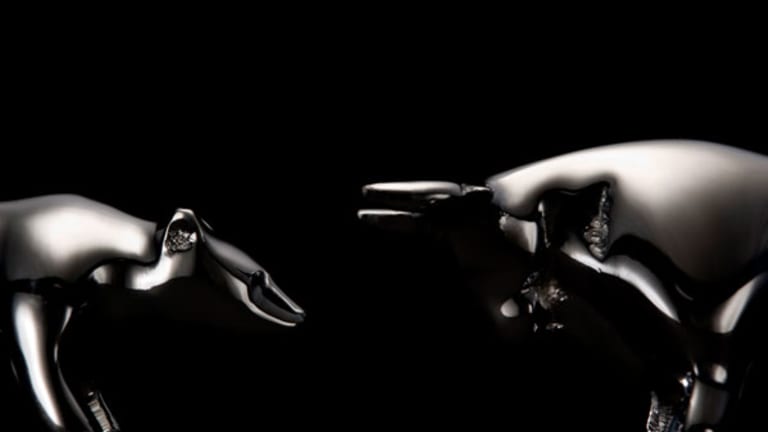 An Awful GDP Number Could Not Keep the Stock Market From Going Higher.
The stock market rises as the U.S.economy continues to slow. What's happening here?
NEW YORK (TheStreet) -- The downside follow-through in the stock indexes I expected for Wednesday did not materialize. After the drubbing on Tuesday, this resilient stock market closed higher.
The DJIA closed higher by 49.38 points at 16867.51 while the S&P 500 was up 9.55 at 1959.53. The Nasdaq climbed 29.40 at 4379.75 and the Russell 2000 was up 9.44 to close at 1182.68.
This higher close came on the heels of a revised U.S. Growth Domestic Product  number of -2.9%. That was an awful, nasty number. There is absolutely no way that we can get a 3% to 4% U.S. GDP economy, something the Federal Reserve has been counting on.
If the government used a real inflation number it is probably a lot worse.
The fact of the matter is, inflation slows real consumption growth and consumption is 71% of the U.S. GDP. If the government and the Federal Reserve wants you to believe there is no inflation, they are lying to us.
We not only have inflation, it is accelerating. The Fed will not be able to do anything about inflation when it picks up steam.
This has become very clear. The Fed is between a rock and a hard place. If it withdraws easing by tapering the money printing, it will blow up the asset bubbles. If it keeps printing money, inflation will continue to gather strength. As weak data over the rest of the year come in, the Fed will realize it has tapered into economic weakness. This will cause it to launch new money printing, or quantitative easing, QE4, in 2015.
As you can see, there is no way out for the Fed.
So today's stock market move to the upside has me very skeptical. The volume on Wednesday was not very convincing. The technology sector was the leader with stocks such as Facebook (FB) - Get Free Report, Netflix (NFLX) - Get Free Report, Intel (INTC) - Get Free Report, and Twitter (TWTR) - Get Free Report leading the way. At this point it appears to be a relief rally.

WATCH: More market update videos on TheStreet TV
As long as the markets continue to believe the Fed will backstop any major downside move, the markets can continue to move higher. Keep in mind, this is an asset bubble that will ultimately blow up. When that will occur is anyone's guess.
I will continue to be cautious and opportunistic in my trading. As I mentioned Tuesday, Apple  (AAPL) - Get Free Report was a long position that I was focusing on if the stock gave me an extremely oversold algorithm number. That did occur this morning and I established a long position at $89.84 a share. I also started a short position in U.S. Steel Corp (X) - Get Free Report, which has an extremely overbought algorithm number.
Risk management with a repeatable process is the key.
At the time of publication the author was long AAPL and short X.
This article represents the opinion of a contributor and not necessarily that of TheStreet or its editorial staff.