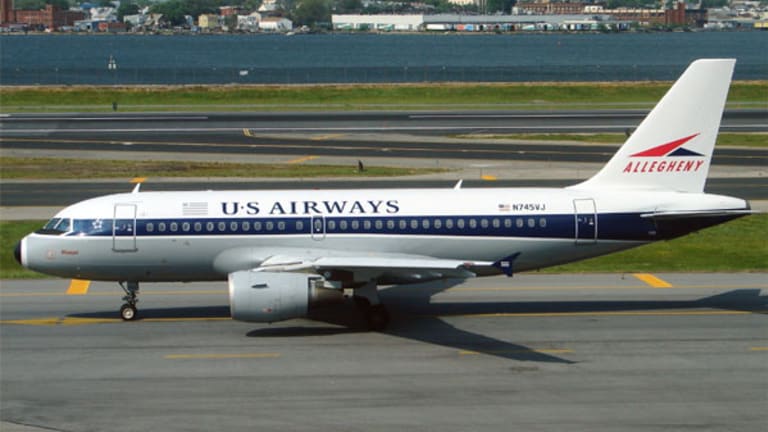 AMR-US Airways Merger Should Benefit Discount Airlines
Mergers and acquisitions benefit the companies that are well managed, and two of the best passenger air carriers are Southwest and Spirit Airlines.
NEW YORK (TheStreet) -- In the short term, the shareholders of US Airways Group (LCC) have benefited greatly from its merger with American Airlines (AMR) .
But in the long term, it will be the shareholders of
Southwest Airlines
(LUV)
,
Spirit Airlines
(SAVE)
, and
JetBlue
(JBLU)
who should gain the most. Mergers and acquisitions in any industry always benefit the companies that are well managed, and two of the best passenger air carriers are Southwest and Spirit Airlines. JetBlue should do well from acquiring the slots that US Airways must divest that comport well with its network of routes.
A major reason for the more than 70% rise in the share price of US Airways Group for 2013 is due to the merger allowing for higher ticket prices to be charged.About this, William Swelbar, a research engineer with the International Center for Air Transportation at MIT, noted in an interview with
USA Today
that "
the removal of redundant capacity ... consolidation of service gives ... some pricing power.'' In other words, when the number of seats for passengers are reduced,
will rise. While that will certainly increase revenue for US Airways Group,
United Continental
(UAL)
, and others, it will also result in more passengers flying discount airlines.
That will increase the passenger traffic for Southwest Airlines, JetBlue and Spirit Airlines. There are two basic economic principles here: the elasticity of demand and substitution. When prices rise too much for a good or service, demand will fall as consumers seek alternatives in air travel, that is flying on such discount carriers as JetBlue, Southwest Airlines and Spirit Airlines.
That can be seen in the performance of the companies in the present era of rising ticket prices.
On a trailing-12-month basis, sales growth for Spirit Airlines is higher by 23.10% as to that from last year. JetBlue has a 10.60% increase. For the same period, it is up 9.10% for Southwest Airlines. US Airways has posted a 5.90% jump. It is 0.10% for United Continental Airlines. The industry average is a negative 0.10%.
In addition to having lower growth rates for sales, US Airways and United Continental have much, much more debt that Spirit Airlines and Southwest Airlines. The debt-to-equity ratio for US Airways is 3.93. That means that it required almost $4 in borrowing to produce every $1 of equity. It is almost twice as bad for United Continental, with a debt-to-equity ratio of 6.98. For JetBlue, the debt-to-equity ratio is 1.41.
Spirit Airlines has no debt.
The debt-to-equity ratio for Southwest Airlines is 0.45. That means that Spirit Airlines and Southwest Airlines are able to dedicate the revenues from the higher sales growth to improving the operations of the company, not having to service a cumbersome debt load. From that results a much more profitable enterprise.
Not surprisingly, Spirit Airlines is the most profitable in the sector with a 9.80% profit margin. Its superior performance compared to others in the sector was detailed
in a previous article on TheStreet
. US Airways Group has a profit margin of 4.10%. The profit margin for Southwest Airlines is 3.60%. For JetBlue, it is 2.60%. United Continental is losing money with a negative profit margin of 0.50%.
Due to the heavy debt loads, the profit margins of JetBlue and US Airways should be discounted due to the borrowing it required. Warren Buffett has pointed out that a well-run business should not require debt to fund its operations. Having no debt also buffers against bad times as Buffett noted in his 2013 shareholder letter when he stated that, "Charlie and I believe in operating with many redundant layers of liquidity, and we avoid any sort of obligation that could drain our cash in a material way. That reduces our returns in 99 years out of 100. But we will survive in the 100th while many others fail. And we will sleep well in all 100."
As demonstrated by the balance sheets and income statements of Spirit Airlines and Southwest Airlines, loads of debt is not required to make money in the airline industry. When adverse market conditions set in, which will inevitably happen, the shareholders of United Continental, US Airways, and JetBlue will suffer from the heavy debt loads. Those owning the stock of Southwest and Spirit Airlines will "sleep well."
With lower debt and higher profits, Spirit Airlines and Southwest Airlines are in a better position to acquire slots that US Airways sells. JetBlue is also considered by many analysts to benefit from the sales of slots on the Eastern Seaboard. Southwest and Spirit Airlines both serve those markets, too, with better balance sheets to facilitate the purchases.
Airlines, as with all other companies involved with related transactions, always claim that mergers will make the company more competitive.
But every legacy carrier in the United States has filed for bankruptcy at least once. US Airways has done it twice. Its
survival was imperiled
, according to Doug Parker, its CEO, unless it merged with American Airlines, after it filed for bankruptcy. It is difficult to figure out how the marriage of two entities that could not make it independently will result in a profitable union. But it is easy to see that the shareholders of Spirit Airlines, Southwest and JetBlue should do well due to the merger of US Airways Group and American Airlines.
At the time of publication, the author had no position in any of the stocks mentioned.
This article was written by an independent contributor, separate from TheStreet's regular news coverage.
Jonathan Yates is a financial writer who has had thousands of articles appear in periodicals and Web sites such as TheStreet, Newsweek, The Washington Post and many others. Much of his career was spent working on Capitol Hill for Members of Congress in both the House and Senate, on both committee and personal staff.  He was also General Counsel for a publicly traded corporation.  He has degrees from Harvard University, Georgetown University Law Center and The Johns Hopkins University.