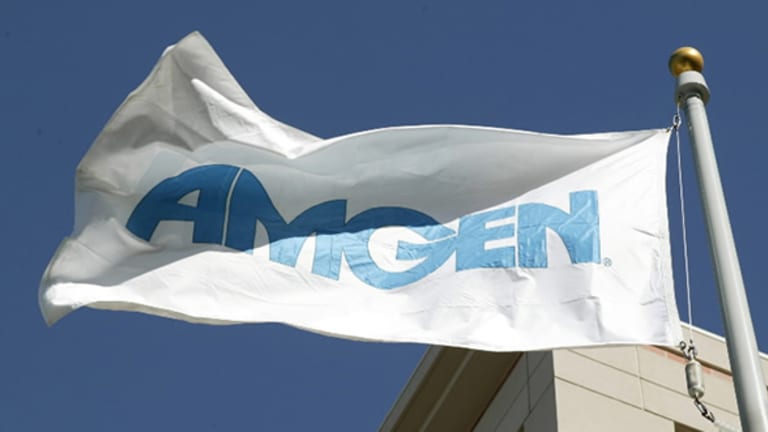 Amgen Still Has Many Ways to Win
Amgen investors have had a rough ride. The stock is down about 3% year to date, but the second half of the year could get interesting.
Over the last year, Amgen (AMGN) - Get Report investors have had a rough ride. The stock is down about 3% year to date, but the second half of the year could get interesting. There are many ways to win in Amgen stock.
Amgen reports earnings after the closing bell Wednesday.
Amgen has traded between $150 and $175 since late 2014. Despite that, Amgen shares could see some upside later in 2016, as the company has a robust pipeline with 16 compounds in Phase III trials. Good news on any of those drugs could be the catalyst to push the stock higher.
Amgen is a company with a robust but mature drug portfolio. In the first quarter, Amgen reported sales of $5.52 billion, up 10%, and adjusted earnings per share of $2.90. Adjusted operating margin jumped 4.4% to 55%.
The better-than-expected revenue was driven by strong sales of Enbrel (for rheumatoid arthritis), Prolia, Aranesp, and Neulasta (for neutropenia). Enbrel sales rose 24% to $1.3 billion, while sales of Prolia rose 29.6% to $370 million. Sales of Vectibix (for cancer) and Nplate continued their double-digit growth.
It wasn't all good news. Sales of Epogen fell 44% to $300 million, which was well below the consensus estimate. Epogen sales are under attack from generic competition. Neupogen sales declined 13%, also due to competition. Neupogen's 65% market share is falling to Zarxio.
The second half of 2016 is expected to be action-packed for Amgen, with lots of data from Phase III trials. Investors are eagerly awaiting imaging results from the company's hyperlipidemia indication Repatha. Repatha is used to lower bad cholesterol. Taken with a statin drug, Repatha dramatically lowers LDL cholesterol. It could be a blockbuster drug in a few years.
Analysts are also awaiting pivotal Phase III data on Romosozumab (for osteroporosis). If the data supports it, Romosozumab could be submitted to the FDA for regulatory approval.
Amgen is also playing in the biosimilar market. A biosimilar is a copy of a biologic drug. Biologic drugs are produced in a living system like a cell. Biologic drugs are considered "easy" to copy.
ABP 215 is a biosimilar to Avastin, a major cancer drug. ABP 501 is a biosimilar for Humira (for inflammatory disease) and ABP 980 is a biosimilar for the breast cancer drug Herceptin. Amgen is expected to publish data on these biosimilars later this year. Positive results could act as a catalyst to drive the stock higher.
Management is so confident in the future that it updated year-end guidance. The company believes revenue will be between $22.2 billion and $22.6 billion, up about $150 million from the midpoint. Revenue should be up 4% this year.
Analysts are looking for second-quarter revenue of $5.59 billion, up 4.1%. Net income is expected to by up 19% to $2.07 billion. Amgen is forecasted to earn $2.74, an increase of 21%.
I think Amgen could earn about $11 per share for the year. At the current quote, the stock is trading at 15 times estimates.
If some of these Phase III trials produce strong data, I think the stock should trade to 19 times estimates, or over $200. There are a lot of ways to win in Amgen.
This article is commentary by an independent contributor. At the time of publication, the author held no positions in the stocks mentioned.