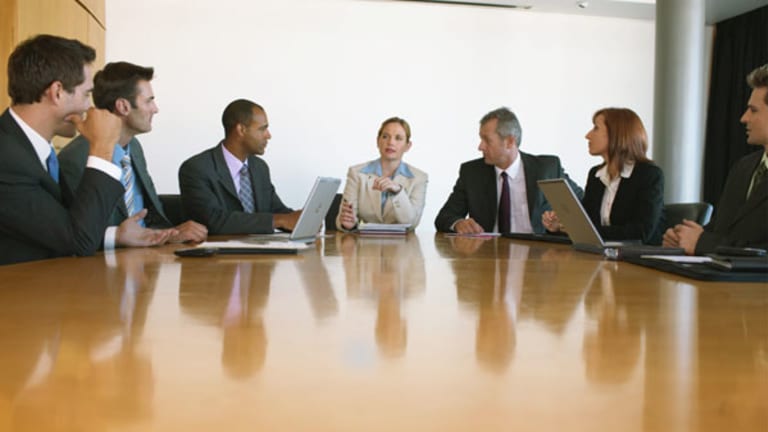 Publish date:
America's Road to Financial Ruin: Opinion
TheStreet travels back through its archives to resurface the ominous signposts on America's road to financial fragility.
TheStreet travels back through its archives to resurface the ominous signposts on America's road to financial fragility.
NEW YORK (TheStreet) -- Pundits, economists and politicians love to use the phrases "black swan" or "nobody could have seen it coming" when describing events that have brought the United States of America to the brink of insolvency. Such statements are ridiculous -- much of the excesses and malfeasance committed by our leaders came in plain sight.
Alas, America's corporate and
political leaders have had the luxury of "failing upwards." They were awarded more power and responsibility after making disastrous mistakes
, and the public has largely turned a blind eye.
Today,
our country faces record deficits
, a
national debt accelerating at the fastest pace in history
and nearly
45 million Americans relying on food stamps for subsistence
.
Executive compensation is nearly six times higher than it was in 1980
;
presidential campaign spending has increased more than threefold in little more than a decade
;
labor force participation is at a 25-year low
; and the
unfunded liabilities of America's social programs equate to more than $1 million per taxpayer
.
As
, one may wonder how we got here.
To answer that question,
TheStreet
has turned to its archives for articles, interviews and commentary that document how America went off the rails and into a ditch of financial fright.
The timeline below is not comprehensive and must be considered in light of numerous other economic events, but it nonetheless provides a sobering look at how we got where we are today.
TheStreet
will continue to update this timeline as we uncover additional articles whose lessons withstand the tests of time:
**************************
November 11, 2000
The Rise and Fall of Long Term Capital Management
Roger Lowenstein, author of
When Genius Failed
, offers insight into America's first derivative-based crisis: The spectacular collapse of
Long Term Capital Management
. Lowenstein also highlights the Federal Reserve's curious decision to
lessen
derivative regulation in the aftermath of the disaster.
July 25, 2001
Understanding the Lunacy of the Dot-Com Bubble
Because of a technicality,
Staples
(SPLS)
management is forced to explain to shareholders how they arrived at a valuation for (the not-yet-launched) Staples.com -- providing a window into the madness that inflated the dot-com bubble.
October 10, 2001
Economist Argues Against Federal Bailouts in the Wake of Sept. 11
Economist David Henderson warns that federal bailouts, in response to 9/11/01, will deplete the budget surplus, lead to future borrowing and increase the role of federal government.
October 1, 2002
Fannie Keeps the Profits, Taxpayers Take the Risk
Ken Wolff exposes the uncomfortable relationship between
Fannie Mae
(FNMA)
,
Freddie Mac
, the U.S. Treasury and the Federal Reserve; and highlights Congressman Ron Paul's efforts to regulate the government-sponsored mortgage industry.
April 23, 2003
Fleckenstein: All Roads Lead to Inflation
Hedge fund manager Bill Fleckenstein slams the policies of the Federal Reserve, predicts a U.S. housing bubble and calls for a bull market in precious metals.
September 21, 2007
The Credit Crisis Could Be Just Beginning
Satyajit Das, a leading expert in credit derivatives, predicts the subprime crisis in an account so accurate, it could have been written after the fact.
December 15, 2010
Chart: U.S. GDP vs. Spending vs. Revenue
A 20-year snapshot of America's economic growth, spending and revenue (tax receipts) reveals that far-left and far-right political ideologies deserve equal blame for our financial woes.
-- Written by John DeFeo in New York City
Disclosure: TheStreet's editorial policy prohibits staff editors, reporters and analysts from holding positions in any individual stocks.