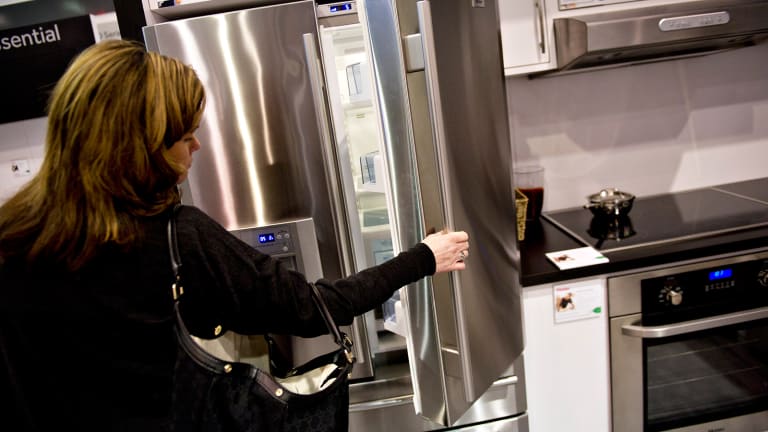 Americans Are Going Absolutely Bananas for Refrigerators, Dryers
Best Buy is the latest retailer to report impressive sales of appliances thanks to the continued U.S. housing recovery.
Editors' pick: Originally published May 24. Updated from May 24 to include details from Sears.
Many kitchens and laundry rooms in the U.S. may have the latest appliances from Whirlpool (WHR) - Get Free Report and Electrolux (ELUXY) judging by the first quarter sales results from some big retailers.
Best Buy's (BBY) - Get Free Report same-store sales of appliances surged 14.3% in the first quarter, the company said Tuesday. A year ago, same-store sales in the category rose a solid 12.3%. The strong start to the year in appliances, which represents about 8% of Best Buy's business, follows a year in which same-store sales surged 15.4% on the back of an expanded in-store selection and an improved online shopping experience.
The company plans to open 27 of its Pacific Kitchen & Home shop in shops this year in an effort to sell higher end appliances and offer more one on one customer service. By year end, Best Buy expects to have 203 of the shops. 
Best Buy is the latest to shed light on American's going nuts for appliances as their existing home values continue to recover or they buy a new home for the first time.
Home Depot (HD) - Get Free Report said sales of appliances added 0.5% to its 6.5% same-store sales increase in the first quarter, and were an outperforming category overall. Selling appliances has become an increasingly important business for Home Depot through the years. Total sales of appliances tallied $6.5 billion last year, up about 15% year over year. The business now represents roughly 7.5% of Home Depot's overall sales, compared to 6.9% in 2013. 
The home improvement retailer, which like Best Buy has increased the amount of space in its stores devoted to fridges and stoves during the U.S. housing recovery, will expand square footage for appliances at 100 more stores this year.
Home Depot competitor Lowe's (LOW) - Get Free Report  saw a mid-single digit percentage same-store sales increase in its appliance business due to an expanded number of offerings in its stores.
One of the few retailers on the outside looking in when it comes to the appliance sales boom? Struggling Sears Holding Corp. (SHLD) , a one-time leader in the appliance category that has seen sales dwindle as competitors have enhanced their offerings and bolstered floor space. Sales of appliances fell at Sears in the first quarter, the company said on Thursday.
Appliance manufacturers such as Whirlpool and Electrolux are enjoying the renaissance in appliance demand, too.
Best Buy will open 27 of its Pacific Kitchen & Home shop in shops this year.
Whirlpool's first-quarter sales in North America rose 5% from the prior year, and was the best-performing market for the company. It expects the appliance industry to grow about 5% to 6% this year, consistent with the first quarter.
"We remain confident about the U.S. housing market, I know there have been some somewhat sluggish numbers about housing starts [recently] but we do see that being corrected over time," Whirlpool President and Chief Operating Officer Marc Bitzer told analysts on an April 26 call, adding, "We do not see weakness today in North American market demand."
Meanwhile, sales popped by 8% in the U.S. for Whirlpool nemesis Electrolux.
Said Electrolux President and CEO Jonas Samuelson on an April 28 call, "The underlying market for appliances in North America is healthy, and we continue to see consumer confidence in the macro environment to be positive for the appliance industry." Like Whirlpool, Electrolux sees the U.S. appliance industry growing by about 4% to 6% this year.
It doesn't take a rocket scientist to understand the drivers of the appliance boom now underway in the U.S.  
According to Zillow (Z) - Get Free Report , home values in the U.S. have risen a solid 4.8% over the past year. Moreover, Zilllow estimated that about six million homeowners were still in negative equity during the fourth quarter -- also known as being underwater -- down from eight million homeowners a year ago. 
Those trends have given consumers the confidence to invest in big home-remodeling products such as kitchen overhauls or smaller updates like new paint in the bedroom or the addition of an affordable, more energy efficient dryer.
Home Depot and Lowe's have expanded their appliance sections.
The Commerce Department reported Tuesday that sales of newly built homes increased by the quickest pace in more than eight years in April. Purchases of new, single-family homes spiked 16.6% from a month earlier to a seasonally adjusted annual rate of 619,000 vs. estimates for 524,000 starts.
Each new home needs to be outfitted with appliances.
The strength in the appliance industry has even caused an apparel seller to enter the market.
J.C. Penney (JCP) - Get Free Report is preparing to expand its appliance offerings under the leadership of new CEO Marvin Ellison, who helped lead the overhaul of Home Depot's appliance business as executive vice president of U.S. stores from 2008 to 2014. The department store will expand its new appliance showroom concept to 500 stores nationwide after seeing positive consumer feedback at 22 test stores that kicked off in February.
Starting in early July through the fall, J.C. Penney will introduce major appliances to new stores every week until nearly half of its over 1,000 locations offer kitchen and laundry appliances from Samsung (SSNLF) , LG, GE Appliances and Hotpoint. Each store will have 130 to 230 appliances on the sales floor for consumers to browse. Last week, J.C. Penney launched a redesigned appliance section on its website and begin offering over 1,200 options to consumers from Samsung, LG and GE.