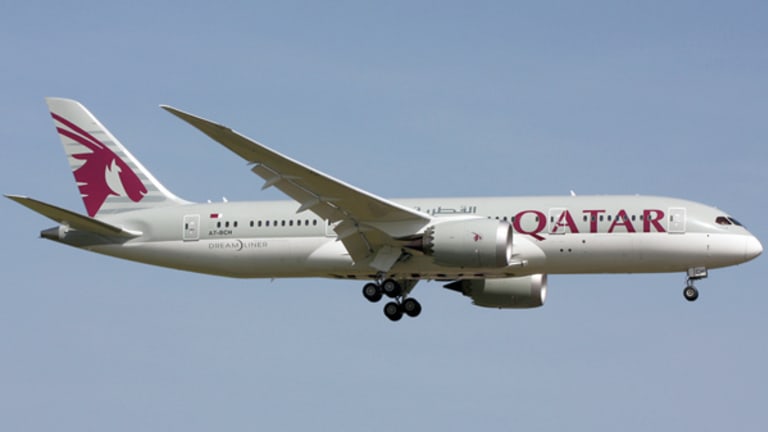 American, Delta, United Gain in Bid to Tamp Down Mideast Carriers' Subsidies
American, Delta and United say they are pleased the State Department will conduct informal discussions with Qatar and the UAE regarding subsidies of $50 billion to three Mideast airlines.
American, Delta and United say they are pleased the State Department will conduct informal discussions with Qatar and the UAE regarding subsidies of $50 billion to three Mideast airlines.
American (AAL) - Get Report , Delta (DAL) - Get Report and United (UAL) - Get Report and their labor unions are applauding the U.S. State Department's decision to meet with officials from Qatar and the United Arab Emirates to discuss rapid U.S. expansion by the two countries' three subsidized carriers: Emirates, Etihad Airways and Qatar Airways.
After a year and a half of lobbying, the airlines and unions are pointing to scheduled meetings -- with the UAE on July 18 and 19 and with Qatar on July 25 -- as a sign of progress. They expect the State Department to negotiate to tamp down the government subsidies to the three carriers.
The Partnership for Fair Skies, which represents the airlines and unions, expects to announce Wednesday that the subsidies total about $50 billion, up from the $42 billion documented in a January 2015 report.
On Friday, the government briefed the big three carriers and the labor unions on its decision,
Politico
first reported. 
Backers of the Middle East carriers, headed by the U.S. Travel Association, contend that the Big Three carriers and labor got less than they wanted, since so far the State Department hasn't agreed to either renegotiate Open Skies treaties or to oppose new flights.
Nevertheless, American and United applauded the State Department's plans in communications with employees on Tuesday. Delta's statement to employees was scheduled to be issued Wednesday morning. Copies of all three letters were provided to
TheStreet
.
"The State Department meetings next month are a positive development and an important next step in the process," American said Tuesday. "We have demonstrated to our government that the massive subsidies provided to Emirates, Etihad and Qatar are a real threat to American and our employees."
In the United letter, Steve Morrisey, United's regulatory and policy vice president, said, "This government-to-government engagement is a significant step.
"We have documented evidence that Qatar Airways, Etihad Airways and Emirates Airline have received more than $42 billion in government subsidies," Morrisey wrote. "We have long advocated for the U.S. government to take action."
In Delta's letter, Peter Carter, the airline's chief legal officer, declared: "These meetings are a clear signal that the State Department is taking the foreign subsidies seriously. We are very pleased with this advancement in the diplomatic process."
This year the three Gulf carriers will offer 32 daily flights to the U.S., up from six flights in 2008, Delta said. Currently, Emirates serves 10 U.S. cities, Qatar serves eight and Etihad serves six.
In its letter, Delta said CEOs from American, Delta and United, as well as labor leaders, have met with Secretary of State John Kerry to discuss the issue.
Additionally, the Air Line Pilots Association said it is "encouraged that the U.S. government is taking this issue seriously.
"Diplomacy takes time," ALPA said in a prepared statement.
In a press release on Monday, U.S. Travel Association CEO Roger Dow said the State Department decision to hold informal discussions represented a defeat for the big three carriers. The association represents about 1,200 travel industry organizations including two airlines, JetBlue and ViaAir.
"The Big 3 airlines and their union allies asked for two things that would have dramatically harmed fliers and the economy -- one, enter formal consultations to renegotiate specific Open Skies agreements; and two, freeze air service from those countries -- and they were thankfully granted neither," Dow said.
"I am grateful to the Obama administration for not buying into a highly questionable suite of arguments against Open Skies that from the beginning smacked of protectionism, cronyism and an unfortunate allergy to healthy competition," Dow said.
Jill Zuckman, spokeswoman for the Partnership for Fair and Open Skies, which represents the big three carriers and their unions, said they got what they wanted.
"Government officials don't go halfway around the world for discussions that don't matter," Zuckman said. "The extreme subsidies fueling the Gulf carriers can no longer be ignored. That's why the United States is taking up the issue with representatives of the United Arab Emirates and Qatar."
In January 2015, the U.S. carriers began their public campaign by releasing a report, compiled over two years by forensic accountants and investigators, that documented $42 billion in subsidies and suggested that they make a mockery of Open Skies policy, developed in the early 1990s in an effort "to enable U.S. carriers to compete in a global market undistorted by government actions that advantage foreign carriers."
Instead, the treaties turned into lopsided deals in which Emirates, Etihad, and Qatar fly 32 times a day to the U.S. from their hubs in Dubai, Abu Dhabi and Qatar, while U.S. airlines do not fly a single route to either the UAE or Qatar.
Rather, in the past year Delta and United cancelled their only two flights from the U.S. to the UAE or Qatar -- Delta cancelled Atlanta-Dubai service and United cancelled Washington Dulles-Dubai service.
Both airlines said they couldn't compete with the subsidized carriers --- not even in Atlanta, where Delta gathers U.S. passengers at the world's largest single airline hub, with about 1,000 daily flights.
On June 1, Qatar began Doha-Atlanta service.
This article is commentary by an independent contributor. At the time of publication, the author held no positions in the stocks mentioned.