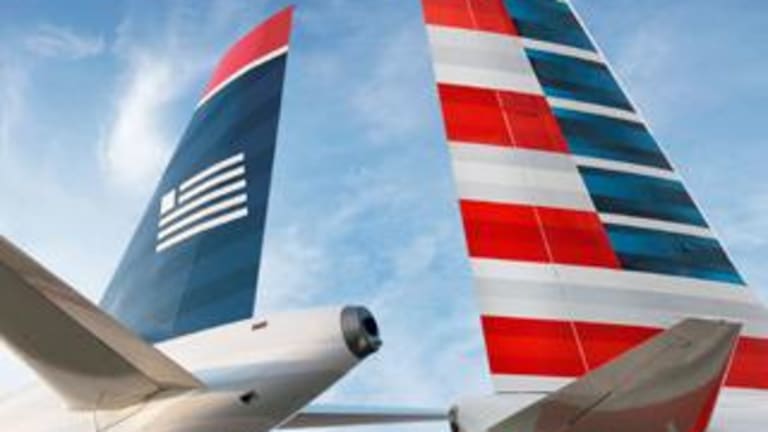 American Airlines Flies Through Cutover as Reservation System Shines
American Airlines' reservations cutover, following the US Airways merger, passes a big test Monday morning as business travelers descend as usual on Charlotte airport.
CHARLOTTE, N.C. (TheStreet) - American Airlines' (AAL) - Get American Airlines Group, Inc. Report reservations cutover apparently passed a second test on Monday morning, as thousands of business travelers arrived at former US Airways hubs and boarded planes without incident.
The merger of American and US Airways reservations systems took place early Saturday morning. Passenger boarding went smoothly Saturday and Sunday at the hubs in Charlotte, Philadelphia and Phoenix. But the question remained whether heavier airport traffic on Monday morning might expose flaws.
 It did not. So far, no flaws have surfaced.
At Charlotte Douglas International Airport, where US Airways had built its biggest hub, a few thousand people boarded planes Monday between 6 a.m. and 7:30 a.m. EDT. As is usual for early Monday morning, the airport bustled. Travelers, headed to work and familiar with airport procedures, moved purposefully, tugging black rollaboards.
At the American ticket counters, travelers generally used kiosks, a few checked bags. A few times, people waited in line to use kiosks but never for longer than a couple of minutes, or waited in line to check bags, with every transaction completed within 10 minutes.
One tiny computer glitch was observable. Flight display monitors above the counters listed departing American Airlines flights, except that Flight 4853, departing at 7:40 a.m. to Columbia, S.C., was listed as a US Airways flight. 
"If that's the biggest problem that happens to us today, we'll take it," said Hunter Miller, American's manager on duty. By 7:30 a.m., the flight was properly displayed as an American flight.
The smooth Monday morning at Charlotte Douglas seems to have represented a major success for American. Months of planning preceded the weekend cutover, with the hopes of avoiding the long passenger delays that have occurred following mergers or computer systems cutovers, particularly at US Airways and United.
The hopes were realized.
In a note issued early Monday morning, before Monday morning travel took place, Morgan Stanley analyst Rajeev Lalwani wrote, "The cutover seemed to go well with no issues raised thus far -- notable considering the problems this milestone has created for peers' past mergers."
Lalwani said the successful reservations merger now frees management to focus on "executing on remaining synergies which, per the last update during 2Q15 earnings, was $450M or so driven by fleet optimization and improved connectivity.
"While the milestone represents a significant hurdle for the merger to clear, investors were only modestly concerned given AAL has progressed well to-date on other areas of integration," he wrote.
American shares closed Friday at $43.71, down 19% year to date.
Shortly before 7:30 a.m. Monday I tweeted: "@American Air early Monday morning @CLTAirport. Once again, no problems."
American tweeted back: "We like having no problems on Monday morning. It's a great way to start the week."
This article is commentary by an independent contributor. At the time of publication, the author held no positions in the stocks mentioned.