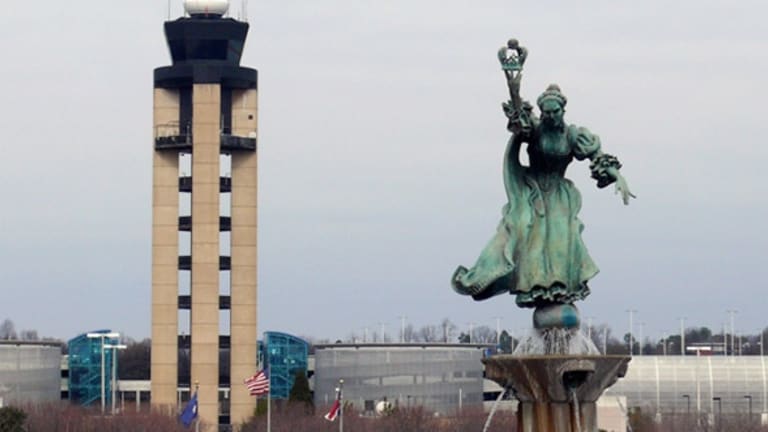 American Air's Charlotte Hub Ranks Fourth in World for Connectivity
American Airlines' Charlotte hub ranks fourth in OAG's list of world airport megahubs, which are ranked in terms of connectivity for passengers.
NEW YORK (TheStreet) -- With the last departure for historic US Airways just five days away, a new report on airport connectivity is highlighting just how far the airline came in building its Charlotte hub into the world's fourth most-connected airport.
After the last US Airways flight, which lands in Philadelphia early Sunday morning, American (AAL) - Get American Airlines Group, Inc. Report flight numbers will apply to all of the airline's flights. American merged with US Airways in 2013. Charlotte Douglas International Airport became the second-largest hub for American, the world's largest airline.
The report by Luton, England-based OAG lists the world's 50 most-connected airports, defined as the airports with the highest number of scheduled connections to the destinations the airport serves. The 50 airports have become "Megahubs" reflecting expanded international connectivity, airline consolidation, larger aircraft and growing demand for air travel, the report said.
Twenty-two of the top airports, including 10 of the top 12, are in the U.S. The top three names are the expected ones: Atlanta, Dallas and Chicago. Fourth is Charlotte, the heart of US Airways, a big city airport located in a medium-sized city.
"I was surprised slightly by Charlotte, but it is a considerable hub," said John Grant, executive vice president at OAG and author of the report. "It doesn't have the local population that a city like Chicago or New York enjoys, but it keeps up the volume by being much more reliant on connective traffic."
The airports are ranked on the basis of "connectivity scores," which account for the number of possible connections available in an eight-hour window on Aug. 7, the busiest day for global aviation in 2015. The survey counted all possible connections, not just connections between flights operated by an airport's hub carrier.
Charlotte had a connectivity score of 1,585. Atlanta scored 2,505; Chicago O'Hare scored 2,280; DFW scored 1,940 and No. 5 Houston International scored 1,028.
At Charlotte, US Airways operates nine banks of flights; banks are periods when groups of flights arrive and depart, usually within a window of about an hour, allowing passengers to connect between them. Nine is the average for a major hub.
Grant said US Airways operates its nine banks efficiently. Describing a graph of inbound and outbound Charlotte passengers on Aug. 7, he wrote: "You can see that Charlotte has some very busy banks in excess of 50 movements in an hour either departing or landing, and more importantly this graph shows the real way in which they schedule everything.
"Take the 08:00 inbound wave and the fact that within an hour they have effectively landed some 70 odd aircraft and then departed a similar number," Grant said. "That's impressive by any airport/airline standard!"

Charlotte's connectivity is enhanced because, for a global hub, it has a relatively large percentage of domestic destinations, which tend to have more frequencies than international destinations
Under its summer schedule, US Airways operates 654 daily Charlotte departures to 145 destinations in 23 countries including the U.S.
At Houston George Bush Intercontinental, United operates 542 daily departures to 217 destinations including 117 domestic destinations. United flies 85 daily flights to 54 destinations in Latin American and the Caribbean, including 49 daily flights to 26 destinations in Mexico.
Aviation consultant Bob Mann said the report shows how far Charlotte has come.
 "It's not just little old Charlotte anymore," Mann said. "It's big, but it's been a little bit of a sleeper in the sense that it was known primarily to US Airways people who understood it very well."
Credit for the airport's emergence goes primarily to two men.
 Tom Davis created Piedmont Airlines after World War II in his hometown of Winston-Salem, about 80 miles from Charlotte. In the late 1970s, Piedmont began to connect flights in Charlotte. The carrier worked with Jerry Orr, then an airport engineer.
Orr's cooperative attitude helped persuade Piedmont to put its hub in Charlotte instead of Greensboro. said George Mason, who oversaw construction of the Piedmont base, according to "American Airlines, US Airways, and the Creation of the World's Largest Airline," a book I wrote with Dan Reed. Piedmont merged with US Air in 1989.
As airport director from 1989 to 2013, Orr presided over constant expansion while keeping airport costs low, a combination that encouraged US Airways to grow in Charlotte, which helped to make the airline a desirable merger partner for American.
Must Read:
American Air Has 'Myopic Obsession' With Cost Cuts, Pilot Leader Says
This article is commentary by an independent contributor. At the time of publication, the author held no positions in the stocks mentioned.