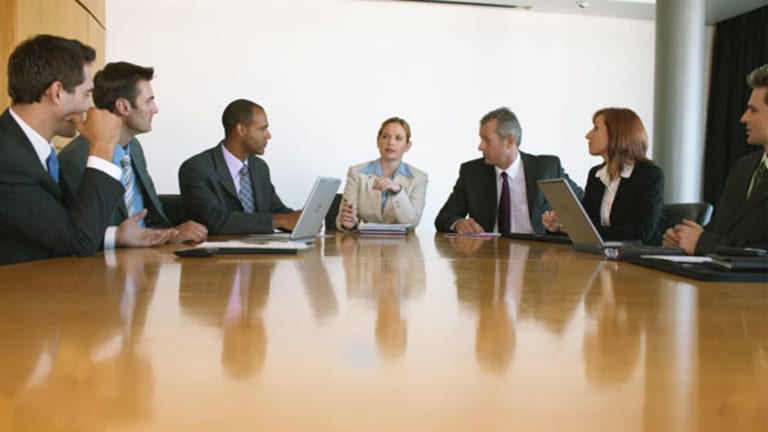 Amedisys Command Change: Firing Line
The COO and CIO leave, but the company reaffirms 2009 guidance.
The COO and CIO leave, but the company reaffirms 2009 guidance.
The Change of Command ceremony is a time-honored tradition which formally symbolizes the continuity of authority as the command is passed from one individual to another. It is a formal ceremony which is conducted before the assembled company of the Command. The Change of Command as traditionally practiced within the military is unique in the world today; it is a transfer of total responsibility, authority, and accountability from one individual to another
. -- military manual
A military change of command is a special event. High-ranking officers and dignitaries give speeches. An impeccably dressed military band plays John Philip Sousa tunes while the members of the command stand in formation with families and friends seated in front of a flag-draped dais.
The outgoing commanding officer is recognized for accomplishments and the incoming commanding officer lays out a vision for the organization. The change of command occurs regularly every two years, which ensures continuity and provides new leadership the opportunity to try different strategies.
We used the phrase "no band change of command" to describe when a commanding officer or other high ranking individual was relieved of command for reasons other than normal circumstances. Sometimes the reasons were known, such as a mishap that resulted from a failure of leadership. Other times the gray phrase "loss of confidence in the ability to command" was used by military leadership as a broad description for the removal of an individual.
In the business world, a formal change of command is a rare event, as I have detailed in several previous columns, and it usually results in a negative impact to the business. The stock price takes a hit, and shareholders, customers and partners are left to wonder what is wrong with the organization.
While a no band change of command often signals a problem, it also represents an opportunity. For whatever reason, the person holding a position of leadership is no longer there, but the fundamental organization remains. If there was a leadership problem, it often leaves with the individual. If there was a larger organizational issue, it often remains, but the new leadership has the chance to fix it.
Last week both the COO and CIO of
Amedisys
(AMED) - Get Report
left the company for unknown reasons, and the stock gapped down from $43 to $29. CEO William Borne said, "We anticipate a seamless transition, as we have a first-class team of seasoned professionals that are ready and able to guide our future growth strategies. We believe our future in health care has never been brighter."
He also said, "We are grateful to Larry and Alice Ann for their contributions throughout the years." The company did not specify reasons for their departure. Some on the Street said the COO wanted to eventually assume command, and there wasn't a clear path to get there, while the CIO wanted to move up as well. Others pointed out that the pair were male and female and there may have been personal issues.
Whatever the reasons, the CEO and CFO remained and the following day the company reaffirmed its 2009 guidance. If there were any nefarious reasons or organizational problems with the company, they weren't readily apparent.
I am personally bullish on AMED and the health care services sector in general. I have bull put spreads in AMED,
Medco Health Solutions
(MHS)
,
C.R. Bard
(CBCR)
and
Cigna
(CI) - Get Report
. It appears there will be some health care/insurance reform, but not the government takeover the street has feared. Sometimes a leadership shake-up can be a positive for a company, as long as the organization is strong and the business fundamentals remain. For a strong company like AMED, a pullback like this may be a good opportunity to capitalize on.
Firing line: While some no band change of commands are indicative of a problem with the organization as a whole, others simply remove individuals that shouldn't be there. With these people out of the way, execution can improve and the chances of success increase.
Matthew "Whiz" Buckley is the Managing Partner of
, a business-consulting firm specializing in leadership development, risk management, and strategic planning for Fortune 500 companies and related organizations. Whiz flew the F-18 Hornet for the U.S. Navy. He's a graduate of TOPGUN, has close to 400 carrier landings, and flew 44 combat sorties over Iraq. He transitioned to the business world after he was scheduled to fly his first flight as an airline pilot on 9/11. Instead, he ended up flying combat air patrol over the U.S. He rose rapidly though corporate America, starting as Managing Director of Strategy at a Wall Street firm, to CEO of a financial media company. He is an internationally recognized speaker and combined his unprecedented experiences in the military and corporate America in the writing of From Sea Level to C Level.