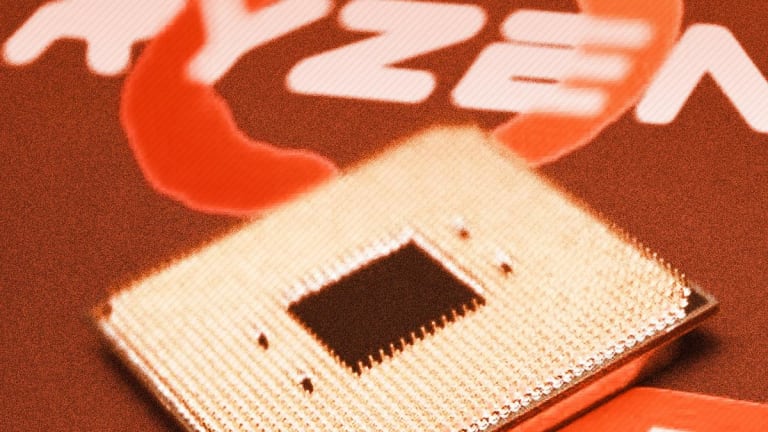 At first glance, AMD's (AMD) - Get Advanced Micro Devices, Inc. Report newest desktop and workstation CPUs look well-positioned to help it take more share from Intel (INTC) - Get Intel Corporation (INTC) Report with the help of high core counts and aggressive pricing.
A little over three months after launching second-generation chips for its Ryzen 7 and Ryzen 5 mainstream desktop CPU lines, AMD has unveiled four second-gen products for its more costly Ryzen Threadripper line. The Threadripper line, which was pretty well-received when it launched last summer, targets desktops and workstations used by the likes of hardcore gamers, enthusiasts and content creators.
The most powerful of the new chips, the Threadripper 2990WX, will ship on August 13th. The third-most powerful chip, the 2950X, ships on August 31. The other two, the 2970WX and 2920X, are due in October.
AMD's shares are rallying following the announcement on Monday, rising 5% to $19.43, and close to a recently-set high of $20.18. AMD jumped two weeks ago after it posted a Q2 beat and better-than-feared Q3 guidance.

AMD's newest Threadripper CPUs at a glance. Source: AMD.
The 2990WX is a monster: It contains 32 CPU cores and supports 64 simultaneous threads, with a base clock speed of 3GHz and a turbo boost speed of 4.2GHz. The 2970WX, 2950X and 2920X sport 24, 16, and 12 cores, respectively; like the 2990WX, they each support two threads per core. The WX chips each also come with a mammoth 64MB of L3 cache memory, while the "X" chips come with 32MB.
For comparison, the most powerful and most popular of the three Threadripper chips that AMD launched last year, the 1950X, features 16 cores and supports 32 threads, with a base clock speed of 3.4GHz and a turbo boost speed of 4GHz. And its less powerful siblings, the 1920X and 1900X, pack 12 and 8 cores, respectively, with L3 cache sizes for the chips ranging from 16MB to 32MB.
The 2990WX, it should be noted, features a steep suggested retail price of $1,799, which is well above the 1950X's $999 launch-time price -- never mind the 1920X's $799 or the 1900X's $549. However, the 2950X will sell for $1,299, and the 2950X and 2920X will go for $899 and $649, respectively.
As a result, the 2950X and 2920X will have launch prices that are $100 and $150 lower, respectively, than the ones granted to the 1950X and 1920X, which are the Threadripper chips that -- based on core and thread counts -- they directly succeed in AMD's lineup.
And while we'll have to wait for reviews to arrive to get the final verdict, it's a safe bet that the 2950X and 2920X will at least moderately outperform their predecessors, given their reliance on a 12-nanometer (12nm) manufacturing that's slightly more advanced than the 14-nm process used for last year's Threadrippers, as well as tweaks AMD has made to its Zen CPU core architecture. As it is, reviews found the 2017 Threadrippers to outperform Intel Core i9 CPUs with comparable pricing.
The WX chips, meanwhile, appear to offer a lot more bang for the buck than the top-of-the-line Intel Core i9 CPUs that they directly take aim at.
Intel's most powerful Core i9 chip, the 7980XE, features 18 cores and supports 36 threads, and carried a $1,999 retail price when it launched last September (Newegg currently lists it for $1,879). A slightly less powerful sibling, the 7960X, features 16 cores and can currently be found online for around $1,400.
Thus the 2990WX has 14 more cores than Intel's 7980XE, and the 2970WX has eight more cores than the 7960X, with each also undercutting Intel's pricing along the way. Though Intel's CPUs generally maintain a performance advantage over comparable AMD CPUs on an instructions-per-cycle (IPC) basis , all those extra cores and threads will clearly make a difference. As will the fact that the 2990WX and 2970WX have larger L3 caches and higher base clock speeds than the 7980XE and 7960X.
Intel isn't standing still, of course. The company is believed to be prepping a refresh for the high end of its Core i9 lineup that some reports indicate could arrive this fall and rely on a new CPU architecture codenamed Cascade Lake. In addition, Intel demoed a 28-core enthusiast CPU at June's Computex trade show meant to launch before year's end.
That 28-core demo was the subject of some controversy: Intel showed the chip being overclocked to 5GHz, but did so with the help of a giant liquid cooler that could dissipate a massive 1770 watts of power. AMD, not wanting to be outdone, claims it overclocked the 2990WX to 5.1GHz with the help of liquid nitrogen-based cooling, which it's safe to assume not too many end-users will rely on.
Overclocking theatrics aside, Intel will have its hands full matching the second-gen Threadripper line on a price-performance basis -- even if it refreshes its high-end Core i9 lineup in time for the holiday season.
Moreover, though AMD hasn't discussed its plans for third-gen Threadripper chips yet, it wouldn't be surprising to see the company launch third-gen Threadrippers during the second half of 2019 that rely on an advanced 7nm process, given that it has already begun sampling 7nm server CPUs and GPUs.
That would yield fresh headaches for Intel, given the lengthy delays it has seen for a 10nm process viewed as competitive with the 7nm processes AMD plans to rely on. The first 10nm consumer systems now aren't expected until the 2019 holiday season, and data center products aren't expected until 2020.
While Intel's CPU design teams have done a good job of making the best of a tough situation, its manufacturing issues are starting to make themselves felt. And with AMD doing a good job both when it comes to chip design and shipping products based on advanced processes, and also pricing its wares pretty competitively, more share gains look likely for the company.