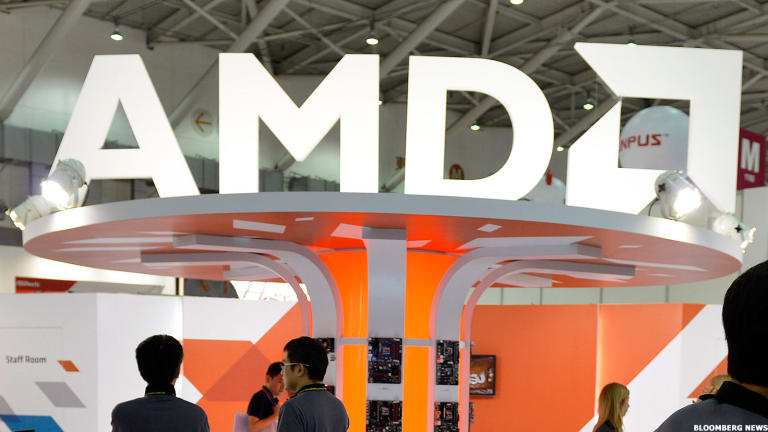 AMD Shares Plummet as Outlook Falls Short of High Hopes, but It Could Be Guiding Conservatively
With many of the chipmaker's key 2017 product launches not having occurred yet, it might be erring on the side of caution.
With many of the chipmaker's key 2017 product launches not having occurred yet, it might be erring on the side of caution.
This column originally appeared on May 1 on Real Money, our premium site for active traders. Click here to get great columns like this.
Though shares had retreated a bit, AMD (AMD) - Get Reportwas still up nicely since providing a market-pleasing fourth-quarter earnings report and upbeat commentary, and over 600% from their early-2016 lows. That made investors quick to react harshly on Monday after the close to results and guidance that were far from terrible, but that fell short of the high hopes many had come to have.
On Tuesday morning, shares were plunging more than 19% to $11. 
But as far as AMD's guidance goes at least, it's worth remembering that this year's sales depend a lot on products that still haven't launched, or which are still in the process of ramping. And that the company may be choosing to err on the side of caution.
AMD reported Q1 revenue of $984 million (up 18% annually) and adjusted EPS of negative $0.04 (better than Q1 2016's negative $0.12). The former slightly missed a $985 million FactSet revenue consensus, while the latter was in-line with expectations.
The chipmaker also guided for Q2 revenue to be up 17% sequentially, plus or minus 3%. That implies a range of $1.12 billion to $1.18 billion, above a $1.12 consensus outside of the low end. And in its CFO commentary (.pdf), it guided for full-year sales to be up by a low-double digit clip, in-line with a consensus was for roughly 11% growth.
If AMD was still trading at $10.37, as it was prior to its Q4 report, markets may have reacted favorably to the numbers. Instead, shares fell 11.1% in after-hours trading to $12.11. Some investors in a profit-taking mood could be keen to sell ahead of a May 2 lockup expiration for 97 million shares held by Abu Dhabi-based Mubadala Development Co.
In addition to the top-line figures, AMD's Q2 gross margin guidance of 33% raised some eyebrows. Though above a year-ago GM of 31%, the outlook is below a Q1 GM level of 34% even though revenue is set to rise sharply. AMD attributed this to a greater mix of console processor sales -- Microsoft (MSFT) - Get Reportis due to launch its Xbox Scorpio, which features a more powerful AMD CPU/GPU than the one found in the current Xbox One, later this year -- and promised GM would rise during the second half of 2017.
Also getting attention: AMD hiked its full-year capital spending guidance by $60 million to $140 million. The company attributes this to its decision to treat spending on the photomasks used in chip manufacturing as capital expenses rather than operating expenses, but adds its mask costs are rising. Adjusted operating expenses rose 10% annually in Q1 to $364 million, thanks to increases in both R&D and SG&A spend, and are expected to total $370 million in Q2.
With the help of the early-March launch of AMD's Ryzen 7 high-end desktop CPUs -- they're the first chips based on the new Zen CPU core architecture, and compete against Intel's Core i5 and i7 CPUs -- the Computing & Graphics (PC CPU and GPU) segment saw revenue rise 29% annually to $593 million, a little better than a $589 million consensus. And its operating loss narrowed to $15 million from $70 million. In addition to Ryzen, the unit benefited from higher GPU sales; while Nvidia's (NVDA) - Get ReportGPUs still dominate the high-end/enthusiast market for now, AMD's Polaris GPUs have seen decent traction with OEMs such as Apple (AAPL) - Get Reportand HP Inc (HPQ) - Get Reportin the mid-range.
AMD's Enterprise, Embedded & Semi-Custom segment, which sells Xbox One/PlayStation 4 processors and to a lesser degree server CPUs and embedded processors, saw revenue rise 5% to $391 million. Operating income fell by $7 million to $9 million due to higher R&D spend. Though the segment has been reported to have missed a $442 million consensus, this figure appears to be off, given the PC segment beat estimates by $4 million and total revenue only missed by $1 million. The segment's revenue miss appears closer to $5 million rather than $51 million.
Regardless, there is clearly some disappointment over the Q2 and full-year outlooks, especially for the latter. But when one remembers how many product launches remain for AMD this year, and how the company's performance over much of this decade could make it cautious about setting high expectations, its guidance becomes more understandable.
AMD's Vega GPUs, which should put AMD on much better high-end footing, haven't yet launched; on the earnings call, CEO Lisa Su promised Vega parts for the gaming, workstation and server markets would launch over "the next couple of months." Likewise, the company's low-end Ryzen 3 desktop CPU line isn't due until early in the second half of 2017, and its Ryzen Mobile (Raven Ridge) notebook APUs, which pair a Ryzen CPU with a Vega GPU, are set to launch towards the holiday season. Here, it's worth keeping in mind that notebooks account for about 60% of PC shipments.
The company's Naples server CPU -- the first Zen-based server chip -- will launch later in Q2, and it will take a while for potential clients to evaluate it. And the Ryzen 7 line and the mid-range Ryzen 5 line have only respectively been available for two months and one month. While standalone Ryzen CPUs and Ryzen motherboards are now easy to find, most top PC OEMs haven't yet launched Ryzen systems. AMD promises this will change later in Q2, ahead of the back-to-school season.
With so many pieces still up in the air, it's hard to fault AMD for providing a tempered outlook, rather than risk over-promising and losing the trust it has done a lot to win back over the last 12 months after years of poor performance. That doesn't change the fact, however, that the company's product roadmap looks a lot stronger than it has at any point in recent history.
Apple is a holding in Jim Cramer'sAction Alerts PLUS Charitable Trust Portfolio. Want to be alerted before Cramer buys or sells AAPL? Learn more now.
Read more of TheStreet's top stories today:
Shark Tank Star Kevin O'Leary on Why Tesla Shares Are Headed for an Epic Crash
Here Are Some Companies Apple Might Acquire With its Huge $250 Billion Cash Stockpile