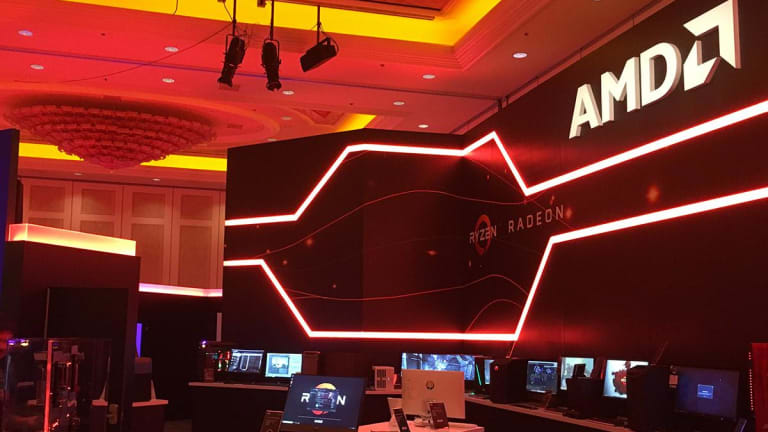 AMD's Latest Earnings Report Didn't Upend Investor Hopes for a Big Second Half
While its near-term sales remain pressured by GPU inventory corrections and soft console processor demand, AMD continues forecasting that new products will provide a major second-half sales boost.
In many ways, AMD's (AMD) latest earnings report has much in common with the reports delivered by a slew of other chip developers this earnings season: Results and guidance were close to what analysts were forecasting, but also didn't put investor hopes for strong second-half sales growth into doubt.

AMD's Results and Guidance
On Tuesday after the close, AMD reported Q1 revenue of $1.27 billion (down 23% annually) and non-GAAP EPS of $0.06, slightly topping consensus analyst estimates of $1.26 billion and $0.05. The CPU and GPU developer also guided for Q2 revenue of $1.52 billion, plus or minus $50 million; at its midpoint, the guidance implies a 13% annual revenue decline, but is slightly above a $1.51 billion consensus.
And importantly, AMD maintained its full-year guidance for high-single digit revenue growth, an outlook that implies healthy, double-digit, annual growth during the second half of 2019. The guidance reiteration comes less than a week after Intel (INTC) cut its full-year outlook, forecasting revenue will drop 3% this year to about $69 billion amid PC CPU shortages, server CPU inventory corrections, soft Chinese demand and a slowdown in cloud capital spending ahead of an expected second-half pickup.
AMD's shares, which had gone into earnings up 50% on the year, fell 3% in Wednesday trading to $26.81.
First-Half Sales Pressures
As was the case in Q4, lower consumer GPU sales weighed heavily on AMD's top line, as the channel inventories that were built up thanks to the crypto bubble continue getting cleared out. AMD is forecasting its channel GPU sales will be (though up sequentially) down annually in Q2 as well, albeit while forecasting demand will be better in the second half of the year as sales commence for its Navi-architecture GPUs, which appear to be aimed at the mid-range GPU market (Nvidia (NVDA) , via its Turing-architecture GPUs, should remain dominant on the high-end).
Q1 sales were also pressured by weak console processor sales, as the current game console cycle continues winding down. On the earnings call, CEO Lisa Su indicated AMD's semi-custom revenue (dominated by console processors) would be down over 20% this year, before returning to growth in 2020. With Sony undefinedhaving just disclosed that its next-gen PlayStation will feature an AMD processor sporting a powerful CPU and GPU, and with Microsoft  (MSFT) expected to launch one or more AMD-powered Xboxes next year, 2020 should be a much better year for the semi-custom business.
Nvidia and Microsoft are holdings in Jim Cramer's Action Alerts PLUS member club. Want to be alerted before Jim Cramer buys or sells these stocks? Learn more now.

Recent Areas of Growth
While consumer GPU and console processor sales slumped in Q1, Su disclosed sales of AMD's Ryzen PC CPUs, Epyc server CPUs and various server GPU offerings collectively more than doubled annually. She added that AMD's total client CPU sales, which also include some non-Ryzen chips, rose by a strong double-digit percentage, and that (much like Q4) server CPU and GPU sales collectively accounted for a mid-teens percentage of total revenue.
The comments about client CPU sales suggest AMD once more gained share against Intel, whose Client Computing Group (CCG) saw its total "Platform" revenue (dominated by PC CPU sales) rise just 3% annually in Q1. Intel's desktop and notebook average selling prices (ASPs) rose, but its PC CPU volumes fell 7% amid ongoing supply constraints that are particularly strong on the low-end.
Though AMD has benefited some from Intel's CPU shortages, Su said on the call that she doesn't think they've been "a huge contributor to [AMD's] business." She also noted that AMD's own client processor ASP rose during the quarter, and that Q1 demand was strong for AMD's mid-range Ryzen 5 CPUs and high-end Ryzen 7 CPUs.
Second-Half Growth Drivers
The planned mid-2019 launch of third-gen Ryzen desktop CPUs -- like Navi, they'll rely on Taiwan Semiconductor's (TSM) advanced 7-nanometer (7nm) manufacturing process node, and they'll also feature a revamped CPU core architecture known as Zen 2 -- should help AMD add to its recent desktop share gains. In the notebook CPU market, the availability of a greater number of AMD-powered systems from top PC makers should help its cause, but Intel, which plans to launch notebook CPUs relying on its delayed 10nm process node later this year, looks better-positioned to hold its own here.
Meanwhile, AMD's Epyc sales continue trekking higher ahead of the mid-2019 launch of second-gen, 7nm, Epyc CPUs (codenamed Rome) that are promised to deliver twice the performance per CPU socket of comparable first-gen Epyc CPUs (they launched in mid-2017). While it normally takes a little while for enterprises to qualify and adopt new server CPUs, AMD, which estimates it had a mid-single digit server CPU share at the end of 2018 and is aiming for a double-digit share by early-to-mid 2020, should see Rome orders from cloud giants should arrive relatively quickly.
And in the server GPU market, the upcoming launches of Alphabet/Google's
and a Microsoft cloud gaming service
should provide a boost. In addition, though Nvidia is still a much bigger player here, AMD has also reported seeing some traction for its Radeon Instinct server GPUs within the market for AI/machine learning and high-performance computing (HPC) accelerators.
The Big Picture
With its stock up sharply this year, there's clearly now more pressure on AMD to execute well and produce the strong second-half sales growth implied by its full-year outlook. But for the time being, given what's know about its upcoming Navi, Epyc and Ryzen desktop launches, such growth doesn't look implausible.