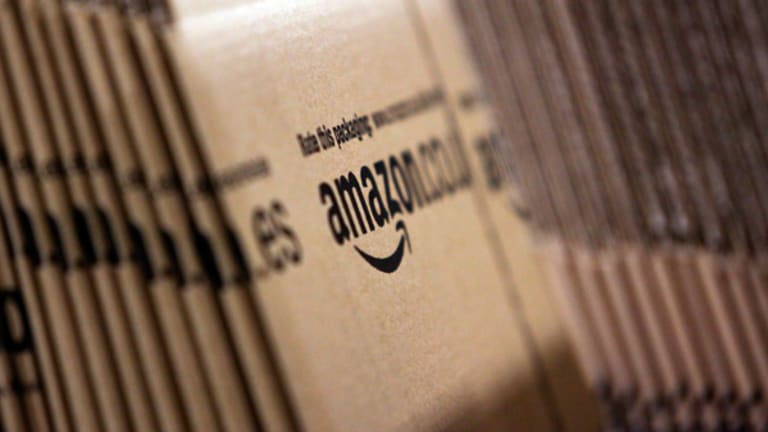 Amazon's Amazing Stock Levitation Trick
These 12 charts reveal why Amazon is really amazing and befuddling at the same time.
NEW YORK (F.A.S.T. Graphs) -- I've been analyzing common stocks for the better part of five decades, and I've never come across a stock that was more amazing and befuddling at the same time than Amazon (AMZN) . After going public in May of 1997, the company did not generate a dime's worth of earnings until 2004.
Then, from 2004 to 2010, Amazon grew earnings at a staggering compound annual growth rate of 55%. Moreover, during that timeframe, Amazon's stock price closely correlated to and tracked their earnings growth. This all made sense, and was as it should have been. Great earnings generation produced a powerful advance of their stock price, and all was well with the world. The following earnings and price correlated charts presents a graphic depiction of Amazon's earnings and price correlated record from 2004 to 2010.
Perhaps it was during the glory days of profit growth where Amazon first created its loyal, if not overzealous, followers. However, since 2010, Amazon has found it difficult, if not impossible, to bring any profits down to the bottom line. But this has not stopped its stock price from continuing to advance to stratospheric levels based on earnings.
A quick glance at the earnings and price-correlated charts below show, in graphic form, what I discussed so far. To me, the most startling aspect of the following graphic is how Amazon's stock price has continued to advance like a rocket ship headed to the moon, in spite of collapsing earnings in 2011 and 2012. Could there be something that I am missing?
In order to see if I had missed anything, I took a look at Amazon based on a calculation of Funds From Operations, or FFO, which is a very close cousin to operating cash flows; what I discovered was Amazon amazing. Amazon's stock price tracked FFO almost perfectly as depicted below. However, this still befuddles me, because even though Amazon is clearly generating very strong cash flows, investors should consider that none of these cash flows are available to them.
utilized to calculate Amazon's FFO directly from their Statement of Cash Flows/ Statement of Changes.
Another plausible explanation for Amazon's stratospheric stock valuation might be expectations of future earnings growth. The following "Estimated Earnings and Return Calculator" is based on the consensus of 20 analysts reporting to Standard & Poor's Capital IQ.
These 20 analysts forecast that Amazon will grow future earnings at a rate of 34.1% per annum over the next five years, a very large and attractive growth rate. When you consider that the dark orange line on that graph represents a P/E ratio of 34.1, you get an immediate perspective of how frothy Amazon's share price currently is.
Sure, expectations for growth are staggeringly high, but even at that enormous rate of growth, future earnings would not support Amazon's stock price and high valuation.
Therefore, I continued to look for positives that might justify Amazon's lofty valuation and turned to sales. The following FUN (fundamental underlying numbers) graphic plots Amazon's sales per share since 1998. Sales per share (saleps) increased from $1.92 per share at fiscal year-end 1998 to $134.57 per share by fiscal year-end 2012.
During their most recent quarter (MRQ) sales per share were $35.32. If you simply annualized that number by multiplying by four, you would get a potential 2013 sales per share of $141.28, indicating continuing sales growth of 30% or better. Any owner of a business accomplishing that great feat would be happy.
On the other hand, Amazon's cost of goods sold per share, have also increased at a staggering rate. Cost of goods sold per share increased from $1.46 in fiscal year-end 1998 to $97.51 by fiscal year-end 2012. This represented a 34.97% compound annual growth rate on cost of goods sold per share. Clearly, it keeps getting more expensive for Amazon to grow its business.
So next I turned to looking at gross profit margin and found that Amazon was generating gross margins of 27.5% by fiscal year-end 2012, and 30.92% for its most recent quarter. These are good numbers for any business. However, when I looked at net profit margin (npm), I discovered a negative number for 2012 and a very low profit margin for the most recent quarter. Moreover, I discovered that for most of its operating history, Amazon has often generated negative profit margins, not a good thing, in my book.
This begs the question: Why can't Amazon bring its strong sales to the bottom line? To me, this is a big negative, because as a shareholder, all I could ever expect to be rewarded with must come from earnings and/or dividends. Amazon does not seem capable of generating either, in spite of its enormous sales success. To me, this is quite troubling.
After evaluating margin, I began looking at assets and asset growth. Once again, I found extraordinary results. Amazon increased its total assets from $648 million in fiscal year-end 1998 to $32.55 billion by fiscal year-end 2012. That represents a compound annual growth rate of assets of over 24% per annum.
On the other hand, even though Amazon has grown assets at a staggering rate, it doesn't seem to be capable of earning any returns on those same assets. The following graph shows Amazon's return on assets since fiscal 2005. I feel it's a disturbing trend to see that Amazon's returns on assets have been steadily on the decline and even turned negative in fiscal 2012.
Although Amazon's asset growth has been extreme, so have its common shares outstanding (csho). Common shares outstanding have increased from 318 million shares in fiscal 1998 to 454 million shares by fiscal year-end 2012. A rising share count makes it more and more difficult to generate earnings growth, which may partially explain why Amazon has not.
Then I thought, let's take a look at common equity or book value. Here, once again, I see a very positive result and trend. Common equity per share has increased from 44 cents per share in fiscal 1998 to $18.04 per share by fiscal 2012. Once again, I discovered a compound annual growth rate exceeding 30% per annum, sweet. On the other hand, with a share price at over $300 per share, Amazon is trading at approximately 16 times book value, pretty rich.
But when I looked at return on equity, I once again saw a disturbing trend and numbers. Return on equity fell from 134.5% in fiscal 2005 to a negative number by fiscal year-end 2012.
Summary and Conclusions
Amazon is clearly a powerful company that possesses many significant and powerful fundamental attributes. On the other hand, I find it quite disturbing that the company cannot seem to bring its sales success to the bottom line.
I have to believe that, at some point, investors are going to demand that Amazon not only starts delivering some profits, but perhaps some dividends along the way as well. If not, then I believe that Amazon's stock price is very vulnerable to a large drop.
My point being that Amazon's shareholders should at least be aware of the extreme valuation on their shares. If the magic trick that's levitating their shares dissipates, the results could be devastating.
I will be looking for some bottom-line results when Amazon reports earnings at 2 pm EDT on July 25, 2013.
Caveat emptor
.
At the time of publication the author had no position in any of the stocks mentioned.
This article was written by an independent contributor, separate from TheStreet's regular news coverage.
Charles (Chuck) C. Carnevale is the creator of
.
Chuck has over 43 years of financial experience and is the co-founder of the earnings and price correlated, powerful fundamentals analyzer software tool - FAST Graphs. Chuck holds a Bachelor of Science in Economics and Finance from the University of Tampa. Chuck's work stressing sound valuation has been widely published on numerous financial sites and blogs. Chuck is passionate about spreading the critical message of valuation and prudence in fundamental investing. So much so that regular readers have dubbed him "Mr. Valuation". Chuck is a Veteran of the Vietnam War and was awarded both the Bronze Star and the Vietnam Honor Medal.
Chuck believes that correctly assessing fair value is one of the primary keys of successful stock investing, and he has dedicated his more than 40 years of experience in finance to its pursuit. Chuck agrees with legendary investors such as Warren Buffett, who recognize how important it is for investors in common stocks to possess an intelligent framework for making sound decisions that can keep emotions out of the equation. With making smart stock selections, there is no room for fear and greed.
Chuck was fortunate to learn at an early age that earnings drive long-term stock prices, and that dividends, if any, will be paid out of a company's earnings. This led him to develop FAST Graphs, the fundamentals analyzer software tool that reveals the long-term relationship between a company's earnings and its stock price and dividends over time. Chuck is most interested in the business behind the stock. Disclaimer: The opinions in this document are for informational and educational purposes only and should not be construed as a recommendation to buy or sell the stocks mentioned or to solicit transactions or clients. Past performance of the companies discussed may not continue and the companies may not achieve the earnings growth as predicted. The information in this document is believed to be accurate, but under no circumstances should a person act upon the information contained within. We do not recommend that anyone act upon any investment information without first consulting an investment advisor as to the suitability of such investments for his specific situation.