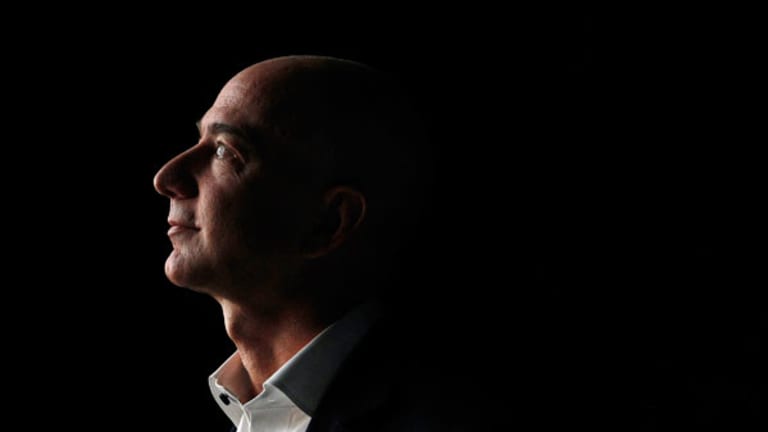 Amazon's About to Pass Apple
It's all about investors confidence. Jeff Bezos inspires it. Tim Cook, not so much.
NEW YORK (TheStreet) -- "Overvalued" Amazon.com (AMZN) appears set to surge past "undervalued" Apple (AAPL) . Any day now. There might be some fits and starts but, AMZN will do what it always does after a pullback. It will recover. AAPL will most likely languish.
I bet
TheStreet contributor Robert Weinstein
a beer that AMZN would hit $300 before $200. Then, after I wrote
Amazon Will Beat Apple to $1000
, I received a whole slew of
I'll betcha a beer
cards and letters.
Harken back with me if you will. Check out some of the prescience in that September 2012 piece:
Amazon . . . provided Apple the succession plan shareholders weren't sure it had when Steve Jobs was ill. It goes like this: Amazon unseats Apple as the dominant force in tech and related spaces.
At several points over the last year, Apple stopped dictating the rules of engagement. As a result, Amazon will unseat Apple this decade as America's premier company, without being No. 1 in market share for any device. It doesn't even have to make money on hardware sales.
Crash. BOOM. Bang!
Also see: Apple: Everything You Didn't Want to Believe May Be True >>
If you look toward the middle and end of the decade, there's a ton more uncertainty in Cupertino (can you say Apple TV?) than there is in Seattle.
As Apple sits on obscene amounts of cash, Amazon reinvests heavily in its business. It continues to roll like a perpetual startup with the appropriate mix of tunnel vision, natural ability, calm and reckless abandon.
Amazon doesn't live off of interest like a dying senior citizen. It riffs immortal as it makes the population reconsider the question of which tech company will rule the world.
Wall Street loves stable, well-oiled machines that don't miss. It will run AMZN to $1,000 on confident anticipation of a dynasty by the end of the decade.
Us literary types call that foreshadowing. Back in the old neighborhood we refer to it as the writing on the wall. The bell tolled for thee.
Also see: AT&T Shares Slip on Revenue Miss >>
Hindsight really is 20/20. Clarity looks most clear in the rearview mirror. Because here we are with Amazon on the verge of another earnings report everybody will trash even as the stock rebounds, recovers and ultimately moves higher thanks to the faith Wall Street has in Jeff Bezos.
I was watching
CNBC
Wednesday afternoon. You know I love those cats -- to a person -- but they took the easy route, making the Cook-Bezos comparison.
Should Tim Cook ignore Wall Street like Jeff Bezos does
? Ooh. Ah. But it's a bogus question. A gross misunderstanding of the situation.
Let's break it down.
Cook is not doing a good job at Apple. Wall Street is telling him what to do. Because he has no clue how to move forward, he listens by taking the wholly meaningless action of hiking the dividend and upping the buyback.
Also see: Gastro-Lounge EVR Taps Into Bitcoin Craze >>
Bezos is doing an excellent job at Amazon. You might not agree with how he runs the business,
but
you absolutely cannot second guess a plan that not only works now, but has worked for the past 15 or so years. AMZN tends to go up and, when it doesn't, it remains relatively stable.
Tim Cook did not offer a way forward on Apple's quarterly conference call. He
about the future. Jeff Bezos -- or Amazon CFO Thomas Szkutak who speaks on the company's behalf during earnings season -- tells you exactly what Amazon's thinking and doing. Building out its ecosystem and extending fulfillment capabilities -- investing across the board -- to seize the massive long-term opportunity that lies ahead. And, as has been the case since the late 1990s, this will be Amazon's strategy as long as opportunity presents itself.
--
Written by Rocco Pendola in Santa Monica, Calif.
Rocco Pendola is
TheStreet's
Director of Social Media. Pendola's daily contributions to
TheStreet
frequently appear on
CNBC
and at various top online properties, such as
Forbes
.