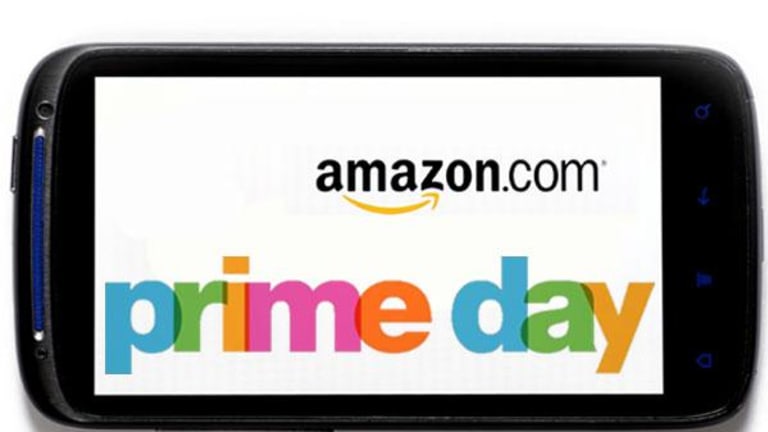 Amazon Touts Success of Prime Day, Especially Sales of Its Own Devices
The e-commerce giant said that the number of orders on Prime Day worldwide increased more than 60% from last year, but didn't disclose sales figures.
Updated to include additional comments from Jim Cramer and an analyst.
Amazon's (AMZN) - Get Report second annual Prime Day appeared to be a success for the e-commerce giant, as both order volume and sales of its own devices increased significantly.
Amazon announced Wednesday that the number of orders on Prime Day rose more than 60% worldwide and more than 50% in the U.S. year-over-year. While the e-commerce giant didn't release sales figures, it also boasted that Prime Day 2016 was the biggest sales day ever for Amazon devices.
In fact, the Seattle-based company sold over three times the Amazon devices it did last year, with the Fire TV Stick, its streaming media player, being the best-selling device. It was also the biggest sales day ever for the Echo, Amazon's wireless speaker powered by its Alexa digital assistant.
Other popular products from Prime Day include instant pressure cookers, headphones, double hammocks and cleaning robots, among others.
Shares of Amazon were down 0.5% to $744.35 in afternoon trading on Wednesday, near an all-time high.
TheStreet's Jim Cramer said although Amazon's stock is expensive, it's not overvalued.
"What I want to urge people to do is recognize that Amazon is a secular grower, taking share away from a lot of companies now moving away from even just apparel and books and devices, now moving to a lot of other areas," said Cramer, who manages the Action Alerts PLUS portfolio.
The results initially appeared to be a mixed bag on Tuesday, with sales tracking group ChannelAdvisor estimating Prime Day sales for third-party sellers in the U.S. to be in line with last year's results.
Some analysts were expecting Jeff Bezos' e-commerce empire to see its incremental revenues on Prime Day increase by as much as two times versus last year. It's important to note that ChannelAdvisor's numbers didn't include sales where Amazon was the direct seller, however. In other words, it wouldn't have included Amazon devices.
"Amazon's successful Prime Day event continues to reinforce Amazon as a shopping destination for consumers and a key partner for vendors," wrote Pacific Crest Securities analysts in a Wednesday note.
Amazon's devices were a key focus of Prime Day as there were discounts on almost every single device it makes, with the exception of the recently launched, high-end Kindle Oasis.
"Amazon continues to use device promotions around key shopping events (Black Friday, Cyber Monday, among others), we believe in an effort to further its strategy of offering low-cost devices to further embed the consumer in the Amazon ecosystem," the analysts noted.
Amazon's promotions also offered an insight into the e-commerce company's focus on selling household products, personal care items, apparel and Amazon's own private-label items, such as Happy Belly coffee products, according to Pacific Crest.
The e-commerce company went big on Prime Day this year by doubling both the number of deals offered and third-party sellers participating. Amazon's rivals responded with their own promotions, particularly Walmart (WMT) - Get Report, while some companies such as Fossil (FOSL) - Get Report  highlighted their own sales.
Still, Prime Day 2016 wasn't exactly without road bumps. In the early morning, some Amazon customers reported difficulty adding special deals to their shopping carts; Amazon responded with a tweet saying that it was working to resolve the issue, and told Reuters that the issue had been resolved by the late morning.
The main difference between 2015 Prime Day and 2016 Prime Day was Amazon's focus on hardware, Maxim Group analyst Tom Forte said via phone. 
"The company has had incremental promotions to encourage consumers to buy products via Alexa-powered devices," he added, explaining that the increase in Amazon device sales is encouraging in that consumers could now use these devices to buy more products.
Despite unclear sales figures, Forte said 2016 Prime Day appears to have been positive for Amazon. The company was able to showcase the power and breadth of its Prime ecosystem this year, especially through its hardware products as well as the newly offered Prime Now delivery services, according to Forte.