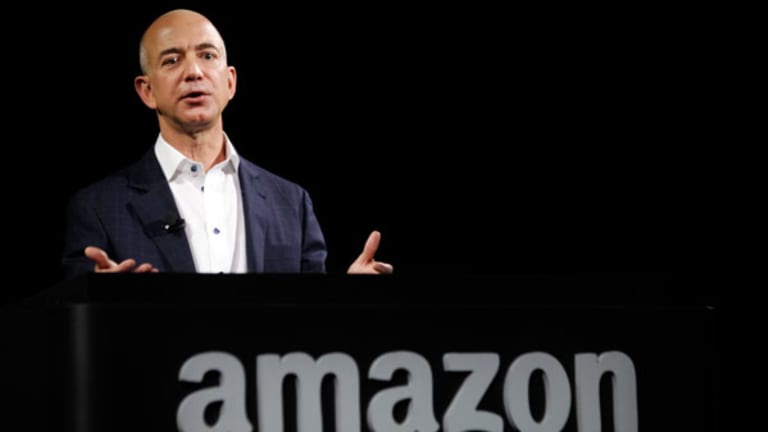 Amazon to $800 in 2014
Amazon has released all the numbers necessary to justify a double in 2014.
NEW YORK (TheStreet) -- Here are the only metrics that matter with respect to Amazon.com (AMZN) - Get Amazon.com, Inc. Report:
More than one million customers around the world became new Prime members in the third week of December.
The entire 2013 holiday season was the best ever for Amazon, with more than 36.8 million items ordered worldwide on Cyber Monday, which is a record-breaking 426 items per second...
Those numbers, reported last week by Amazon, blew minds. Every time I revisit them, mind blown again. Yet, some of Amazon's critics have the nerve to criticize the amount of money the company spends to run the business. These are the types of people who would be first in line to complain if their package didn't arrive on time.
Or if the Amazon site crashed. Or if overwhelming demand forced it to stop taking orders. Or if it allowed a credit/debit card breach that impacted 40 million customers.
It's simply staggering that Amazon can fulfill that many orders. More than 400 per second on Cyber Monday. It's just insane. And it more than justifies the fact that, in the third quarter, Amazon spent almost 35% more on fulfillment than it did in the prior year's quarter ($1.51 billion in Q3 2012 versus just over $2.03 billion in Q3 2013).
So now, vis-a-vis the size of Amazon's opportunity and the investment needed to properly seize it, you don't have to just put your faith in Jeff Bezos (though that's fine by me), you have some sick numbers to support his approach.
Need more? The value crowd likes number talk. Enough color they could choke on it. So fine.
Amazon CFO Tom Szkutak told us on the Q3 conference call exactly how the company was preparing to spend -- even more than usual -- to meet the above-mentioned holiday shopping season demand:
Sure. In terms of Q3 specifically, Q3 just because of the -- as I would call it the Q4 readiness, the seasonal readiness, you see this often in Q3 where both our total and our segment operating profit is lower than other quarters. And that's certainly what you are seeing in Q3 in North America. So that's in terms of the investments we are making to get ready for the season we talked about. You start and just quote the capacity that we are adding certainly in multiple geographies, but certainly in the North America it is impacting that as well. You can see it in our fulfillment line item as a percentage of revenue being up.
Lots of folks chide Amazon for holding conference calls void of useful information. I'm not sure what they want or feel they need. But it inspires confidence to know that Amazon does such an excellent job matching "supply" (in this case, not just inventory, but infrastructure and manpower) to demand.
These guys know their business. They do not exist in oblivion, haphazardly spending their way into trouble. This is notNetflix (NFLX) - Get Netflix, Inc. Report by any stretch of the imagination.
More numbers? No sweat, bro.

These metrics matter just as much:
More than half of Amazon customers shopped using a mobile device this holiday.
Between Thanksgiving and Cyber Monday, Amazon customers ordered more than five toys per second from a mobile device.
You see what's happening here, don't you?
Amazon is building out a massive ecosystem consisting of millions of Prime members and an army, quite obviously, in the hundreds of millions who go to the site for their every need across devices. And when Amazon provides them unparalleled customer service -- across the board -- not only are they compelled to come back, they want to come back because it's fun.
Being a Prime member is fun. And addicting. Receiving an item you ordered one day the next or watching Sunday delivery actually happen. It's all fun. It's the type of pollution-free air you like to breathe and want to breathe again in an era when such flawlessly-executed retail and customer service experiences come so few and far between.
Venture capitalist Jason Calacanis wrote an excellent essay way back in January 2012 that nicely articulated the lure of Amazon Prime.
Some of the things Calacanis said nearly two years ago now:
And to be clear, Prime is a cult you will be joining.
Prime is at a tipping point.
One in three American households will have Amazon Prime (or have access to Prime) in the next four years.
We're halfway there (and I bet ahead of schedule) but we're not livin' on a prayer because, as Calacanis noted:
Our leader is Bezos.
That's the type of analysis investors needs to be on the look out for. Analysis that precedes about 128% worth of upside. Not the tripe that comes out of the value investing camp.
Amazon has teed up the metrics that matter for you once again. You can choose to ignore them. You can criticize me because I didn't print something more like this to justify my AMZN bullishness:
Our $35 PT is based on our DCF model through 2020, which assumes a 12% cost of capital, 4% terminal growth rate and a 13.0x terminal EBITDA multiple. Key Drivers of our DCF projection include 2012-2020 CAGRs of 37% and 114% for Revenue and EBITDA. Our PT is also equates to ~7x FY2015E revenue of $958M.
Yes. That's from a Pandora (P) price projection, but it's my favorite sample of Wall Street analyst geek speak meant to say you're wasting your time dealing in all of this at 10X earnings based on this model or that model we think AMZN is fairly valued at XYZ crap. It's all a pointless exercise.
Ignore me. Cast me off. Don't read what I have to say. Discount my 2014 $800 AMZN price target as not supported by anything other than opinion (not true). You'll be ignoring another example of analysis that, in the current century, means more to investors and smart observers than any part of the status quo traditionalists try to keep alive.
--Written by Rocco Pendola in Niagara Falls, New York
Rocco Pendola is a columnist for
TheStreet
. Pendola makes frequent appearances on national television networks such as
CNN
and
CNBC
as well as
TheStreet TV
. Whenever possible, Pendola uses hockey, Springsteen or Southern California references in his work. He lives in Santa Monica.