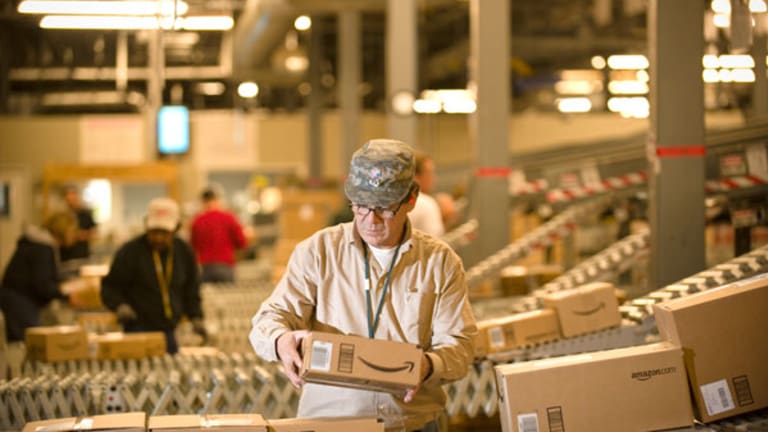 Amazon to $314? You Betcha
Lots of bears are talking the talk but not walking the walk.
NEW YORK (TheStreet) -- The weekend before Thanksgiving, I visited TheStreet contributor Robert Weinstein at his relatively rural home in the Northwoods of Wisconsin.
We saw deer. We walked Bob's dog on the pitch black, dead silent streets of Eau Claire. We shot guns.
It was a great time.
I love nothing more than imposing on another family's daily routine. Plus, as a lover and/or student of all built and natural environments, I seize every opportunity I can to spend time in a place I have never been or would not visit otherwise.
It's also fun to team up with Bob's wife to pick on him for his quirks and divergent political views.
Part of my goal is to get to her to do more than nod in agreement when I attack Bob. Because she's a native of that whole Wisconsin/Minnesota region, I strive to get a "You Betcha" out of her here or there. The Wisconsin accent and way of speaking is my second favorite North American dialect, sandwiched between Pittsburgh's penchant for "yunz guys" and the trademark New York "yo" attitude.
If I went after Weinstein for his bearish views on
Amazon.com
(AMZN) - Get Report
, his wife would nod in agreement. And, if I said,
Mrs. Weinstein, do you shop at Amazon.com?
, she would respond with a hearty
You Betcha!
.
In fact, I am friends with Bob's wife on
Facebook
. Over the weekend, she posted:
Ahhh, Black Friday shopping at home with my laptop and my chai tea. No lines, no crabby people, and the packages delivered right to my door. :) Thank you Kohls.com, Amazon, and Target!
I do not need to make this any more complicated than it needs to be.
Put two and two together.
I have written several articles on what a soulless and pointless experience most of brick and mortar retail has become. See my latest:
The Death and Life of Great American Retailers
.
People like Bob's wife. People like me. People like you. We no longer have a reason to seek out sociality in physical retail environments. Trips to the shopping mall to "people watch" are a thing of the past. We can gawk and spy and eavesdrop and gossip online all we want now, 24/7.
Heck, when Bob and I visited the
Mall of America
, we wandered. We only stopped in two places for any length of time. The amusement park area of the place and the corridor where the
Apple
(AAPL) - Get Report
and
Microsoft
(MSFT) - Get Report
stores face one another.
Both
destinations
, on their own, and as comparison cases, have something -- or several somethings -- compelling enough to attract and draw us in. Few retailers can say that. Other than getting something right now, there's no reason to waste precious time on something as uninspiring as visiting a brick and mortar retail outlet.
It all gets done online. Until retailers step it up to the Apple (or
Tesla Motors
(TSLA) - Get Report
or
Lululemon
(LULU) - Get Report
) level, that's not about to change.
Today, Caris raised estimates for Amazon's top
and
bottom line. It also upped its price target on the stock to $314.
Don't let the bears, who likely do not have the guts (because, deep down, they're smart) to short the stock, suck you into a trap. Only about 2.3% of AMZN's float is short; that's roughly 8 million out of 364 million shares. Lots of people are talking the talk, but not walking the walk.
Amazon doesn't tell us how many Kindles it sells. Its margins stink. Profits blow when they report them. They spend too much. They took out a $3 billion bond.
All of the above and anything else the bears come up with doesn't matter.
Look at AMZN like you look at decorating a baby's room before it has been born. You are getting everything ready for big event. Of course, the entire pregnancy is a big deal. And you treat it as one. But, for nine months, you lay the groundwork for the
really
big event -- the birth of a new life that will sustain and breathe even more vibrancy into the world.
Amazon operates on a longer life cycle, but it's the same concept.
Don't short children because, after all, they are the future. And don't short AMZN because Jeff Bezos and his team
.
Rocco Pendola is
TheStreet's
Director of Social Media. Pendola's daily contributions to
TheStreet
frequently appear on
CNBC
and at various top online properties, such as
Forbes
.