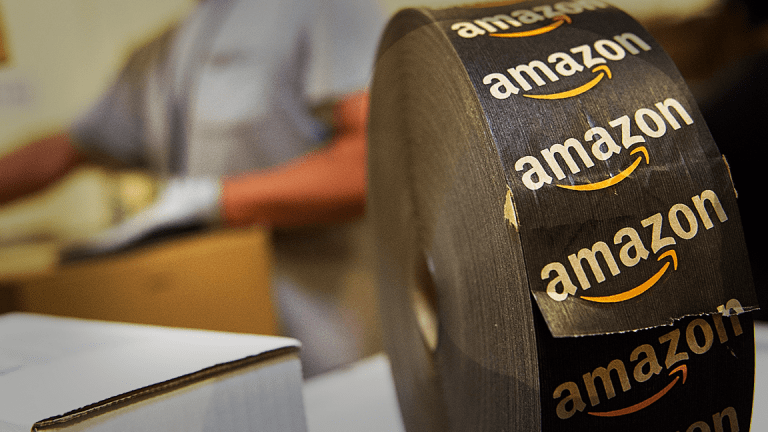 Why Wall Street Is Suddenly Scared of Amazon
Amazon has had one heck of a year. From being on the search for a second headquarters to continuing to widen its advantage over old school retailers, Amazon remains very much in motion. It's stock price is a different story.
What's worth $472 billion and is not playing in the latest leg of the epic bull market? That would be Amazon (AMZN) - Get Free Report . 
Shares of the digital destroyer are only up 1.5% over the last three months, lagging the Dow's 6.7% gain. During the last five sessions alone Amazon's stock has shed 2.5%. So what gives? Perhaps several things. 
First is that Microsoft (MSFT) - Get Free Report continues to make strong inroads into the cloud, likely at the expense of Amazon Web Services. AWS by no means is on the rocks, but Wall Street didn't expect Microsoft to start infringing on Amazon's dominance. Next up is the revival of Walmart (WMT) - Get Free Report . Walmart has begun to win the story battle with Amazon by launching a host of new digital initiatives. For the first time maybe ever, Amazon has a true rival it must watch very closely. And finally is the bad taste Amazon's second quarter left in the mouths of investors. The company might be entering one of its legendary investment periods (it's going to cost some money to build a second headquarters...) that leads to so-so earnings. More will be learned on that front when Amazon reports third quarter results. Proceed with caution. 
What's Hot On TheStreet This Weekend
Microsoft Still Undervalued?
Bill Gates has gotten even richer this year.
Go figure. Microsoft is just about back to its valuation seen during the 2000 tech boom and it still may undervalued, points out TheStreet's Annie Palmer. One of TheStreet's rising stars makes a good comparison, noting Microsoft's stock is trading on a P/E multiple about in line to the industry average. In plain English, Microsoft's rebirth under Satya Nadella -- led by a focus on the cloud, LinkedIn, and not doing dumb projects -- has still not been fully embraced by Wall Street.
Wake up, Wall Street. You missed the last 26% in the stock (year to date gain), don't miss the next 30%. Microsoft will report earnings this coming week.
Receive the free "Morning Jolt" daily newsletter by heading here.
How to Play Dow 30,000
Wonder if General Electric (GE) - Get Free Report will play in Dow 30k...
Dow 23,000 is so old news. So, that's why over on RealMoney this weekend we explore what stocks should be owned as the Dow heads to 30,000 quicker than anyone expects. Actually, contributor Jonas Elmerraji suggests getting outside of the Dow 30 and sticking with strong tech names such as Facebook (FB) - Get Free Report , Apple (AAPL) - Get Free Report , Netflix (NFLX) - Get Free Report and Google (GOOGL) - Get Free Report . These companies have considerable competitive advantages that are only likely to strengthen over time. 
I mean come on, who is dumb enough to try and create the next Google. 
Weekend Investing Lesson
Learn a little something this weekend before getting back to the trading grind on Monday. 
TheStreet's founder Jim Cramer has been using a key stock market indicator since the 1980s. Here is why the S&P Oscillator Index is important, and what's it's signalling about the market right now.
Facebook, Apple, Alphabet and General Electric are holdings in Jim Cramer'sAction Alerts PLUS Charitable Trust Portfolio.Want to be alerted before Cramer buys or sells FB, AAPL, GOOGL and GE? Learn more now.
Join Jim Cramer, CNBC's Jon Najarian and Other Experts Oct. 28 in New York
Jim Cramer will host CNBC's Jon Najarian, TD Ameritrade's JJ Kinahan, famed analytics expert Marc Chaikin and other market mavens on Oct. 28 in New York City to share successful strategies for active investors.
You can join them as they discuss how smart investors can make the most of options trading, futures contracts, fundamental and quantitative analysis and great ETFs to buy right now. Participants will also get a chance to meet Jim and other panelists and take photos.
When: Saturday, Oct. 28, 8 a.m.-3 p.m.
Where: The Harvard Club of New York, 35 West 44th St., New York, N.Y.
Cost: $250 per person.
Click here for the full conference agenda or to reserve your seat now.
More of What's Trending on TheStreet: