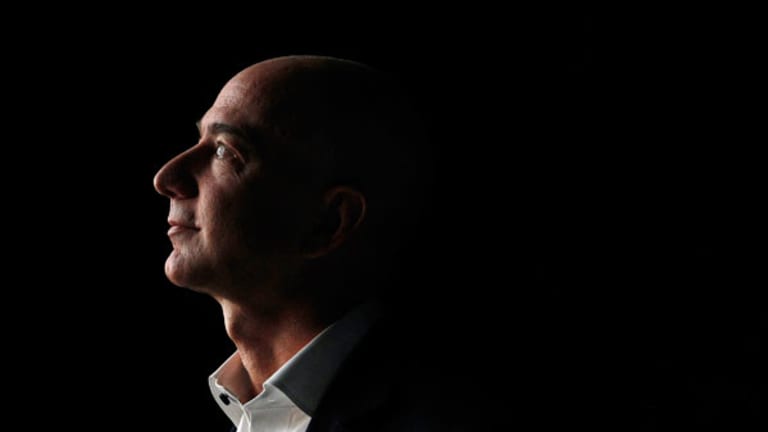 Amazon Stock Is Worth Every Penny
Amazon shares have been unstoppable. Don't fight the move higher.
NEW YORK (TheStreet) -- Amazon (AMZN) is bigger than the Federal Reserve, and about as controversial.
Once the Fed began its aggressive bond-buying program, or "QE," many investors starting fearing an equity "bubble" and insisted it was going to pop at any moment. Investors who initiated a short position in the S&P 500 at the start of the year have lost 23% in 2013 so far. Over the past three years the index has risen 48% and over the past five years it's up 86%. 
Moral: Don't fight the Fed.
Same with Amazon CEO Jeff Bezos.
Yes, there are scary things about the company. It produces no profit and in most cases losses money from quarter to quarter. Expenses continue to rise, revenue per employee continues to drop and the valuation is literally astronomical. 
So yes, there are good reasons to avoid buying the stock, especially at levels that make value investors scoff and perhaps gag a bit.
But Jeff Bezos' company is simply not a name to short. Unlike the S&P 500, which is up 23% for the year to date and some 80% or so over the past five years, Amazon is up 43% in 2013 and 635% from five years ago, including the post-earnings pop from Thursday night. 
A Fed-rebelling short position in the S&P 500 would hurt if it were initiated and never lifted from 2009 until now, but stacking your chips against Bezos & Co. would have proved suicidal. 
Most recently, the premiere e-commerce retailer delivered a third-quarter earnings loss of 9 cents per share on $17.1 billion in revenue -- the latter of which is clearly most important to investors. 
Amazon has struggled to drive profits and is willing to sell devices such as the Kindle for a loss in order to drive future sales of its services, content and products. 
But whether you think that's right or not doesn't matter. The market doesn't care about Amazon's inability to produce a profit for now. One day, that'll matter. Right now it doesn't and the stock wants to go higher. 
Investors care about sales, which in this latest quarter grew a robust 24% from the same period last year. Operating cash-flow also increased sharply, up 48% from the previous year. 
Amazon is still cruising higher and the shorts should take notice because their positions are getting toasted otherwise. It seems like every pullback is just a bear trap, as the stock goes on to rally sharply in the coming weeks and months.
Unfortunately for the bears, they have to either be extremely skilled and disciplined when shorting, or very patient. 
They can look to short when the company fails to grow year-over-year sales coupled with quarterly net losses, sentiment begins to change and the uptrend breaks down. 
Otherwise, it's just frustration, losses and financial suicide. If the stock actually starts to tumble, you'll have plenty of chances to press it on the downside. Until then, stay out of Bezos' way. 
At the time of publication, the author had no position in any stocks mentioned.

-- Written by Bret Kenwell in Petoskey, Mich.

Follow TheStreet.com on Twitter and become a fan on Facebook.
Bret Kenwell currently writes, blogs and also contributes to Robert Weinstein's Weekly Options Newsletter. Focuses on short-to-intermediate-term trading opportunities that can be exposed via options. He prefers to use debit trades on momentum setups and credit trades on support/resistance setups. He also focuses on building long-term wealth by searching for consistent, quality dividend paying companies and long-term growth companies. He considers himself the surfer, not the wave, in relation to the market and himself. He has no allegiance to either the bull side or the bear side.