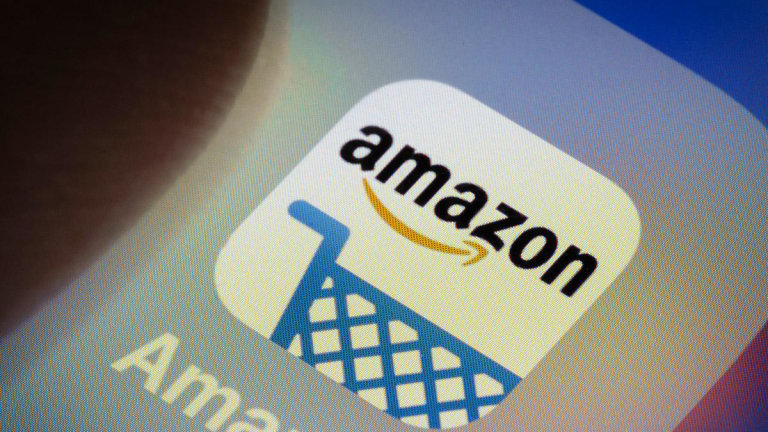 Amazon Slumps After Issuing Light Guidance: 7 Key Takeaways
Amazon soundly beats earnings expectations and continues seeing strong services growth, but a soft revenue outlook for its seasonally biggest quarter is weighing on shares.
A light revenue outlook and slower international growth are overshadowing Amazon.com's (AMZN) - Get Amazon.com, Inc. Report strong earnings beat and continued services momentum.
After the bell on Thursday, the e-commerce and cloud giant reported Q3 revenue of $56.58 billion (up 29% annually, and around 22% excluding the impact of the Aug. 2017 Whole Foods deal) and GAAP EPS of $5.75. EPS easily beat a $3.08 consensus, but revenue fell short of a $57.11 billion consensus.
In addition, for seasonally big Q4, Amazon guided for Q4 revenue of $66.5 billion to $72.5 billion (up 10% to 20%) and operating income of $2.1 billion to $3.6 billion. That's below consensus estimates of $73.79 billion and $3.86 billion, respectively.
Shares fell 6.3% on Friday to $1,670.26. Despite a pullback in recent weeks, Jeff Bezos's company had gone into earnings up 53% on the year, which in turned spelled high expectations.
Here are some takeaways from Amazon's earnings report and call.
1. The Q4 Guidance Might Be Conservative
When asked about his firm's quarterly sales outlook on the call, CFO Brian Olsavsky indicated the guidance features "very high error bars," given how much Q4 sales skew towards the holiday season. "[I]t's always a very difficult period for us to estimate," he said. "[W]e're very bullish on the fourth quarter. We'll just have to see how revenue comes in."
Meanwhile it's worth noting Amazon has soundly beat its operating income guidance the past two quarters. Q3 operating income was $3.72 billion, well above guidance of $1.4 billion to $2.4 billion.
2. International Growth Slowed Meaningfully
The main factor behind the Q3 revenue miss: Amazon's International segment saw revenue grow 13% to $15.55 billion, which is below a $16.49 billion consensus. On a constant currency (CC) basis, International revenue growth slowed to 15% from Q2's 21%.
Olsavsky noted the lapping of Amazon's mid-2017 purchase of Middle Eastern e-commerce firm Souq.com affected international growth, as did the fact that India's Diwali holiday happens in Q4 this year rather than (as was the case last year) Q3. Nonetheless, with the pre-earnings consensus for Q4 International growth standing at 20%, it wouldn't be surprising to see estimates for the segment get taken down some.
3. North American and AWS Growth Remained Strong
North American segment revenue grew 35% to $34.35 billion, topping a $34.02 billion consensus. Excluding Whole Foods, growth appears to have been around 25% -- still an impressive number, given Amazon's current U.S. scale and e-commerce market share.
Amazon Web Services (AWS) revenue rose 46% to $6.68 billion, falling slightly short of a $6.71 billion consensus. Growth slowed a bit from Q2's 49%, but remained above the year-ago period's 42%. Just as the North American segment is both taking e-commerce share and benefiting from e-commerce's cannibalization of traditional retail spend, AWS is both taking public cloud share and benefiting from the public cloud's cannibalization of traditional IT spending.
4. Non-AWS Services Businesses Also Did Well
Third-party seller services revenue, which covers things like commissions and fulfillment services for Marketplace sales, rose 31% to $10.4 billion. Subscription services revenue, which is driven in large part by Prime but also covers content subscriptions, rose 52% to $3.7 billion.
And "Other" revenue, which is driven by a booming ad business that has lately become a larger priority, officially rose 122% to $2.5 billion. After backing out a change in how Amazon recognizes ad revenue, Other revenue grew about 55%.
Amazon's mix shift towards services relative to direct e-commerce sales continues boosting its margins. Gross margin rose to 41.7 from a year-ago level of 37.1%, and topped a 40.5% consensus.
Make Money on Closed-End Mutual Funds. TheStreet's Robert Powell recently hosted an all-star panel of experts who explained everything you need to know on closed-end mutual funds, and often-overlooked investment class. Click here to register and watch for free.
5. Spending Growth Remains (By Amazon's Standards) Subdued
Restrained shipping costs and capital spending growth are lifting gross margins. Shipping costs rose 22% annually in Q3, a rate that was easily below the 30%-plus growth recorded in recent quarters. Direct purchases of property and equipment (driven to a large extent by warehouse investments) rose just 9% to $3.35 billion, and property/equipment purchases made via capital leases rose just 3% to $2.33 billion.
Operating expense growth is stronger, but continued the deceleration that was witnessed in Q2. Fulfillment spend rose 29% to $8.3 billion, marketing spend rose 33% to $3.3 billion, tech/content spend rose 20% to $7.2 billion and G&A spend rose 8% to $1 billion.
Olsavsky stressed on the call that Amazon's slower spending growth isn't simply due to the company choosing to hike spending at a slower clip, but also a product of Amazon not needing to spend as much to achieve growth objectives, thanks to better efficiencies. He notes Amazon's fulfillment square footage is only set to rise 15% this year, and reiterated investments in running AWS data centers more efficiently are paying off.
6. Amazon Isn't Worried About Planned USPS Rate Hikes
"We're not expecting a material impact from these rate changes in 2019," said Olsavsky when asked about the Postal Service's plans (following criticism from the Trump Administration over what it charges Amazon) to up its rates for both parcels and stamps next year. "Annual rate increases from our transportation partners is a really regular occurrence and we negotiate hard and we'll always work hard internally to get even more efficient on our shipping method."
7. There Are Limits to Where Amazon Will Show Ads
While Amazon is fine with showing product listing ads to shoppers and video and display ads to Twitch viewers, it (wisely) has no plans to deliver ads via Alexa, IR chief Dave Fildes confirmed. "The goal [with Alexa] is to make customers' lives easier," he added. Apple (AAPL) - Get Apple Inc. (AAPL) Report and Alphabet/Google (GOOGL) - Get Alphabet Inc. Class A Report , it should be noted, also currently refrain from having their assistant services deliver voice ads.
Fildes also said Amazon has "no plans to build an ad-supported Prime Video offering for free at this time." However, there have been reports indicating Amazon is prepping a slightly different kind of ad-supported video service: A service for Fire TV devices that would be similar to the The Roku Channel, and be available to both Prime and non-Prime users.
TheStreet's Eric Jhonsa previously covered Amazon's Q3 report and call through a live blog.
Amazon.com, Apple and Alphabet are holdings in Jim Cramer's Action Alerts PLUS member club. Want to be alerted before Jim Cramer buys or sells AMZN, AAPL or GOOGL? Learn more now.