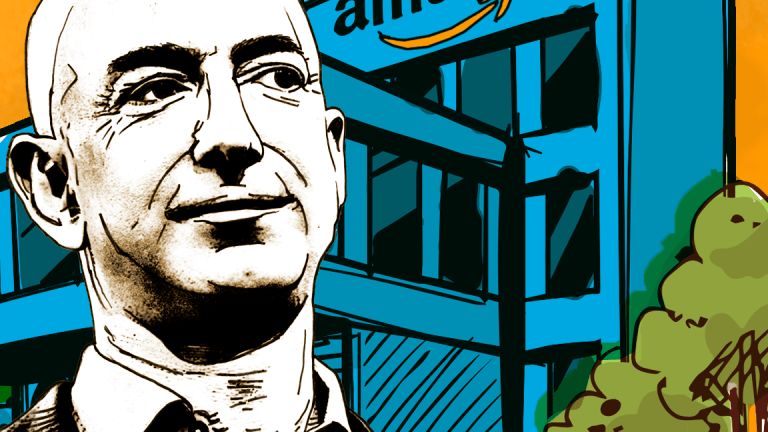 Amazon's Wage Hike Is Politically Savvy -- And Might Not Be Too Expensive
The e-commerce giant's new $15-per-hour minimum wage has already earned it goodwill at a time when it's seeing unprecedented political and media scrutiny.
Jeff Bezos and his company have shown quite a lot of political savvy in recent months.
The $15-per-hour minimum wage that Amazon.com  (AMZN) - Get Amazon.com, Inc. Report unveiled on Tuesday morning for its U.S. workers is the latest case in point. Almost immediately, the move, which goes into effect next month, received widespread praise from the media and American politicians.
Even Senator Bernie Sanders, who a month ago had blasted Amazon over how much it pays many of its workers, was quick to praise the move. "I want to congratulate Jeff Bezos for doing exactly the right thing," Sanders declared on Twitter just hours after the announcement, which was accompanied by a disclosure that Amazon's public policy team "will work with policymakers in Washington, D.C." to push for raising the federal minimum wage from a current level of $7.25 per hour.
However, while Amazon is eager to trumpet how more than 350,000 U.S. workers -- over 250,000 full-time, part-time and temp workers, along with over 100,000 seasonal workers -- will benefit from its new wage policies, one has to wonder how much a tight labor market influenced its actions. The unemployment rate stood at just 3.9% in August, down from 4.4% a year earlier and 4.9% a year before that. Such an environment has been forcing quite a few employers to hike salaries and/or think outside the box to get the workers that they need.
Amazon.com is a holding in Jim Cramer's Action Alerts PLUS member club. Want to be alerted before Jim Cramer buys or sells AMZN? Learn more now.
It's also worth noting that Amazon's wage hike will be accompanied by the gradual elimination of a program that grants restricted stock units (RSUs) to fulfillment and customer service workers, in favor of a program that would give them the option to purchase stock. Amazon does insist, however, that the net effect of this move and its wage hike will be "significantly more total compensation for employees." Nonetheless, a reduction in RSU grants should both reduce share dilution and lower the stock compensation expenses that Amazon records on its income statement.
Amazon hasn't shared just how much it expects its new wage policies to impact its bottom line, other than to say that they'll be reflected in future quarterly guidance. However, judging by some back-of-the-envelope math, there are reasons to think that the total impact will be moderate, rather than massive.
Job-review site Glassdoor's data indicates that base pay for U.S. Amazon warehouse workers ranges from $9 to $17 per hour, with an average wage of $13 per hour. If one backs out those workers who are already earning $15 per hour or more, and thus aren't impacted by the wage hike, the average wage might be around $12 per hour.
If one assumes that the average Amazon worker impacted by the hike works 30 hours per week -- this might be a high estimate, since part-time and temp workers are covered in addition to full-time employees -- an average wage hike of $3 per hour for 250,000 employees would cost Amazon $22.5 million per week, or $292.5 million over a 13-week quarter. Covering an extra 100,000 workers during the holiday season would cost $9 million per week, or $117 million if all of those workers were paid for the whole of Q4.
These aren't inconsequential numbers, to be sure. But they're also hardly back-breakers for a company whose North American segment posted Q2 revenue of $32.17 billion, and is expected on average by analysts to post Q3 and Q4 revenue of $34 billion and $49.4 billion, respectively. And that's before one accounts for the benefits Amazon will see from its stock compensation changes.
Nonetheless, Amazon has earned itself a fair amount of political and media goodwill with its wage hike. And it might soon be followed by another high-profile move that's influenced by political considerations.
While Amazon hasn't yet announced a location for its second headquarters (HQ2) -- it plans to do so later this year -- there's a growing amount of circumstantial evidence pointing to the Washington D.C. metro area as its choice. Should the D.C. area be chosen for HQ2, the move could do quite a lot over the long run to aid Amazon's attempts to stay in the federal government's good graces, as it would result in numerous Amazon execs working in close proximity to, and living in the same neighborhoods as, prominent Beltway lawmakers and regulators.
Rewind: Jim Cramer on PepsiCo, Amazon and Stitch Fix
Separately, Jeff Bezos, who five years ago bought the Washington Post and earlier this year saw his net worth top $100 billion, is less than a month removed from announcing what's easily his biggest philanthropic effort to date: A $2 billion commitment towards non-profits that will aid homeless families and build "full-scholarship, Montessori-inspired pre-schools in underserved communities."
All of this is happening as Amazon, which now employs over 575,000 workers globally and is expected to post 2018 sales of $235 billion, faces an unprecedented amount of political and media scrutiny. This scrutiny covers everything from its treatment of workers to its impact on traditional retailers to its policies for Marketplace sellers to the shipping fees it pays the U.S. Postal Service.
To date, the impact of this scrutiny has been fairly limited. President Trump has taken shots at Amazon over the terms of its USPS deal, but -- with Postal Service officials insisting the agency's relationships with Amazon and other online retailers are win-wins -- the criticism hasn't yielded any rate changes yet. And more recently, the EU launched a probe over whether Amazon is using third-party seller data to gain an edge for its direct e-commerce business. However, a formal case hasn't been launched yet, and it's worth noting that (thanks to services such as commissions, ads and fulfillment fees) Amazon's Marketplace sales can often be more profitable for the company than direct sales of similar goods.
Still, there has clearly been a change in the air over the last year or so. And Amazon and its founder seem to have taken notice.