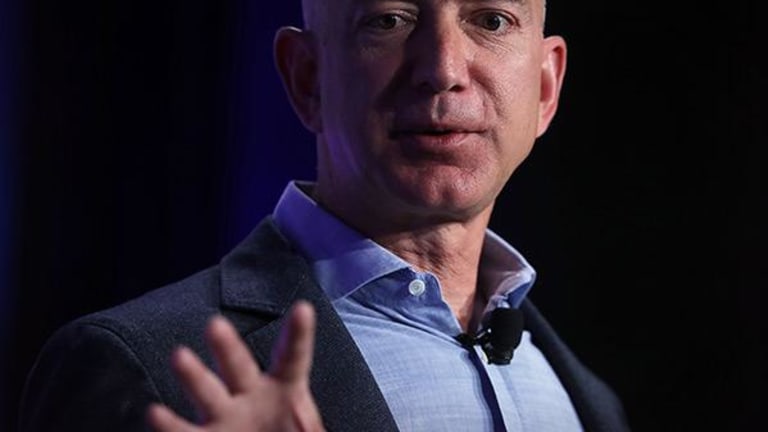 Publish date:
Amazon's Plans for Bricks-and-Mortar Stores Are Still Young, but It's Clearly Dreaming Big
The company is still in trial-and-error mode as it explores plans for venues selling goods that many consumers still prefer to buy in physical stores.
The company is still in trial-and-error mode as it explores plans for venues selling goods that many consumers still prefer to buy in physical stores.
This column originally appeared on March 27 on Real Money, our premium site for active traders. Click here to get great columns like this.
Given the incredible growth delivered by the company over its 23-year history, and how much havoc it has already wreaked in the world of bricks-and-mortar retail over that time, it's easy to get carried away upon seeing reports that Amazon.com (AMZN) - Get Reportis thinking of launching new physical stores and assume we'll soon see the company blanket the U.S. with stores and inflicting pain on everyone from Wal-Mart (WMT) - Get Reportto Whole Foods (WFM) . It's also easy to take a cynical view and question why Jeff Bezos' company is bothering, considering how far it has gotten with the help of the cost and convenience advantages provided by its online sales model.
Both attitudes might be misguided, however. As Bezos is undoubtedly aware, physical retail is a very different game from e-commerce, and both figuring out its nuances and learning to scale a retail footprint to feature hundreds (never mind thousands) of stores is bound to take time and involve some growing pains. However, for a company with Amazon's tremendous scale and fulfillment infrastructure, there is a strong rationale for going in this direction, provided it's selective about the battles it chooses to fight.
Over the weekend, The New York Times reported Amazon is thinking of creating stores that would sell large, heavy goods such as furniture and home appliances, which consumers like to view in person before buying. As part of the effort, Amazon is reportedly thinking of "using forms of augmented or virtual reality to allow people to see how couches, stoves and credenzas will look in their homes."
The company is also said to be mulling an "electronics-store concept" similar to Apple's (AAPL) - Get Report retail stores, and which (naturally) would heavily emphasize Amazon's own hardware. And in India, where Amazon has promised to invest $5 billion and much of the grocery market is still dominated by small stores, the company is thinking of launching grocery stores.
In the U.S., Amazon has already opened up several small bookstores that double as Amazon hardware showrooms, and let Prime subscribers buy items for the same prices as which the company sells them online. It has also created pop-up kiosk stores (said to be temporary) within 29 malls that show off the company's hardware.
Amazon has also unveiled its Go convenience store concept, which (with the help of cameras, sensors and algorithms) will let customers buy items and leave without ever standing in a checkout line. However, The Wall Street Journal just reported Amazon has delayed the launch of the first Go store, originally set for the end of March, due to a need to fix issues in the technology used to automatically charge customers when they leave.
Amazon's U.S. grocery store efforts also seem to cover drive-up locations for picking up orders made via the AmazonFresh grocery service. The New York Times says the company has also "explored another grocery store concept that could serve walk-in customers and act as a hub for home deliveries."
In December, the Wall Street Journal reported Amazon's tech team approved a proposal to open "large, multifunction stores with curbside pickup capability," and that it envisions opening over 2,000 bricks-and-mortar grocery stores if its test locations succeed. However, the company soon responded by saying it currently has "no plans to open 2,000 of anything."
Taking all of these reports and announcements in aggregate, a few things become clear:
Amazon is generally focusing on retail products which many consumers prefer to buy in physical stores, and/or for which shipping challenges limit the effectiveness of online sales.
The exception to this rule is Amazon's own electronics hardware, which the company seems driven to promote in physical venues to strengthen its brand, and perhaps also further hook consumers on the Amazon services supported by its hardware.
Amazon still isn't sure what it wants to do in many cases, and is thus kicking a lot of tires.
In those cases where Amazon has some idea about what it wants to do, it's still often in trial-and-error mode when it comes to the details.
Groceries are a good case in point. The weight of many grocery items, along with the need to keep many of them refrigerated or frozen, guarantees that a very large percentage of grocery sales will happen offline for the foreseeable future. As does the fact that consumers prefer to check out many perishable groceries in person before buying them, and often want items in their hands immediately rather than the next day.
But as the various store concepts it's exploring show, Amazon is still mulling how best to attack this market, where Wal-Mart, Target (TGT) - Get Report, supermarket chains such as Kroger (KR) - Get Report, discount chains such as Aldi and upscale chains such as Whole Foods all loom large. And both the Go store's delayed launch and limited initial selection show how even a bricks-and-mortar project that has been well-hyped the company is in its early innings.
Likewise, many consumers still like to visit physical bookstores and page through the merchandise before deciding on something to buy. And the extended amounts of time a lot of them spend while visiting bookstores makes them a good place to promote Fire tablets and Echo speakers. But so far, the November 2015 launch of Amazon's first bookstore has only been followed by four more openings (five more are under construction).
Whether it's trying to sell books, vegetables, sofas or refrigerators, the dozens of fulfillment centers Amazon has built out over the U.S. for its e-commerce operations make it much easier for the company to cost-effectively run a bricks-and-mortar operation. As does its burgeoning logistics investments, which cover everything from truck trailers to a shipping fleet to an air cargo hub.
Meanwhile, as the bookstores show, Amazon can use a Prime subscriber base believed to top 60 million to drive demand for the stores, while also using store discounts and promotions as one more means of keeping Prime members loyal. Other potential benefits include giving some of Amazon's third-party sellers another distribution channel, and of increasing the company's total (physical plus online) scale to gain more purchasing power with suppliers and lower its per-unit fulfillment and infrastructure costs.
On the other hand, as Wal-Mart is aware, optimizing an infrastructure for online sales isn't always the same as doing so for bricks-and-mortar sales. And as Amazon has to know, it can be a lot harder to profitably sell an item at a particular price in a physical store than it can be online, given all the overhead involved.
Throw in all the time it takes to get the details right for things like a store concept's locations, size, layout, merchandise selection and customer interactions, and it's very much in Amazon's interests to move cautiously. Such caution, however, shouldn't be taken as a sign that the company doesn't once more have big ambitions.