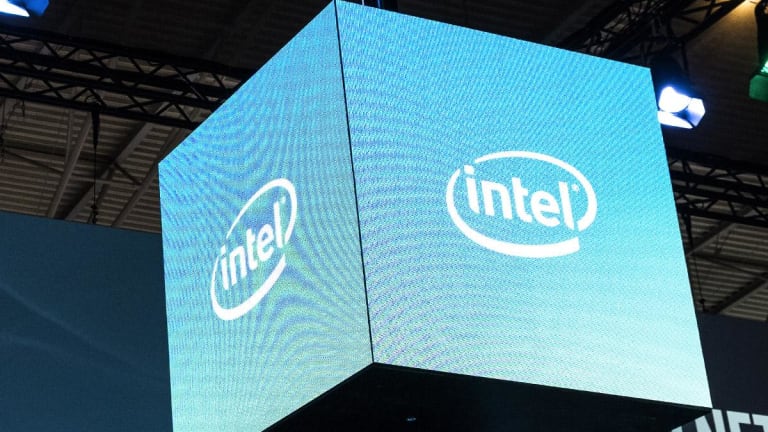 Amazon's New Server Processor Is Just One of Several Threats Intel Is Facing
As Amazon launches a home-grown server CPU for powering certain cloud workloads, AMD, Qualcomm and others push ahead with their own challenges to Intel.
In both the PC and server CPU markets, the number of competitive challenges that Intel (INTC) - Get Free Report is facing continues to steadily grow.
Amazon's Graviton Processor
Amazon Web Services (AWS), one of Intel's biggest server CPU clients, offered up a fresh challenge to the chip giant on Monday night when it unveiled cloud computing instances that rely on an internally-developed processor named Graviton, and which are based on the ARM architecture. Amazon.com  (AMZN) - Get Free Report claims that the instances can deliver cost savings of up to 45% for certain types of workloads.
The instances were unveiled at the start of the annual AWS re:Invent conference, along with a slew of other new offerings. Additional announcements have been made on Tuesday, and more still should arrive on Wednesday and Thursday, as AWS CEO Andy Jassy and CTO Werner Vogels deliver keynotes.
As Intel is bound to point out, Amazon's announcement shouldn't be taken to imply that AWS is abandoning Intel, whose CPUs currently power the overwhelming majority of AWS workloads. Amazon suggests its Graviton instances are best-suited for "scale-out workloads where you can share the load across a group of smaller instances," such as web servers, caches and apps relying on a microservices architecture. Many other business workloads will be better off relying on Intel or AMD's (AMD) - Get Free Report x86-architecture CPUs.
In addition, enterprise software support for ARM CPUs remains a work-in-progress, and while the Graviton instances support popular Linux distributions, they don't yet support Microsoft's (MSFT) - Get Free Report Windows Server OS. And in general, enterprises tend to be cautious when it comes to adopting new hardware architectures and platforms.
Nonetheless, the Graviton instances do represent a major vote of confidence from the world's biggest cloud infrastructure provider for ARM server CPUs, which have been around for several years but which to date have struggled to gain significant enterprise traction. And the cost savings that Amazon is promising for select workloads are bound to intrigue many firms, as might the fact that AWS is providing companies with a way to try out ARM CPUs without making a big hardware commitment.
Microsoft and Google's Interest in ARM Processors
It's also worth noting that Microsoft could soon join Amazon in providing ARM-powered computing instances. In March, the software giant demoed an internally-designed web server running an ARM CPU (known as the ThunderX2) developed by Cavium, which was recently bought by Marvell Technology (MRVL) - Get Free Report . At that time, Microsoft claimed that it eventually wants over half its data center capacity to be ARM-powered.
Alphabet/Google (GOOGL) - Get Free Report has also shown a bit of interest in ARM CPUs. A year ago, when Qualcomm  (QCOM) - Get Free Report unveiled its ARM-based Centriq 2400 server CPU, a Google exec was quoted as saying his firm is "excited" to see the launch and "[welcomes] choice in the processor design space for data centers." An Alibaba  (BABA) - Get Free Report exec provided a positive quote as well.
To be fair, what might truly "excite" Google and some other cloud providers about ARM CPUs is the potential to use the threat of buying a lot of them to extract price discounts from Intel, which has historically reaped high margins on its server CPU sales. But from the perspective of Intel and its shareholders, a scenario in which Intel keeps ARM at bay in the data center by sacrificing its margins is still far from ideal.
Other Competitive Challenges and Risks
As cloud giants signal their support of ARM to varying degrees, Intel is facing tougher competition from AMD in the data center than it has seen in more than a decade.
AMD has seen healthy traction for its first-gen Epyc server CPUs, which launched in mid-2017 -- Microsoft and more recently Amazon have launched Epyc computing instances, and AMD has said it's aiming for a mid-single digit server CPU share by year's end. And next year, AMD plans to launch second-gen Epyc CPUs that rely on a more advanced CPU core architecture and Taiwan Semiconductor's (TSM) - Get Free Report advanced 7-nanometer (7nm) manufacturing process, and are promised to deliver twice the performance per CPU socket of their predecessors.
IBM's (IBM) - Get Free Report Power9 server CPUs, which launched in 2017, have also been making a bit of noise. Last December, Big Blue unveiled a Power9 server featuring an impressive amount of I/O bandwidth for GPUs, and Google announced it's deploying Power9 servers within its data centers. IBM's Power server sales were up 16% annually in Q3.
In the PC CPU market as well, the competitive environment that Intel is facing is gradually getting tougher. AMD has gained some share over the last two years via its Ryzen desktop, notebook and workstation CPU families, and is expected to launch 7nm Ryzen chips next year. Qualcomm, for its part, has rolled out ARM-based notebook CPUs; while systems based on the chips don't deliver high-end performance and still have some software support issues, they do provide superb battery life and the ability to be instantly waked in a manner similar to a phone or tablet.
And in April, Bloomberg reported that Apple (AAPL) - Get Free Report plans to use its own ARM-based processors to power Macs "as early as 2020." More recently, the fact that Apple's A12 Bionic system-on-chip (SoC), which powers the iPhone XS and XR and relies on TSMC's 7nm process, has held its own against in some benchmarks against Intel CPUs found inside of MacBooks has heightened speculation that future Macs will be ARM-powered.
Intel is contending with all of these existing, future and potential competitive threats at a time when its traditional manufacturing process lead has evaporated due to missteps. The company's 10nm process node, believed to be competitive with TSMC's 7nm node, isn't expected to enter mass-production until 2019, three years later than originally planned. Intel, which continues to launch new chips based on its older 14nm process node, is only promising that PCs featuring 10nm CPUs will be available for the 2019 holiday season, and that 10nm server CPUs will arrive in 2020.
Taken individually, one can argue that the threats Intel is facing are nothing to be too concerned about, given all of the competitive strengths that the company still has -- from its brand and enterprise reach, to its extensive product lines and massive R&D budget, to its software ecosystem and the various complementary products it has launched for its PC and server CPUs. However, when taken in aggregate, the threats clearly present a major top-line risk to Intel in 2019 and beyond.
Amazon.com, Microsoft, Alphabet and Apple are holdings in Jim Cramer's Action Alerts PLUS member club. Want to be alerted before Jim Cramer buys or sells AMZN, MSFT, GOOGL or AAPL? Learn more now.