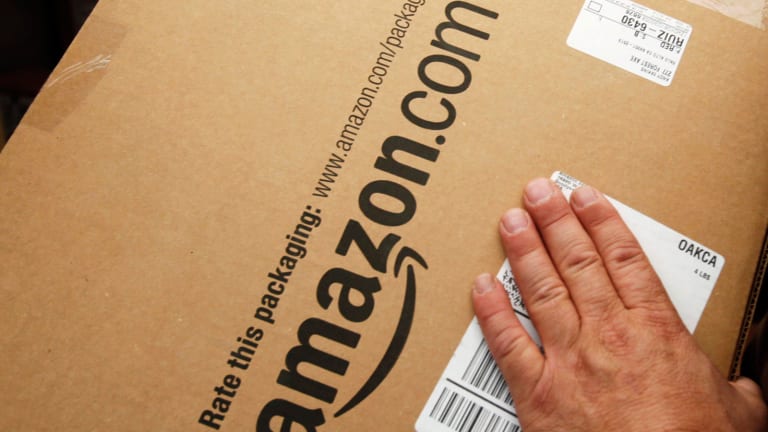 Amazon's Business Is Accelerating, but Wait to Buy
After Amazon's blowout third quarter, the stock is soaring. Amazon's business is accelerating, but investors may want to wait for a better price to buy.
Amazon (AMZN) - Get Free Report reported a blowoutthird quarter on Thursday. The stock soared on the news. Amazon's business is accelerating, but investors may want to wait for a better price.
Amazon's third-quarter results were driven by higher merchandise sales and staggering growth in its cloud business, Amazon Web Services. North American Electronics and General Merchandise, or EGM, sales grew 35% year over year and 400 basis points sequentially. Amazon shipped 26% more units, and each customer bought 11% more stuff in the quarter. Globally, EGM grew 27% as foreign users discovered Amazon Prime, the retailer's premium delivery service.
The number of active customers grew 13%.
Amazon's cloud service, Amazon Web Services, blew past estimates. AWS grew 78% to $2.085 billion in revenue. AWS is on track to report $8 billion in revenue this year and something over $12 billion next year.
While those numbers were impressive, total operating profit of $406 million vs. the consensus Street estimate of $40 million really got investors excited. Gross margin increased 300 basis points to 33.9% and gross profit was up 45%. Earnings per share were 17 cents.
Amazon's quarterly reports always bring out the naysayers. Negatives include headcount growth, an increase in shipping costs and higher capital expenditures. Headcount grew 49% as the company continues to hire aggressively. Some investors worry that increasing headcount will wreck operating profits (or at lease put a cap on operating profit growth.)
Shipping costs were up 35%, as deals on Prime Day pushed some existing customers to order more stuff.
Capital expenditures were $1.2 billion. Every quarter investors wonder when capex will slow, but they never seem to get a straight answer. Amazon continues to pour money into expanding its fulfillment capacity and its cloud business.
I know it's hard to believe, but last year Amazon's net sales grew 20% and the company is on track to deliver 21% this year and probably another 20% next year. That means, by 2016, Amazon will have something like $130 billion in revenue, up from $88 billion in 2014.
Amazon is a hard stock to value, and most investors who bought the shares on faith have been rewarded. The company continues to gobble up market share, and there doesn't seem to be any end in sight.
Year to date the stock is up 98%, which should keep any sane investor on the sidelines. But, if you held on since the company went public, you'd be up over 4,000%.
I think the stock can keep going, but I would wait for a better price.
This article is commentary by an independent contributor. At the time of publication, the author held no positions in the stocks mentioned.