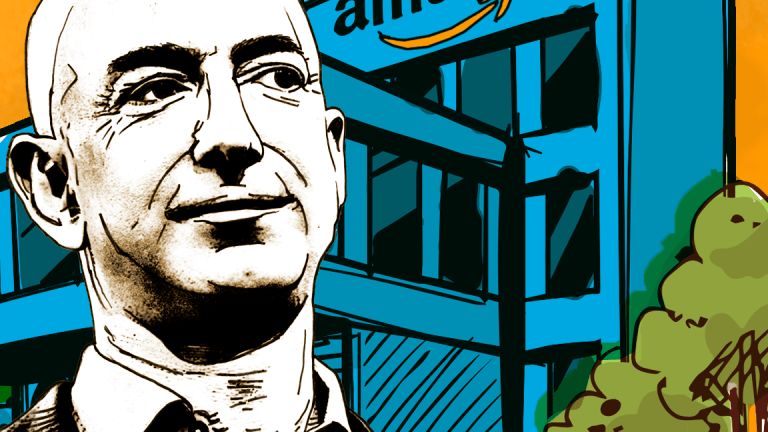 Amazon's Booming Ad Business Now Seems to Be a Bigger Company Priority
Reports indicate the e-commerce giant is making several moves to overhaul and expand its ad business.
Following several quarters of stunning growth, it looks as if Amazon.com's (AMZN) ad business is now a bigger priority for Jeff Bezos's firm.
In recent weeks, a few stories have popped up that collectively point to an effort to grow the reach of Amazon's ad business, which appears to be at or near an $8 billion annual revenue run rate. The stories indicate Amazon:
Has begun a test through which it shows its popular Sponsored Products ads, which currently appear on search and product pages on Amazon's site and apps, on non-Amazon properties.
Has increasingly started working directly with large retail brands on ad deals, instead of having the brands solely work with ad agencies.
Has reportedly begun testing video ads within its mobile search results.
In addition, Amazon is reportedly planning to merge the ad products and reporting tools from its three ad platforms. Namely, the Amazon Media Group, which works with larger advertisers and agencies; Amazon Marketing Services, which provides self-serve tools for running ad campaigns; and the Amazon Advertising Platform, which lets ad-buyers run programmatic (software-automated) campaigns that target users on Amazon and third-party properties.
News of a push to combine Amazon's ad platforms comes shortly after CFO Brian Olsavsky said on Amazon's Q2 earnings call that "improving the usability of our tools for advertisers" is a priority, as is "helping make smarter [product] recommendations for customers." He added that Amazon is "doing a lot of work on automating the activities that the advertisers need to do, and [continues] to invent new products for those advertisers."
Better tools for automating ad-related work would likely be well-received. The limitations of Amazon's existing tools for creating and managing ad campaigns has helped spawn a cottage industry of software and services meant to help ad-buyers out.
But in spite of such issues, Amazon's ad sales have taken off: The company's "Other" reporting segment, which is driven in large part by ad sales, posted Q2 revenue of $2.2 billion. After backing out a $640 million lift that came from an accounting change, Other segment revenue grew 64%.
For now, the Other segment still makes up less than 5% of Amazon's revenue. However, since ads are a relatively high-margin business, Amazon's ad growth is -- along with the strong growth seen by other services revenue streams such as AWS, seller services and subscriptions -- providing a meaningful boost to Amazon's gross margin (GM). Amazon had a Q2 GM of 42.1%, up from 38.2% a year earlier.
All of this growth serves to make Amazon's ad business a thorn in Alphabet/Google's (GOOGL) side. And if (as seems likely) Amazon makes its Sponsored Products ads more broadly available on third-party properties, that will only serve to intensify the fight.
However, it's worth keeping in mind that Amazon's ad sales still heavily revolve around products sold on Amazon properties. Though online retail is a major vertical for Google's ad business -- it has formed close partnerships with some of Amazon's biggest retail rivals -- the company is also well-exposed to several others, such as travel, healthcare, financial services and local commerce. And in both retail and other verticals, a chunk of Google's ad sales are to marketers whose goal is to grow awareness of their brands rather than directly drive a sale.
It's also worth keeping in mind that as e-commerce continues taking share from offline commerce, Amazon and Google are fighting over an expanding pie in the U.S. and elsewhere. The Census Bureau estimates U.S. retail e-commerce revenue rose 16.4% annually in Q1. It also estimated that e-commerce still only accounted for 9.5% of total retail sales.
Still, between the size of its shopper base and the enormous amount of data the company has on it, as well as the fact that it continues taking e-commerce share like clockwork, Amazon looks pretty well-positioned to keep growing its ad business at a rate much faster than that of the total online retail market. And Jeff Bezos & Co. now seem more driven than before to make the most of the opportunity.
This column originally appeared on Real Money, our premium site for active traders. Click here to get more great columns like this.
Amazon.com and Alphabet are holdings in Jim Cramer's
Action Alerts PLUS member club
.