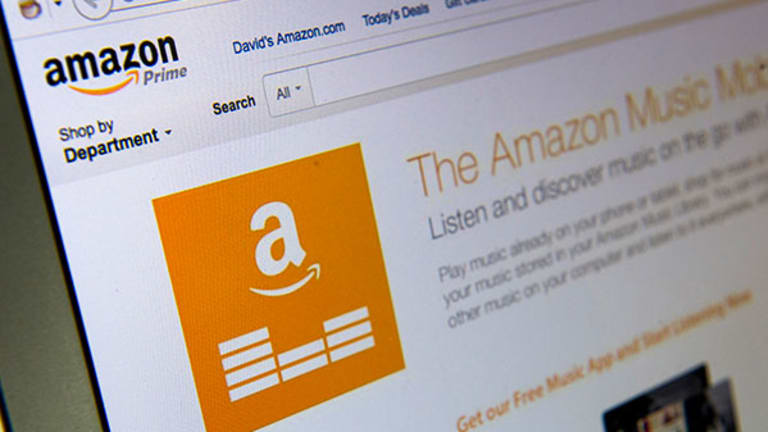 Amazon Prime Music Just Set Streaming Music's Price
Amazon bundled streaming music with video, e-books and retail shipping under one annual price to create a media model less like Apple iTunes and more like Costco.
PORTLAND, Ore. (TheStreet) -- For much of the last year, companies have been scrambling to create their own Pandora (P) and take a piece of the growing -- but poorly monetized -- music streaming market. Amazon (AMZN) - Get Free Report may have just stumbled upon the solution.
In a message to Amazon Prime members in mid-June, Amazon unveiled Prime Music, a collection of more than a million songs and hundreds of playlists available to Prime members through the Amazon Music app. The service is accessible through Amazon's Kindle Fire and Fire TV products, Android and Apple iOS devices, Samsung Smart TVs and speakers and just about any Mac or PC.
It streams playlists and it allows Prime users free cloud access to whole albums including Daft Punk's Random Access Memories, John Legend's Love In The Future and Prince's Purple Rain. It also does all of it commercial free, much like Pandora's premium Pandora One service.
So what separates Prime Music from Pandora One or Apple's iTunes radio and its recently purchased Beats Music? Prime customers are already paying for it, bundled with a bunch of other services including two-day shipping of Amazon marketplace products and Prime video streaming of movies and television shows -- including the HBO back catalog of The Sopranos, Six Feet Under, Boardwalk Empire and more.
Amazon, Apple and even wireless providers like Sprint (S) - Get Free Report and AT&T (T) - Get Free Report have been taking their cues from Comcast (CMCSA) - Get Free Report, Verizon (VZ) - Get Free Report, Cumulus (CMLS) - Get Free Report, ClearChannel (CCO) - Get Free Report and others by building their media ecosystems to keep as many consumers in house as possible. As Comcast and others make bandwidth deals with Netflix (NFLX) - Get Free Report, Verizon keeps building its RedboxInstant catalog and AT&T basically swallows DirecTV (DTV) , streaming music and the independent providers behind it have been the next logical targets.
Apple attempted to work around them with with iTunes Radio -- and its failing attempt to use streaming to sell music downloads -- but it discovered the streaming audience doesn't care about buying music. Only about 2% of iTunes Radio listeners ever hit the "buy" button to download a song. Apple's purchase of Beats Music seemed to be more about headphone hardware than streaming, but Apple picked up a streaming service that may be small -- with user numbers struggling to reach the 1 million mark even after a partnership with 110-million user service provider AT&T --but has the respect of music mainstays like Dr. Dre and Nine Inch Nails frontman Trent Reznor. It's a better platform that Apple just needs to squeeze money from.
That's been the dream of just about every company that's sidled up to streaming services within the last year. Sprint paired with Spotify earlier this year in an attempt to not only lure music fans, but to get them to shell out for more data. Cumulus partnered with Rdio not just to give the streaming service more content, but to give its family of radio stations a broader audience.
All of the above are just an attempt to wring money from music that consumers are loathe to pay for anymore. The number of music download purchases dropped for the first time in 2013, according to Nielsen and has just continued to plummet in the first half of 2014. Interactive streaming like that offered by Spotify and Beats Music increased volume to 34.28 billion streams in the first quarter of the year from 25.44 billion streams during the same period in 2013. With music executives putting 1,500 streams at the equivalent of a full digital album, streaming equivalent albums have increased by 10.1 million units so far this year as download sales dropped by roughly 9 million units, according to Nielsen.
Even Pandora has struggled to make its music pay, shoving more ads into its free service and raising the cost of Pandora One for new subscribers from $3.99 a month last year to $4.99 a month earlier this year. That's $60 a year just for streaming alone.
When Amazon raised the price of Prime for new members from $79 a year to $99 earlier this year, it faced the same question that's still puzzling Pandora: Where's the value? Amazon responded by securing proprietary streaming content for its video service and tapping into its supply of cloud-based music content to cobble together a streaming service. It may not be quite as intricate as what Pandora offers or tailor its playlists to a user's profile as the Music Genome Project does, but it's a streaming service that existing Prime customers get as a freebie and that new customers see as added incentive to sign on for Prime service.
Prime Music does what the Fire Phone can't and what Apple's iTunes infrastructure won't: It enhances the overall value of the service. Amazon's Fire products have had a tough time keeping pace with Apple even at lower prices, but the integration and bundling of all of Amazon's offerings -- marketplace, video, audio, e-books, etc. -- under one payment and on several different devices is making a strong pitch to consumers. Amazon isn't pleading with them to ditch Netflix, Pandora or even iTunes on-demand services, but showing them how much Prime can offer under one roof.
And why not? Apple's playing a similar game quite effectively. Its iTunes Radio isn't shaking up anyone's world, but it's already the third-largest streaming service with an 8% market share second only to ClearChannel's iHeartRadio (9%) and Pandora (31%). Both Apple and Amazon can whack away at Pandora's market share for a while before they have to turn their attention on each other.
Amazon, however, took the extra step of setting up an all-inclusive pricing scheme and shoving everything else into it. Instead of streaming music and bringing in zero for it while hoping consumers find it in their hearts to download the occasional album, Amazon gave itself a base membership price to work with and built up. It's not unlike what Costco did by making membership fees the foundation of its retail model, and much of that bulk shop's growth and ancillary offerings including tire shops, auto sales and travel services are bolstered by that base consumer investment.
Instead of making consumers pay for yet another a la carte service, Amazon just enhanced a product it's already offering. That should not only make the subscription chasers at Pandora scared, but should have the minds behind Apple's iTunes dreaming up an all-for-one pricing scheme of their own.
-- Written by Jason Notte in Portland, Ore.
>To contact the writer of this article, click here: Jason Notte.
>To follow the writer on Twitter, go to http://twitter.com/notteham.
>To submit a news tip, send an email to: tips@thestreet.com.
RELATED STORIES:
>>Beats Music Thinks It's Netflix -- But It's Wrong
>>Vinyl Is Streaming Music's Flipside
>>Mainstream and Country Join Hands, Sing 'God Bless America'
Jason Notte is a reporter for TheStreet. His writing has appeared in The New York Times, The Huffington Post, Esquire.com, Time Out New York, the Boston Herald, the Boston Phoenix, the Metro newspaper and the Colorado Springs Independent. He previously served as the political and global affairs editor for Metro U.S., layout editor for Boston Now, assistant news editor for the Herald News of West Paterson, N.J., editor of Go Out! Magazine in Hoboken, N.J., and copy editor and lifestyle editor at the Jersey Journal in Jersey City, N.J.