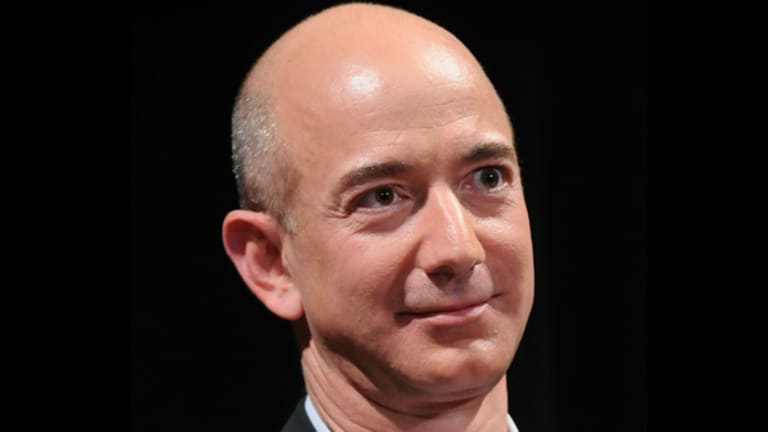 Amazon Keeps Rolling on Cash Flow
Amazon.com shares are on the rise Friday after the company's third-quarter results show it can still sustain rapid growth with cash flow.
NEW YORK (
) -- Once again, it's time for the critics to back up what the kids on the Internet call the "wahmbulance."
Amazon.com
(AMZN) - Get Amazon.com Inc. Report
, this time $41 million, or 9 cents a share, yet investors piled into the stock Friday.
How can this be?
Well, consider that net sales for the latest quarter were $17.09 billion. For last year's third quarter, net sales were $13.81 billion. That's a year-over-year gain of nearly 24%. Net sales are also up sequentially from the second quarter of this year.
When Amazon offers its quarterly results, it doesn't lead with the income statement. It leads with a quarterly statement of cash flow. This is how growth is financed. For the most recent quarter, the company generated $1.39 billion in net cash from operations. That's up 47% from $943 million a year ago.
The company said operating cash flow increased 48% to $4.98 billion for the trailing 12 months. This financed trailing 12-month capital expenditures of $4.59 billion. Amazon is now buying its offices rather than renting, and it's able to sustain larger fulfillment centers and cloud operations without debt.
Amazon is mainly a retailer, and a look at most retailers' books will give you agita. Amazon has about 10 cents of debt for every $1 in assets. The rates at
Target
(TGT) - Get Target Corporation Report
and
Wal-Mart
(WMT) - Get Walmart Inc. Report
are significantly higher. Failure, as in
J.C. Penney
(JCP) - Get J. C. Penney Company, Inc. Report
, looks like it has more than 40 cents of long-term debt for every $1 in assets.
Now remember that for a retailer, Christmas is key. The day after Thanksgiving is called "Black Friday" because, traditionally, that's when retailers start to turn a profit, or get in the black.
Amazon's fourth quarters are no different. They tend to blow the doors off the previous periods. For this year's fourth quarter, Amazon is guiding toward anywhere from $23.5 billion and $26.5 billion in net sales, a wide range, compared with last year's $21.27 billion. Amazon usually finishes well ahead of its sales guidance.
On its conference call, Amazon executives detailed where the sales were coming from. Some $10.3 billion of sales were in North America, and there it earned an operating margin of 2.9%, which for a retailer is respectable.
International revenue was $6.79 billion, and Amazon had almost as many media sales, $2.42 billion, outside North America as inside, where it was $2.61 billion.
Analysts insisted on asking about Amazon's raising the threshold on free shipping to $35 per order, but online delivery is always free, and Amazon's Prime customers are also getting access to more free content than most viewers (like me) can actually watch. (I'm currently enjoying an old
BBC
series titled "Foyle's War" -- Sherlock Holmes is a cop during World War II.)
Amazon has enormous room to grow. It's just now delivering e-books in languages other than English, in quantity. Pessimists love to focus on the TV side of the house, but the delivery of e-books, and cheap, high-quality e-book readers, is actually a bigger growth area, especially outside North America.
And we haven't even talked about cloud. Amazon doesn't break out cloud revenues, lumping them instead into a segment dubbed "other." But net services sales, which includes both cloud and media fulfillment, were up from $2.26 billion a year ago to $3.28 billion this year. My calculator shows that's a gain of 45%.
So you have the cost of sales declining over time, as more sales become electronic. You have sales growing at a rate that's still unheard-of for a retailer, and a company that can finance all that growth with cash flow, including the cost of real estate and technology. You have a company that's doubling its volumes every two years, despite the numbers growing into the $60-70 billion range.
Amazon can turn on the profit spigot at any time, in other words, but it's still financing its growth from operations. Any wonder that a stock that closed on Thursday at $332 was trading for more than $360 at about 1 p.m. EDT Friday.
At the time of publication, the author had no positions in stocks mentioned.
This article is commentary by an independent contributor, separate from TheStreet's regular news coverage.
Dana Blankenhorn has been a business journalist since 1978, and a tech reporter since 1982. His specialty has been getting to the future ahead of the crowd, then leaving before success arrived. That meant covering the Internet in 1985, e-commerce in 1994, the Internet of Things in 2005, open source in 2005 and, since 2010, renewable energy. He has written for every medium from newspapers and magazines to Web sites, from books to blogs. He still seeks tomorrow from his Craftsman home in Atlanta.