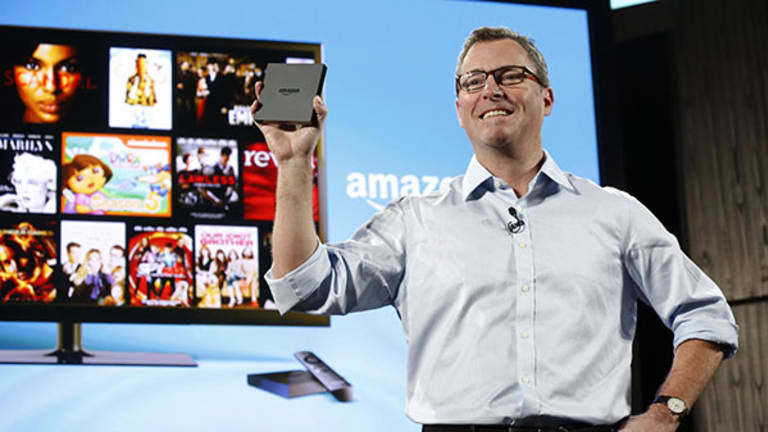 Amazon Is Taking Over Your TV - Starting Today!
Amazon launches its own streaming tv device. It's about time!
NEW YORK (TheStreet) -- Move over Apple (AAPL) - Get Apple Inc. (AAPL) Report TV and Google (GOOG) - Get Alphabet Inc. Class C Report Chromecast. Wednesday, Amazon (AMZN) - Get Amazon.com, Inc. Report announced that it is releasing its own streaming media device: Fire TV, for $99 -- shipping starts today. The device, which operates on an Android-based system and supports Netflix (NFLX) - Get Netflix, Inc. (NFLX) Report as well as Hulu, is going to be a game changer. Why? Because TV is the missing piece of Amazon's puzzle.
Amazon knows how to build an ecosystem. Much like Apple's integration of services across its devices, Amazon has done the same thing. Amazon has its CloudDrive service, a cloud music player called CloudPlayer, a cloud based photo service called CloudDrive Photos and Amazon Prime. And it's secure. Amazon Web services even hosts Netflix. Essentially, Amazon has been positioning itself as a one-stop shop for all your personal and technology needs. Offering its own streaming device is really more of a way to avoid sending loyal customers elsewhere, and Amazon customers are extremely loyal.
Just look at Kindle. "28% of Amazon.com customers own a Kindle Fire, while 21% own a Kindle e-Reader," said Josh Lowitz, partner and co-founder of Consumer Intelligence Research Partners (CIRP). "Interestingly, 9% of Amazon.com customers own both devices, suggesting how well Amazon has done to drive sales of what amounts to a portal to Amazon.com."
More importantly, Amazon Kindle customers spend money.
Lowitz continues, "We estimate that Amazon Kindle device owners spend approximately $1,233 per year, compared to $790 per year for other customers. They do so because Kindle device owners buy over 50% more frequently than other customers."
Crowded market? Yes and no. 
The streaming video entertainment market may be crowded, but that is really only at first glance. Amazon video services have, until Wednesday, only been available through gaming systems, like Playstation and Wii, Roku devices, and select Blu-ray players and smart televisions. This limits availability to consumers considerably.
Amazon instant video is not supported on Apple TV, Google Chromecast or the once popular TiVo -- devices that together make up nearly two-thirds of the streaming device market in the U.S. In other words, Amazon's share of streaming viewership has been limited to roughly one-third of the market. Offering its own device means that the company gets to keep more of its revenue.
Fire TV costs the same $99 as Apple TV. Chromecast costs $35. Competitor Roku recently announced its own streaming device, selling for $49.99.
Amazon is a service company. It is great at providing devices that enable it to sell more products. Now that Amazon is developing its own original series, why wouldn't the company get in on offering its own streaming device? It's a no-brainer.

At the time of publication the author had no position in any of the stocks mentioned.
Follow @ReneeAnnButler
This article was written by an independent contributor, separate from TheStreet's regular news coverage.