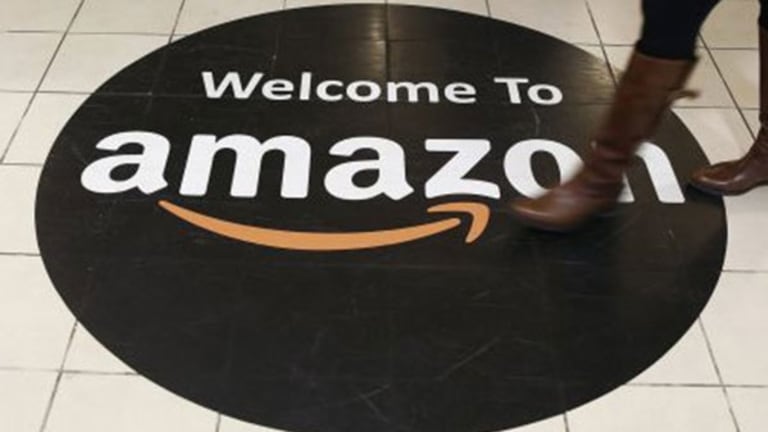 Amazon Is Primed for Growth With These Diversified Offerings
The e-commerce giant has been adding products and services and taking market share from bricks-and-mortar retailers.
In just over two decades,  Amazon (AMZN) - Get Amazon.com, Inc. Report has gone from an online retailer of books to a retail powerhouse selling a wide range of consumer goods.
Every day, the online giant is getting closer to its founder Jeff Bezos's vision of making it a provides-everything-to-everyone store. That's why Amazon belongs to a group of growth stock winners.
Despite its high share price, investors would be wise to purchase the stock. 
Amazon seems increasingly likely to destroy the concept of bricks-and-mortar department stores like Macy's, J.C. Penney, Walmart, Nordstrom's, Target, Kohl's and Sears. Those companies' most recent earnings were weak. 
Amazon is a holding in Jim Cramer's Action Alerts PLUS Charitable Trust Portfolio. See how Cramer rates the stock here. Want to be alerted before Cramer buys or sells AMZN? Learn more now.
Amazon is also is also challenging fashion retailers and video streaming service providers for customers. The company wants to be the answer for every consumer need. It has evolved into a buy-and-hold blue chip, reminiscent of the Nifty 50 companies of the mid 20th century. Nifty 50 firms were major national and international brands with strong, long-term growth prospects and included the likes of GE and IBM. 
To be sure, with its ambitious expansion plans underway, one might think that Amazon is putting its fingers in too many pies.
But it has done a good job scaling its operations to increasing demand and Amazon's leadership has demonstrated an uncanny ability to understand consumers. Amazon seems to be making all the right moves to ensure that it is indispensable for shoppers.
Apparel
According to Morgan Stanley, Amazon is already the second largest retailer of clothing in the U.S., behind only Wal-Mart. Amazon's revenue from apparel since 2005 at $27.8billion is almost in line with the $29.6 billion in sales that department stores have lost in the same period, suggesting a complete shift in consumer shopping preferences.
A post Great Recession, changing mindset among consumers that has prioritized discounts, and an increasingly tech-savvy millennial audience have favored Amazon. This should help explain why the stock price of retailers such as Macy's, Sears, and Dillard's have fallen more than 50% in the last year, while Amazon has gained more than 60% over the same time period.
Armed with a collection of private label brands, competitive pricing, Amazon is steadily increasing its appeal among its audience with 40% considering it an "excellent" or "great source of fashion inspiration," the Morgan Stanley report said.
Morgan Stanley estimates that Amazon will have a grip on at least 20% of the U.S. apparel market by 2020, up front the current 7%. 
Private Label Offerings
Price-conscious, quality-seeking customers are loyal to a company that meets these expectations, as opposed to sticking with a brand. According to Market Track, 88% of customers say they buy private label products due to lower prices.
This trend fits perfectly for Amazon, which will be rolling out new offerings, including foods and baby care products.
By producing goods in-house, Amazon gets to expand margins which are otherwise stretched due to marketing and branding efforts. Furthermore, customers who already have  faith in the Amazon brand are likely to extend their preference to in-house products. The more consumers shop on Amazon, the more data that the company will be able to accumulate and use to motivate their return. For example, they will be able to offer new products and improve on others. 
The offerings are currently available only to Amazon Prime subscribers, who pay $99 a year. Amazon Prime customers receive a range of other services, including two-day delivery. 
Moreover, Amazon is cleverly channeling buyers to Prime membership programs where an average customer spends about $1,100 per year, compared to $600 per year for non-members, according to Consumer Intelligence Research Partners.
While free food delivery to Prime customers is another advantage offered, with the astronomical 27.5% of each order charged to participating restaurants, one wonders how long restaurants stay on board.
A Lot Of Everything Else
After tasting success with cloud computing and electronics through Amazon Fire and Kindle, Amazon is looking to disrupt the video content space with Amazon Video Direct. This service will compete with the likes of Facebook and Alphabet's YouTube. Amazon wants to quickly capitalize on the ad-supported video space.
The company's diversification spreads beyond retail and tech segments. Amazon Studios is developing television shows, movies and comics from online submissions and crowd-sourced feedback, screened five movies in this year's Cannes. Some moviemakers prefer the studio over Netflix.
Finally, with its robotic voice assistant Alexa powering its Echo device, Amazon is giving customers their own personal assistant
Amazon's stock is already buzzing around an all-time highs. 
At a forward price-to-earnings (P/E) ratio of 71.09, Amazon's valuation is down from triple digits. However, the stock still presents significant earnings potential. Over the next five-year period, analysts expect the company to deliver annual earnings of 55.3% dwarfing the industry's 12.87% figure.
Given its increasingly large presence in people's lives, Amazon is likely to continue its robust growth. Investors would be wise to add it to their portfolios. 
---
"I've Enjoyed 1,586 Days of Free Money..." If big, triple-digit winners get your adrenaline pumping, then stop reading right now. Because this isn't for you... Only traders who calmly enjoy raking in an extra $67,548 with no surprises or hiccups will appreciate this strategy. In fact, for the past 1,586 days, I've been leisurely collecting giant payouts with this boring approach. I win 8 out of every 10 trades - GUARANTEED. Click here to join me.
This article is commentary by an independent contributor. At the time of publication, the author held no positions in the stocks mentioned.