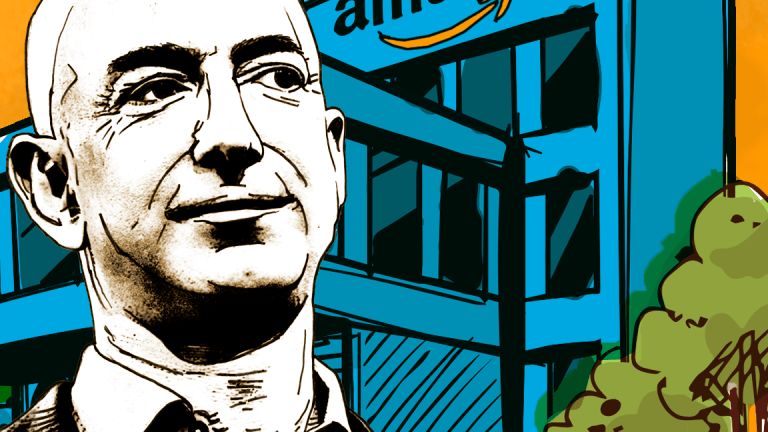 Amazon Will Be Worth $1 Trillion and This Hot Business Will Help Get It There
Amazon's valuation probably only has one direction over time and that's straight up. Meanwhile, TheStreet serves up the latest analysis off President Trump's blocking of Broadcom's bid for Qualcomm.
In short, wow.
The Latest on Broadcom/Qualcomm
TheStreet was all over Donald Trump's blocking of Broadcom's (AVGO) - Get Broadcom Inc. Report  bid for Qualcomm (QCOM) - Get Qualcomm Inc Report with actual high-level analysis, as opposed to the quick talking points and recaps seen elsewhere. Our senior reporter Ron Orol -- who has followed this mess front start to finish -- served up a look at what could happen next in this high-stakes drama. Yes, it wouldn't be a surprise to see Broadcom's aggressive CEO Hock Tan try to find a way to challenge Trump's decision. It probably won't work, but he unlikely will go quietly. While Orol broke down the nitty gritty of what may happen next, I opined that this is a perfect point in time for chip giant Intel (INTC) - Get Intel Corporation Report . The company now has a once-in-a-lifetime window to swoop in and buy a massive, weakened competitor. Tan really put Broadcom's reputation -- and business -- at risk with this ordeal and he may not survive the aftermath. What better time for Intel to strike amid what has to be internal (and that includes the Broadcom's board) disappointment? As for Qualcomm, TheStreet's sister publication The Deal looks forward to hosting CEO Steven Mollenkopf at its star-studded corporate governance conference on June 7. Mollenkopf and his team, which fell behind in the PR battle early, managed to rally and defeat Action Alerts Plus holding Broadcom. Learn more about our upcoming conference here. It will be hosted by TheStreet's founder and Action Alerts Plus portfolio manager Jim Cramer. 
Amazon (too) Will Be Worth a $1 Trillion Some Day
While Wall Street watches (and bets on) Apple's  (AAPL) - Get Apple Inc. Report climb ever closer to a $1 trillion valuation (it's 8% away), it shouldn't forget the tech giant that will likely be hot on its trail. Amazon's (AMZN) - Get Amazon.com, Inc. Report market cap is $773 billion and rising as investors continue to believe in its ability to destroy rival retailers without any government slap-down (despite the factors listed here by TheStreet's Kinsey Grant). But investors also should keep in mind that Amazon has other businesses besides retail that will help drive value. One is its emerging advertising business, pointed out Jefferies analyst Brent Thill. The analyst projected Amazon's ad business will grow at a 43% compound annual growth rate over the next five years from $4 billion today to $22 billion by 2022. He sees Amazon boasting a respectable 8% share of the U.S. digital advertising space by 2019. Who wouldn't want to partner with Amazon as opposed to, say, Facebook (FB) - Get Meta Platforms Inc. Class A Report  ? Amazon arguably knows our minute-to-minute habits better than Facebook. That will only accelerate as Amazon pushes forward with the smart-home. "Adding it all up, we think the right pieces are in place for Amazon to get to $1 trillion in market cap over time," said Thill. Hard to argue with that. Apple, Amazon and Facebook are holdings in Action Alerts Plus.
So It's Space Week
I received some guff Monday on Twitter for slamming what appears to be an obsession with space travel by Amazon's Jeff Bezos and Tesla's (TSLA) - Get Tesla Inc Report Elon Musk. In short, I couldn't care less -- each founder should be squarely focused on driving value for their shareholders, especially Musk who has repeatedly failed at delivery targets and driving profits. Bezos has at least demonstrated the capacity to execute superbly for shareholders even as he tinkers with space travel. Let each jump into a chairman role if they want to pursue trips to Pluto though. On the other hand, hat tip to Google's co-founder Larry Page. The Page-backed Kitty Hawk took the wraps off a flying taxi dubbed Cora. Not only does this look like a practical application to society today (unlike Musk's Mars ambition), but it aligns nicely with Page's role as CEO of Alphabet (GOOGL) - Get Alphabet Inc. Class A Report where he is tasked with making bold bets. Google's parent company Alphabet is an Action Alerts Plus holding.
More from the JoltArchives: