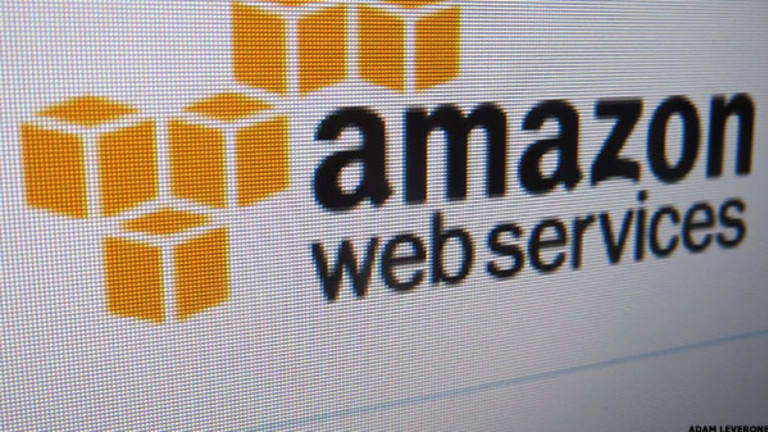 Amazon Is Actually Worth a Lot Less Than You Think and Here's the Very Complicated Explanation
Amazon's confusing accounting for its Amazon Web Services Business suggests that its return on invested capital is much higher than it actually is.
NEW YORK (TheStreet) -- Amazon (AMZN) - Get Amazon.com, Inc. Report is known on Wall Street for its fairly opaque accounting practices and promises of profits later. Generally, this behavior has been rewarded, as Amazon's stock price has more than tripled over the past five years. In fact, recently, one analysis gives a price target of near $700 for the nearly profitless e-commerce firm (it's trading around $550 these days).
Unfortunately for the company's investors and its billionaire founder Jeff Bezos, Amazon's true price target should be closer to $400 for one very important, overlooked and misunderstood reason: Amazon's capital lease investments and how the way Amazon accounts for them inflates its free cash flow and return on invested capital far beyond what the company presents to investors. The way Amazon does it is legal but also misleading, especially for a company that's stock success has been based on slim or nonexistent profits. Let me explain.
A recent article in The Wall Street Journal argued that investors had rewarded Amazon when it started providing some needed transparency about the results in its Amazon Web Services unit, which provides cloud-computing services to businesses. But Amazon still hasn't provided enough transparency about AWS, and its continued use of creative accounting, which is 100% legitimate under generally accepted accounting principles, makes its financial performance appear better than it really is.
It all revolves around Amazon's use of capitalized leases. By using capitalized leases to account for its investments in servers and other equipment for its AWS business, Amazon is making two very important numbers that investors use to judge a company's performance -- free cash flow and return on invested capital -- look much better than they really are. Amazon public relations and investor relations were contacted to respond to this story but have not yet responded. 
To understand all of this requires an exploration of some fairly complicated accounting. Let's get started.
Under GAAP, companies can categorize their leases in three ways: operating, capital and financing. Operating leases are accounted for as an expense, but capital and financing leases are booked, or "capitalized," onto the company's balance sheet to look like debt.
When leases are capitalized, analysts and investors don't see the financial impact of the leases on a common valuation metric: adjusted earnings before interest, taxes, depreciation and amortization, or adjusted EBITDA. (The "adjusted" means that noncash items are excluded.) In order for investors to calculate and understand this impact, Amazon should provide them with information allowing them to convert the capitalized leases back into cash rents, which would be the actual cash payments made on these assets.
Amazon indicates in its Securities and Exchange Commission filings and conference calls that it is using capital leases primarily for equipment investments in its Amazon Web Services business. These are investments for things like servers, data-storage equipment and other short-lived infrastructure assets.
Since the first quarter of 2013, Amazon's use of these leases has grown quickly at a 67% compound annual growth rate, and total investment for the trailing 12-month period ended on June 30 was $4.7 billion.
It's important to keep in mind that Amazon's capital lease investments are in addition to the cash-based property plant and equipment (PP&E) investments the company makes, which totaled an additional $4.6 billion for the same period.
Amazon's capital lease strategy means that on average Amazon is paying back these leases in about 30 months, which is a very rapid payback time and an intensive financing strategy. It raises an important question: What happens to the AWS equipment at the end of the lease terms? Clearly, servers and other computing equipment will need to be replaced, renewed or purchased so that AWS can continue to operate and grow.
Amazon needs to continue to borrow, and borrow a lot, and that's a tall feat for a profitless company (Amazon reported a net loss for all of 2014, and has reported net losses in three of the past five quarters.) What Amazon does is use accounting rules and unusual presentations to confuse investors and analysts, which is precisely what the company is doing with its reported numbers for free cash flow and return on invested capital. Let's start with free cash flow, an important measure for judging the financial health of a company.
Amazon likes to focus investors on its free cash flow. In its second-quarter earnings release, for example, it mentioned the increase in its free cash flow in the second paragraph, before it said anything about revenue or net profit/loss. But this item excludes the majority of cash flows from Amazon's capitalized leases.
Amazon's defines free cash flow as "Net cash provided by (used in) operating activities", which is found on Amazon's cash flow statement, less cash investments in property plant and investments. Amazon uses "Net cash provided by (used in) operating activities," because it begins with net income, then backs out noncash adjustments and adds in cash flows from operating assets and liabilities, but Amazon's free cash flow excludes both the investments the company is making in capitalized leases and also the vast majority of the repayments for these leases through cash rents. Amazon's free cash flow also includes cash flows from Amazon's working capital. Analysts and investors shouldn't be using working capital cash flows when they value Amazon, however, although unfortunately some seem to be doing this anyway. What all of this means is that Amazon is increasingly relying on its accounts payable to finance its activities.

Since the third quarter of 2011, Amazon has added $3.6 billion to its free cash flow metric as its negative working capital has grown. Although perhaps that's a good strategy for short-term financing, accounts payable are debt and should not be included when valuing Amazon's businesses, in the same way that debt proceeds are not used.
Lastly, Amazon hides its lease financing activity. To be fair, Amazon does provide a breakout and some information on cash interest expense for capital and financing leases when it reports annual results, but the company doesn't provide this information in the intervening quarterly reports.
If you review Amazon's financial statements for the first and second quarters of this year, you will not see anything for Amazon's capital and lease financing obligations. Amazon embeds these obligations within "Other long-term liabilities." The lease obligations are the largest component within "Other long-term liabilities," and they are material to AWS. Why doesn't Amazon break out this information?
In addition to this limited lease information, Amazon further compounds investor confusion when it incorrectly calculates something else that's critical to measuring a company's performance: return on invested capital, or ROIC.
Amazon includes on page 5 of the slides it issued for its second-quarter conference call a chart labeled "Return on Invested Capital - TTM." Amazon would like investors to believe that it is growing return on invested capital, but Amazon is not calculating ROIC properly, and the real results aren't so good.
ROIC can be calculated in various ways. Here's how Amazon's says it does it in the text at the bottom of the chart above: "Free Cash Flow divided by average Total Assets minus Current Liabilities, excluding current portion of our Long-Term Debt over 5 quarter ends."
We have already discussed the issues around Amazon's calculation of free cash flow, the numerator in the equation for ROIC.
Amazon's equation for the denominator backs into debt + equity, which includes lease liabilities, and this is where the payback intensity (those short-term leases mentioned earlier) behind equipment lease liabilities hides a lot of what is actually happening at Amazon and with AWS.
ROIC should be a measurement for Amazon's after-tax cash flow from its businesses (online retail and AWS) against the capital the businesses are using (debt and equity) before paying interest on any of that capital. Granted, lease liabilities can be classified as debt, but something quirky happens when you calculate this measure using short-lived lease liabilities.
For Amazon, a more understandable measure for investors is to convert its capital leases back to operating (cash rent expense) leases, exclude cash flows from working capital, and subtract net leased assets from invested capital to obtain a truer picture of what ROIC would be had Amazon not capitalized its leases.
This more understandable measure also adds back the cash interest paid on long-term debt adjusted for tax benefits derived from the interest expense so that the measured cash flow is before any payments on long-term debt.
The result is the after-tax cash flow from Amazon's businesses before interest on debt, which now includes cash rents divided by the invested capital (debt + equity) excluding working capital had Amazon treated the leases like operating leases instead of capitalizing them.
This result now lets us compare Amazon's more accurate ROIC to Amazon's weighted average cost of capital (WACC). Such a comparison allows us to determine how effectively Amazon is using its invested capital. (As an aside, the calculation is using book invested capital, which is less than $20 billion and is a small fraction of the current $250 billion market cap on Amazon. Amazon's cash flow has a long way to go to support a $250 billion market cap.)
The graphics above show that a more accurate calculation of Amazon's ROIC would be 5% for the last quarter. That's less than the 17% that Amazon reported. It's also less than Amazon's WACC, which is generally believed to be around 10%.
When Amazon's ROIC is greater than its WACC, stockholders can celebrate, because it means Amazon is adding value relative to its cost of capital. Amazon's own reported ROIC would lead you to think this is the case.
Anything less than 10% means Amazon is destroying value, however, and our more accurate calculations show that that is exactly what's happening. AWS, due to its investment intensity, is not providing the lift that shareholders might have hoped for.
Amazon's lack of lease disclosures has caused analysts to miss what's going on with lease financing.
Many public companies happily provide information and disclosures far beyond what is required in order to be fully transparent with their shareholders. Something extremely useful to analysts and shareholders is providing a non-GAAP reconciliation of cash rents. Another useful disclosure is forward guidance on planned investment spending. Amazon is choosing to not be transparent and investors should be concerned, especially if they are depending upon analyst opinions.
Amazon's strategy to mislead analysts is not hypothetical. A review of a Credit Suisse report dated July 24, 2015, shows that the investment bank's analysts completely missed what is going on with Amazon's capital lease strategy. The Credit Suisse report used a discounted cash flow financial model to value Amazon, which then became the basis for Credit Suisse's $700 price target on Amazon stock.
In a separate article linked here, I recomputed the stock price using Credit Suisse's valuation model and included the omitted capitalized lease cash rents and excluded working capital cash flows. The computations can be reviewed here, and the results were materially worse, yielding a $381 per share target and not the $700 price target as widely disseminated.
Amazon is engaged in leveraging up its balance sheet by issuing new debt, increasingly taking on more capital lease obligations, and growing negative working capital. As Amazon leverages up, its actual businesses are not covering Amazon's cost of capital. This sets up a very bad future for stockholders should Amazon not be able to better explain its financial strategy, especially since neither the online business nor the AWS business generates exceptional margins.
After all, don't stockholders want to know how Amazon is going to make money, and stay out of financial trouble as it pays for its investments, no matter what the source of financing? Amazon's unusual and obtuse financial presentations should be a very bright red flag to all investors, and for Amazon's board of directors, more disclosures are far preferable to confusing and obfuscated financial presentations.
Amazon plans to report third-quarter results soon, on Oct. 22, and it's time analysts and investors more forcefully request that Amazon improve its disclosures around capitalized leases. First, with every quarterly financial release, Amazon should break out its lease obligations on its balance sheet. Second, Amazon should provide non-GAAP cash rents reconciled to GAAP so investors can compute cash EBITDA net of cash rents. Third, Amazon should break out interest expense between long-term debt, capital leases, financing leases and all other interest expenses. Lastly, Amazon should begin providing forward PP&E investment guidance for future investments (regardless of financing source) segmented between recurring investments and new EBITDA-enhancing investments. These disclosures are common among other publicly traded companies.  
This article is commentary by an independent contributor. At the time of publication, the author held no positions in the stocks mentioned.