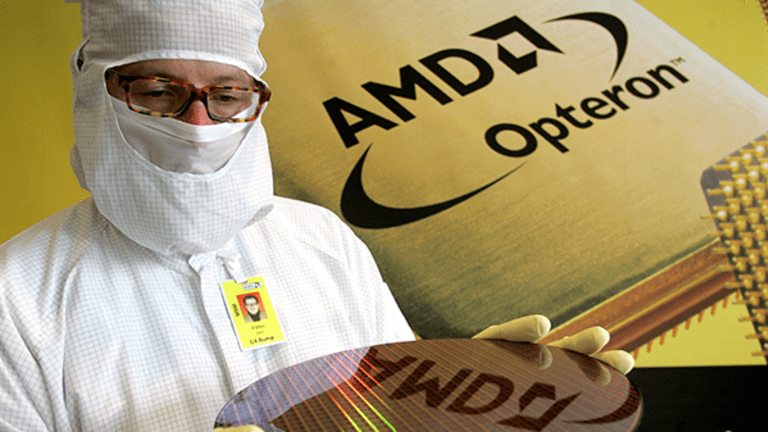 Amazon Investors Can't Make Up Their Minds; AMD Looms to Threaten Intel -- ICYMI Friday
Here's what you need to know now.
Well, that's it, pack it up, let's sell our stocks and go home.
If only, amirite? With everyone on Wall Street calling for the end of the market's high times, reports of a complete implosion seem to be a bit premature.
Sure, Amazon.com Inc.'s (AMZN) - Get Report  earnings didn't stack up to estimates but what's the indictment on the company? They are investing TOO much in their own business? Wasn't this the same thing we were praising Amazon for just a few quarters ago. Remember the days of damming CEO Jeff Bezos because the company could never turn a profit. We keep flip-flopping on Amazon, let's try to come to a consensus. We've got the long and the short view from the newsroom today.
The two-day tech sell-off captivated investors during the latter part of the week, but beneath the surface there were some positive stories in the tech sector (and elsewhere, for that matter) that have gone pretty unnoticed.
Intel Corp. (INTC) - Get Report  , for instance, has an interesting blueprint for delivering moderate sales and earnings growth that includes investing big in major data center and cloud opportunities while keeping a PC cash cow roughly steady. Unlike Microsoft Corp. (MSFT) - Get Report  , which has made a similar strategy its blueprint, Intel's M.O. could be upended by the resurgence of an old rival-Advanced Micro Devices Inc. (AMD) - Get Report --that's in the midst of rolling out a string of intriguing products.
While things look OK for Intel, there are a handful of tech stocks, including Lam Research Corp. (LRCX) - Get Report  , Micron Technology Inc. (MU) - Get Report , Symantec Corp. (SYMC) - Get Report  and Broadcom Ltd. (AVGO) - Get Report  , that may be sailing against the wind. Broadcom, a holding in Jim Cramer's Action Alerts PLUS charitable trust, for instance, has spiked more than $100 since December but according to Bruce Kamich, our technical analysis, the stock is not throwing off strong buy signals.
And let's not forget the happenings, or lack thereof, taking place in Washington, where healthcare remained a hot button issue. Sen. Elizabeth Warren was on a tear this week, on Thursday urging Treasury Secretary Steven Mnuchin to investigate Carl Icahn's involvement in American International Group Inc. (AIG) - Get Report  in the aftermath of the 2008 financial crisis and then on Friday scoring a victory against Wells Fargo Co. (WFC) - Get Report  by getting it to agree to repay some $80 million tied to shoddy auto loans.
Speaking of Washington, the folks in D.C. may have a new media target in their crosshairs, after Laurene Powell Jobs, the widow of Apple Inc. (AAPL) - Get Report  co-founder Steve Jobs, agreed to purchase a majority stake in The Atlantic magazine through her investment and philanthropy organization, Emerson Collective. If Trump's recent offensive against Amazon and Bezos are an omen of things to come, Atlantic editor-in-chief Jeffrey Goldberg or Powell Jobs herself can expect some late-night/early-morning zingers straight from the Oval Office, according to TheStreet's Leon Lazaroff.
And believe me, there is more you missed this week than what I was able to cram into this missive. From strong earnings from Facebook Inc. (FB) - Get Report  Ford Co. (F) - Get Report  and Verizon Communications Inc. (VZ) - Get Report  to Tesla Inc.'s (TSLA) - Get Report  Model 3 release to Anthony Scaramucci's apparent rant to a "New Yorker" reporter, its been an eventful week.
This is an excerpt from "In Case You Missed It," a daily newsletter brought to you by TheStreet. Sign up here.

Photo of the day: A theatrical hit from the summer of '51
Sony's (SNE) - Get Report "The Emoji Movie" and "Atomic Blonde," from Comcast NBCUniversal's (CMCSA) - Get Report Focus Features are set to hit theaters this weekend as the summer movie season continues. The two films come during a pretty lackluster movie season, actually, and a quiet time for one of the country's largest media company's Walt Disney Co. (DIS) - Get Report . The House of Mouse, normally, a movie powerhouse hasn't had a huge blockbuster hit this summer (though it has had successful films this year). That wasn't the case in the summer of 1951, when Disney released "Alice in Wonderland" its 13th animated movie. The movie celebrated its 66th anniversary this week.
Read more from "In Case You Missed It." Sign up here.