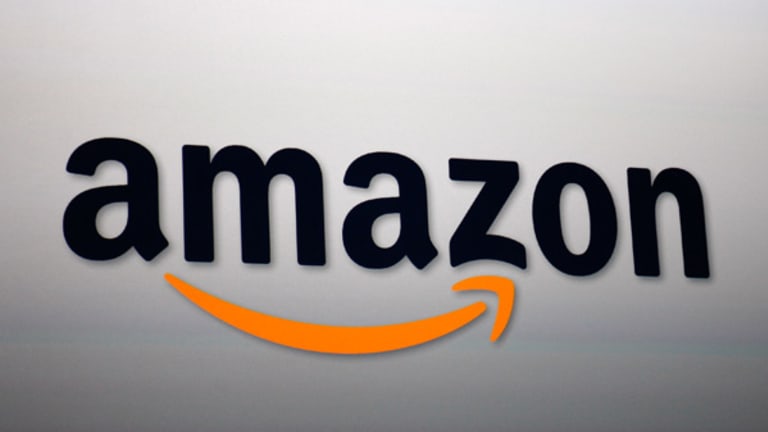 NEW YORK (TheStreet) -- You've got to hand it to Amazon.com (AMZN) - Get Amazon.com, Inc. Report, a groundbreaking company that has made the transition from Internet bookseller to one-stop online retailer. Along the way, investors have been rewarded handsomely, with shares up 10-fold since 2007. Those who bought shares in 1997 and have held on have made 250 times their original investment.
This has also been a great success story for consumers. They can purchase darn near anything they desire via the company's Web site at extremely competitive prices, and from the comfort of their home. A few days later, their purchases are delivered to their doorstep. Amazon is a time saver and a convenience. Need a book? Amazon offers instant delivery to its own e-reader, the Kindle, or to other tablets. No more books to store or trips to the bookstore -- the few that remain, that is.
Earlier this week, Amazon startled investors with its plan to use personal drones to deliver products to customers. I thought it was a joke at first, but evidently it's not. I'll believe it when I see it, given the tremendous hurdles of such an initiative. Still, 20 years ago it would probably have seemed just as strange that you could do all of your shopping online or store your entire library on a 5- by 7-inch hunk of plastic.
[Read: Amazon's Drones Set to Take Out UPS]
In my view, this is a case of "like the company, don't like the stock." Despite all of Amazon's innovation and all of the market share it has taken from the brick and mortar stores, its valuations are out of whack.
Amazon, which boasts a $175 billion market cap, may be a fast grower in terms of revenue, but where are the earnings? Last year, revenue grew an impressive 27%, to $61 billion, but the company lost $39 million, and generated just 87 cents per share in free cash flow. Revenue has continued to rise in 2013 -- last quarter it jumped nearly 24% -- but the company lost 9 cents per share, which met expectations.
[Read: Amazon to $400: Haters Can't Make Sense of It]
The question is whether Amazon can ever be anything more than a low-margin business. Between 2007 and 2010, the company's net profit margin averaged about 3.4%. That fell to 1.3% in 2011, and was in negative territory last year. Consensus estimates for 2014 are calling for earnings of $2.68 per share, which puts the forward price-to-earnings ratio at 143. For 2015, the consensus is calling for $5.39, which implies a forward P/E of more than 70. If those estimates are accurate, that's a heavy price indeed.
data by

The stock does not appear expensive on a price-to-revenue basis, and is currently at 2.5 on a trailing 12-month basis.  But a low margin business, which is what I believe Amazon will always be, should command lower price-to-sales multiples.
I continue to utilize Amazon as a consumer, and I remain impressed by what the company has been able to accomplish in terms of innovation. But I will not go near the stock. There is too big a disconnect between the price and the valuation. The current price reflects extremely high expectations, and history has shown us how those situations typically end.
[Read: Persistent Cyber Attacks and the New 'Normal']
Don't get me wrong. Amazon is a real business, not a 2000-era tech bubble company with no prospects. But as sometimes happens in investing, the hype has taken over, and valuations have taken a backseat. Were Amazon ever to get to realistic valuations -- light-years from the current price, in my value-centric world -- I might reconsider. That would entail a dramatic drop from current levels, and the current crop of investors would need to capitulate. Stranger things have happened: I took a position in eBay (EBAY) - Get eBay Inc. Report in 2009, a move that would have previously been unthinkable, but at less than 10 times earnings, and with 20%-plus profit margins, it was too cheap to ignore. Amazon, though, has a long way to go before expectations line up with reality.
At the time of publication, the author had no position in any of the stocks mentioned.
This article is commentary by an independent contributor, separate from TheStreet's regular news coverage.
Jonathan Heller, CFA,CFP® is president of KEJ Financial Advisors, his fee-only financial planning company. Jon spent 17 years at Bloomberg Financial Markets in various roles, from 1989 until 2005. He ran Bloomberg's Equity Fundamental Research Department from 1994 until 1998, when he assumed responsibility for Bloomberg's Equity Data Research Department. In 2001, he joined Bloomberg's Publishing group as senior markets editor and writer for Bloomberg Personal Finance Magazine, and an associate editor and contributor for Bloomberg Markets Magazine. In 2005, he joined SEI Investments as director of investment communications within SEI's Investment Management Unit.
  Jon is also the founder of the
, a site dedicated to deep-value investing. He has an undergraduate degree from Grove City College and an MBA from Rider University, where he has also served on the adjunct faculty; he is also a CFA charter holder.