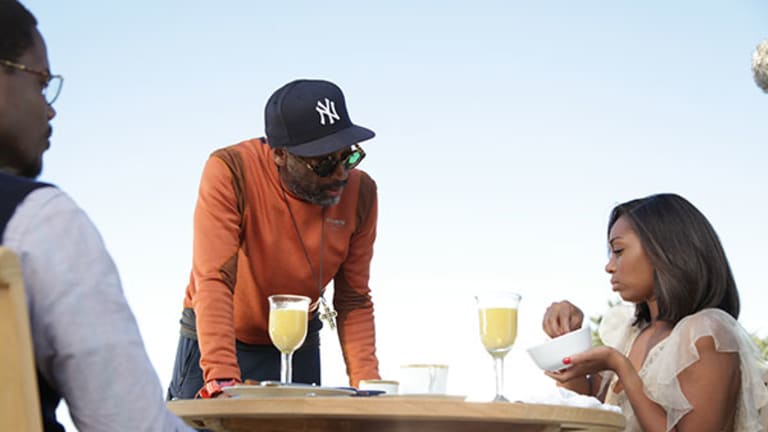 Publish date:
Amazon Goes Searching for Hollywood Recognition With Spike Lee Film
A reported deal with Spike Lee illustrates how Amazon will challenge Netflix -- using a page from HBO's often-imitated playbook.
A reported deal with Spike Lee illustrates how Amazon will challenge Netflix -- using a page from HBO's often-imitated playbook.
NEW YORK (TheStreet) -- It may be just for a single film, but Amazon's (AMZN) - Get Amazon.com, Inc. Report reported deal to distribute director Spike Lee's upcoming movie marks a big step. The online retailer's young studio is pushing for serious recognition in Hollywood by lifting the well-worn playbook of Time Warner's (TWX) HBO, industry veterans said.
Lee's film, Chiraq -- which trade publication The Wrap reports may star Samuel L. Jackson, Jeremy Piven, and rappers Kanye West and Common -- also shows how Amazon Studios plans to play catch-up to its more established rival Netflix (NFLX) - Get Netflix, Inc. (NFLX) Report among TV and movie audiences.
"Amazon wants to be Netflix and they're trying hard to get the big names and have the audience follow," said Tom Jennings, a documentary filmmaker who runs the independent 2over10 production company.
If the deal with Lee comes to fruition, it follows Amazon's strategy of using original content as a way to attract consumers and boost awareness of its $99 Prime program, which has courted customers with free shipping but also includes video streaming. Amazon Prime has up to 50 million members worldwide, analysts estimate, a sizable business though it falls short of Netflix's nearly 60 million subscribers.
The five-year-old Amazon Studios already has a deal in place with Woody Allen to write and direct his first-ever television series, creating a splash when it was announced in January. Lee and Allen have helped the studio get its foot in the door in the now crowded and competitive market for original content and pay TV subscribers, Jennings said.
"Spike Lee comes in not demanding the big budget films but really has a strong capacity to create a brand awareness," Jennings said. "That's something they love and really want to capitalize on."
Representatives for Lee and Amazon didn't immediately respond to requests for comment.
The current Hollywood big-tent strategy emphasizes blockbuster action films. But Amazon and Netflix are trying to exploit a weakness in the market for independent films in the $10 million to $30 million range.
Netflix already turned heads this year by acquiring drama Beast of No Nation for a reported $12 million. It plans its own theatrical release with eyes on an Oscar nomination.
Amazon has already begun courting independent filmmakers with plans to produce a dozen films a year, with budgets between $5 million and $25 million. The films would be distributed to theaters in a first-look deal with Time Warner's Warner Bros. and appear four to eight weeks later on its Prime platform.
Amazon and Netflix offer a bit of stability to the indie market that has produced Oscar contenders such as jazz drama Whiplash this past year. But the independent film market often operates with little cash and lots of uncertainty.
"They are both very well capitalized companies at a time when a lot of the production is done by undercapitalized indie producers who never know if they can actually make the payroll," said Jonathan Taplin, a producer of Martin Scorsese's Mean Streets and a professor at the University of Southern California.
"Nobody is going to doubt Amazon," Taplin added. "If they say they're going to make a movie, they can write the check."
Amazon Studio's bid for credibility follows closely to the trail blazed more than a decade ago by HBO and later imitated by Netflix. The goal, Jennings and Taplin said, is to build credibility with award-worthy content and cash in later with success.
HBO has dominated the Emmy Awards for more than a decade, which helped establish the network as the gold standard in television. It's also a moneymaker for its parent company, Time Warner, despite rarely commanding the audiences of broadcast or basic cable networks.
Netflix has already won awards -- an Emmy for House of Cards and Screen Actors Guild Awards for Orange Is the New Black.
Amazon has already answered the awards bell with surprise wins this year at the Golden Globe Awards for transgender family series Transparent, a show Netflix passed on.
"It's throwing darts at a wall and seeing which one will hit as close to the bull's-eye as possible," said Jennings. "These are things that don't bring a huge amount of audience but they bring a lot critical recognition. That's what they're going for."
One advantage Amazon may have in the long run over Netflix is its ability to weather a few misses. Amazon's more-current video-on-demand catalog and sheer size are a strength, said William Jennings, a professor at Hofstra University who has worked as a writer and assistant director.
Amazon has a $177.7 billion market capitalization compared to Netflix's $27.5 billion.
"They can operate at a loss even if they wanted to because of other parts of their business," William Jennings said. "Netflix is going to have a hard time competing."
This article is commentary by an independent contributor. At the time of publication, the author held no position in the stocks mentioned.