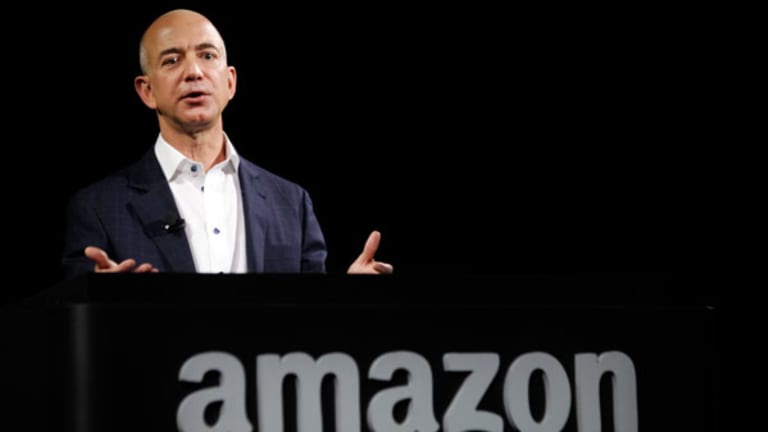 Amazon Forces Sirius to Get Serious
Despite stiff competition, Sirius has done the impossible. But beating Jeff Bezos may be truly impossible.
NEW YORK (TheStreet) -- There's never a dull moment in SIRI-Land. With rumors swirling that Amazon (AMZN) - Get Amazon.com, Inc. Report plans to enter the realm of music streaming, I've begun to field questions about its potential impact to satellite radio giant Sirius XM (SIRI) - Get Sirius XM Holdings, Inc. Report.
After spending most of 2013 at or near 52-week highs, shares of Sirius have been muted for most of this year. In fact, since reaching of high of $4.18, the stock has been down by as much as 20%. But that's a far cry from the depths this company has reached.
[Read: Yahoo! Is 'Pleasantly Surprised' at Tumblr's Potential]
After a near-death experience in 2008 sent the company to the brink of bankruptcy, Sirius has been a model of execution. It wasn't long ago that Pandora (P) was said to be the death-knell of Sirius. Then it was Spotify.
Last year, even amid music streaming entries by Apple (AAPL) - Get Apple Inc. Report and Google (GOOG) - Get Alphabet Inc. Class C Report, Sirius stock soared more than 30%. Now today, because of Amazon rumors, bears are lining up with shovels in hand ready for yet another Sirius burial.
But here's the thing: aside from Netflix (NFLX) - Get Netflix, Inc. Report, I don't believe there's another subscription model that can match Sirius' subscriber growth over the past couple of years. This has occurred even amid all these past threats.
Admittedly, Amazon isn't just another company.
Without knowing details about how Amazon plans to monetize this service -- assuming it does happen -- it's premature to quantify any near-term or long-term threats to Sirius. Besides, even with Amazon's dominance, Amazon's Prime service has posed no threat to Netflix. And likewise, Redbox kiosks are still alive and kicking.
The point being, there's nothing new to this story. Some services have tried to overcharge and others have taken the undercut route. Despite all of that, Sirius has taken everyone's best punch and has grown. Now, if Amazon can bundle its music with movies and its shipping plans, I can see some concerns for Sirius.
[Read: 10 Questions to Ask Before You Buy a Stock]
Sirius has some extremely loyal subscribers. They have proven devoted to their satellite radio. But consumers have not been as committed lately when it comes to saving money. It will be a matter of how much Sirius can differentiate itself from Amazon in terms on content.
Along those lines, the constant mantra has been that content is king. But just like on a chessboard, kings can be captured. At this point, it's hard to be against any tactic used by Amazon CEO Jeff Bezos.
Bezos currently offers customers unlimited two-day shipping for any Amazon item sold by its warehouse. Customers also receive unlimited access to videos and Kindle rentals. All of this comes for only $79 per year.
Sirius investors will argue that this low cost program is one of the reasons why Amazon's margins have been so low. But so what? That's not what is important at this point. Sirius needs to understand that it's a no-brainer for Amazon to add music streaming to this package. And getting access into the vehicle is certain to come next.
Think of how easy it would be to stream audio books in a couple of years, or to have the option to buy after a brief sample.
[Read: Switching Jobs? Don't Leave Money on the Table]
As it stands, there are many who still question whether Sirius's business model is sustainable. And I'm curious to know what Sirius majority owner Liberty Media (LMCA) feels about this new threat from Amazon. Liberty spent all of 2013 working its way up to majority ownership of Sirius. In January, Liberty chairman John Malone offered to buy the remaining portion of Sirius for $3.68 per share.
Investors once laughed at this offer and called it Liberty a joke. But with Sirius stock now trading below the offer price and Amazon gearing up to launch an attack, I don't see this as a laughing matter.
Despite stiff competition, Sirius has done the impossible. But beating Jeff Bezos may prove truly impossible.
At the time of publication, the author was long AAPL but held no position in any of the other stocks mentioned.
This article represents the opinion of a contributor and not necessarily that of TheStreet or its editorial staff.