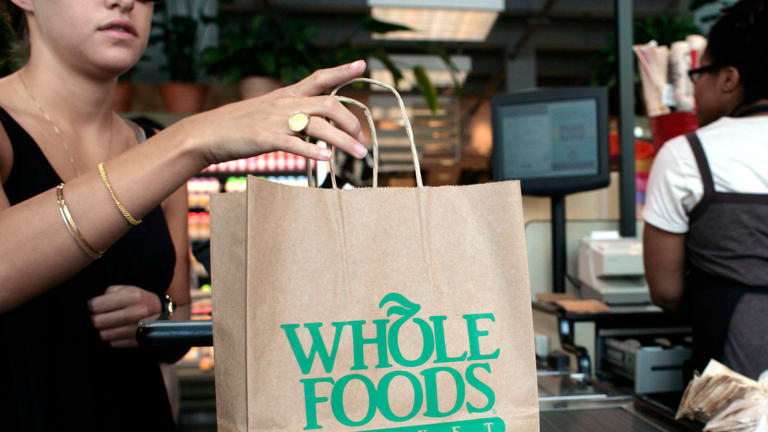 Amazon's Focus on Profitable Grocery Items Highlights the Value of Whole Foods
There are reasons why e-commerce has only made a modest dent in the traditional grocery market so far.
In a roundabout way, a weekend Wall Street Journal article about Amazon.com's efforts to sell bulky, low-cost goods explains one of the reasons why the company is eager to expand into offline retail.
The article notes Amazon has been paring back its selection of some of these items -- internally referred to as CRaP, or "can't realize a profit" -- in order to strengthen its bottom line. And for those "CRaP" items that it continues to offer, Amazon is pressuring suppliers, including major brands such as Coca-Cola (KO) , to do things such as lower prices, revamp their packaging and ship items directly from their own warehouses, rather than have them sent to Amazon's first.
In addition to serving as a reminder that Amazon -- in spite of its willingness to absorb losses on new initiatives -- likes to run a tight ship, the WSJ's story highlights how the economics of online retail still work against the sale of many of the items one finds at the typical supermarket.
In recent years, Amazon has launched services such as Prime Pantry and gradual lowered its per-unit shipping costs through a warehouse-building spree that's cutting the average distance an order needs to travel. But even with those moves, shipping expenses for groceries and other consumer staples are sometimes (though not always) too high for online orders shipped in boxes from warehouses to be cost-competitive with traditional offline retail.
Throw in the fact that many grocery items need to be refrigerated or frozen, that consumers often prefer to see and/or touch certain items (fruits, vegetables, meats, etc.) before buying them and that consumers often want grocery items immediately, rather than in a day or two, and the logic behind the company's $13.7 billion acquisition of Whole Foods looks all the stronger.
Amazon.com is a holding in Jim Cramer's Action Alerts PLUS member club. Want to be alerted before Jim Cramer buys or sells AMZN? Learn more now.
In addition to giving Amazon a way to directly participate in the giant offline grocery market -- including by offering perks to Prime members and (like Walmart (WMT) ) supporting in-store pickup for online grocery orders -- Whole Foods and its nearly 500 stores have underpinned a major expansion of Amazon's grocery delivery efforts. In a number of metro areas, Amazon has begun providing free two-hour Whole Foods deliveries through its Prime Now service for orders that meet a $35 minimum.
It isn't clear if Amazon is turning a profit on these deliveries yet; the company has previously suggested it still has work to do in terms of improving Prime Now's cost structure. However, it isn't hard to see how Whole Foods' bricks-and-mortar footprint can make the rapid delivery of grocery orders (refrigerated and frozen items included) more economical for customers who don't live too far from a Whole Foods store.
Amazon's efforts to create a bricks-and-mortar footprint to grow its sales of grocery items go beyond Whole Foods. The company has launched a handful of cashier-less Amazon Go convenience stores, and is reportedly thinking about launching a lot more of them. It also experimented for a while with a service called Instant Pickup, which let Prime members obtain convenience store-type items from a locker within two minutes of ordering the items through the Amazon app.
Look for Jeff Bezos' company to hatch additional moves meant to boost its grocery sales. Buying a dollar store chain, for example, would both allow Amazon to go after a portion of the grocery market that looks immune to online retail cannibalization, while also giving it a chance to grow Prime adoption among lower-income consumers. 
With the grocery market estimated to be worth about $1 trillion in the U.S. alone, and with the lion's share of these sales expected to remain offline for a long time, there are definitely plenty of possibilities.