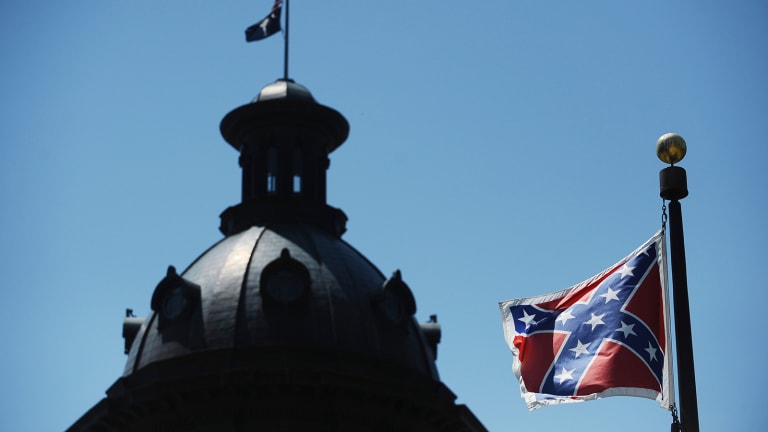 Publish date:
These Retailers Still Sell Confederate Flags on Baby Clothes, Bikinis and More
Confederate flag-themed merchandise has retailers in hot water, but many are still selling, anyway.
Confederate flag-themed merchandise has retailers in hot water, but many are still selling, anyway.
NEW YORK (TheStreet) -- Confederate flag-themed merchandise has retailers in hot water, but many are still selling the stuff, anyway.
The Confederate flag has become a topic of heated debate in recent days following a mass shooting at a historic African American church in South Carolina. While American flags flew at half-mast to honor the nine victims, Confederate flags, a symbol of slavery, still flew above government buildings because of a state law. The state's governor, Nikki Haley, has called for its removal from the state capitol building.
Walmart (WMT) - Get Report announced on Monday that it plans to remove all Confederate flag merchandise from its stores, both online and off. "We never want to offend anyone with the products that we offer," company spokesperson Brian Nick said in a statement.
Sears Holdings (SHLD) has said that it, too, will wipe rebel flag items from its shelves. Neither Sears nor Kmart, which Sears Holdings operates, sell Confederate flags at their stores, though such merchandise is sold by third-party vendors online. "We are in the process of scrubbing our marketplace to pull those items down," said Sears spokesperson Chris Brathwaite.
Online retail giant Amazon (AMZN) - Get Report has reportedly confirmed that it will pull Confederate flag items and eBay (EBAY) - Get Report has issued the following statement through a spokesperson:
"We have decided to prohibit Confederate flags, and many items containing this image, because we believe it has become a contemporary symbol of divisiveness and racism."
Meanwhile, sales of Confederate flags are soaring amid threats to its being widely available. According to one report, sales of flags are up more than 3,000% on Amazon today. 
As of this writing, Confederate flag-adorned goods are still available from all four retailers in some shape or form. Here are 20 items you can find right now.
Baby Clothes
By the looks of it, it is never too early to start wearing the Confederate flag. The Confederate Dixie Doll Rebel Flag One Piece Infant Dress is available for children ages six to 12 months.
Parents can also pick up Confederate flag onesies for their newborns. An infant body suit featuring the design costs around $30.00.
Must Read:8 Surprising Items You'll Find at a Marijuana Conference
Belly Button Rings
The Confederate flag gets a sexy flare when put on a belly button ring. And a search on Amazon for "rebel flag belly button ring" brings up 111 results.
A basic stainless steel ring costs just $0.95, while more elaborate baubles are a bit pricier. Eyebrow rings and tongue rings with a Confederate design are available as well.
Belt Buckles
One eBay seller of Confederate flag belt buckles describes their product as "fashion" and "cool." Available in themes such as rebel pride, rebel rodeo and rebel fleur de lis, many of the buckles sold are unisex.
Walmart is also still selling a Confederate flag belt buckle on its website. The Buckle Rage Redneck Country Girl Belt Buckle comes in pink.
Bikini
The Confederate flag is a popular design for beachwear for both sexes.
Two-piece bikini sets for women featuring the design are available starting at $22.50 on Amazon. Southern Pride Confederate Rebel Flag Lightweight Fleece Shorts for men cost between $12.99 and $24.95.
Boots
Dixie-themed footwear isn't getting the boot in online retail -- in fact, quite the opposite. Cowboy boots with the Confederate flag design are available for both men and women in various styles.
For warmer months, Confederate flip flops are an option as well. A pair for sale on eBay comes with a key ring.
Christmas Ornaments
Tis the season ... to celebrate southern heritage? Apparently. During the holiday season, some choose to spruce up their trees with an ornament featuring the Confederate battle flag.
A search for "Confederate flag Christmas ornaments" on Amazon pulls up 19 results. Described by one seller as a "great gift idea," the tokens can also double as rear view mirror hangers for cars.
Clock
Edward Elric's nc0981 Dixie Flag Confederate Rebel Redneck Neon Sign LED Wall Clock comes in three colors: red, green and blue. Originally priced at $98.98, it is currently on sale for $85.79 and ships for free.
Amazon's sponsored items related to the Dixie clock include a rebel flag print fleece throw and a rebel flag blanket.
Cupcake Toppers
Confederate-themed desserts are made possible thanks to rebel flag cupcake toppers. Picks are sold in sets of six and measure 3.5 inches in height and 1.5 inches in diameter.
The item's seller, Made on Terra, provides a colorful description of its product as well: "At last, the day has arrived. You've spent the last month preparing: the balloons are filled and floating, the house is clean and sparkling, the favors are wrapped up in cute little bags. Your party is going to be a hit. But could you have forgotten something? Your gaze falls upon the plate of freshly-iced cupcakes sitting out on the table. The precious cupcake toppers dancing above the delicious icing bring a smile to your face. At last, you can relax."
Folding Chair
Campers and tailgaters can demonstrate their rebel pride in their seating. A Confederate Flag Nylon Folding Camp Chair, available for $37.99 on Amazon, is sold by Zeckos.
The chair comes with a cup holder, but not every buyer is satisfied with the feature. "The chair is a little smaller than the normal fold up one and has the same small cup holder in it, barely fits a beer can," one reviewer wrote.
Gift Basket
A Confederate-themed gift basket will deliver gourmet coffee, biscotti cookies and a coffee mug to your doorstep.
Described by its makers as "great for any occasion," the basket includes five blends of coffee as well as a bonus set of four soft coasters (all of which have the design of the Confederate flag).
Guitar
Guitar players won't be found wanting when it comes to rebel flag-bearing gear. There is plenty available on eBay.
A new electric guitar and shell case featuring the design is priced at $1,199.95, and a new acoustic guitar is priced at $114.99. A guitar strap is available for $14.75, and a pick costs under $5.00.
Hanging Dice
Hanging dice featuring the Confederate flag is available on Amazon in two fabrics - plush and vinyl. The three-inch cubes to hang on a car's rear view mirror are inexpensive, too -- the plush cost $5.99, and the vinyl $7.99.
Customers who bought these items also picked up Confederate flag tire valve stem caps, license plates and hunting stickers.
Knife
Knives of all shapes, sizes and purposes are available on both Amazon and eBay featuring the Confederate design.
The South Will Rise Again Tactical Folding Pocket Knife, priced at $11.95, is eight inches overall and has a 3 ¼ inch blade. The Gentleman's Folding Knife, which costs $12.95 and is made in China, has three stainless steel blades. Its sellers tell potential buyers, "Don't hide your Rebel pride."
Motorcycle Cup Holder
Bikers can trick out their Harley Davidsons (HOG) - Get Report and Hondas (HMC) - Get Report with the Diamond Plate Stainless Steel Rebel Flag Motorcycle Cup Holder, available on Amazon for $19.79. It features an adjustable clamp to attach to any motorcycle or bike and has a limited lifetime warranty.
Customers who viewed this item also viewed other motorcycle cup holders -- sans the Confederate flag.
Plates
Redneck Girl plates sold on the Sears website put both the Confederate flag and guns in the kitchen. The 7 ½ inch porcelain plates have gold on their inside and outside rims and are for decorative use only.
The plates, sold by 3DRose LLC, are regularly priced at $36.99 but are currently on sale for $34.99.
Playing Cards
A game of gin, rummy and solitaire can be enjoyed on playing cards with the rebel flag. Mr. Mom's Attic describes the deck it is selling on eBay as "a great gift for your favorite Rebel, game night or for your personal collection."
Confederate flag greeting cards are for sale as well. A set of six on Amazon is priced at $16.99.
Poker Chips
Not only can you get Confederate playing cards, but you can get poker chips as well.
Betting folks can play with rebel-themed poker chips that cost about $2.00 each. The chips can also be used as golf ball markers and card guards.
Sunglasses
Your next set of shades for the summertime can come with a Confederate design. And some of the sun-shielding merchandise available is quite elaborately named, too, i.e. the Gun Metal Confederate Flag Aviator Sunglasses South Rebel Dixie Civil War CSA.
The glasses ship worldwide from Miami, Florida and cost $6.85 a pair.
T-Shirt
"The flag may fade, but the glory never will," reads the ErazorBits Redneck T-Shirt that is still for sale by Sears. Available on Sears' website for nearly a year, the shirt is available in black and has the Confederate flag on the front and back.
The item, which costs between $17.99 and $19.99, is listed under the model "redneckglory."
Xbox Decals
Gamers can pick up skin decal wraps to cover both the controllers and console of Microsoft's (MSFT) - Get Report Xbox 360 with the Confederate flag. The item costs $14.99 on eBay and comes with a 14-day money back guarantee.
For the less technologically inclined, cornhole board decals are on sale as well. Vinyl wraps cover the wooden boards for the game, which is also known as beanbag toss and Baggo.
This article is commentary by an independent contributor. At the time of publication, the author held a position in MSFT.