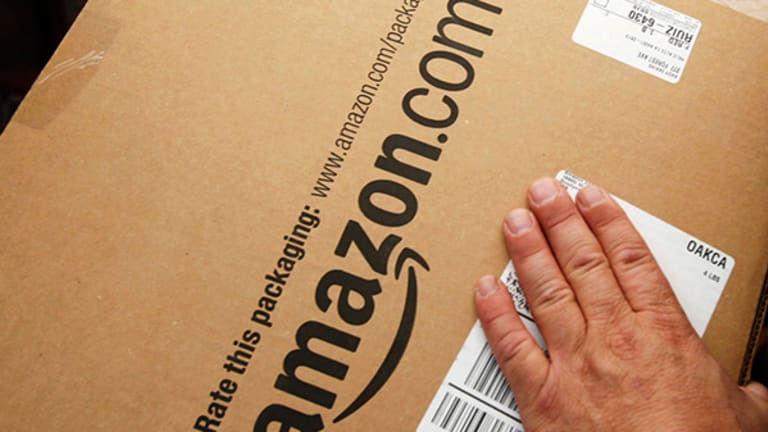 Amazon Delivers After-Hours Earnings Beat
Fire tablets and the AWS cloud service are hot sellers.
Amazon.com  (AMZN) - Get Amazon.com, Inc. Report  surged in after-hours trading on Thursday, after topping Wall Street's earnings forecast.
Sales grew 28% to $29.1 billion in the first quarter, compared to a forecast of $27.99 billion. Earnings per share were $1.07, blowing past expectations of 58 cents per share.
Founder and CEO Jeff Bezos said in a press release that Amazon.com's devices, such as the Fire tablets and the Fire TV Stick streaming media player, are the top selling products.
The stock rose $75.13, or 12.48%, to $677.13 in after-hours trading.
"I would say it's a culmination of a lot of separate investments we are making," CFO Brian Olsavsky said regarding the company's Prime service. In addition to devices, Olsavsky cited investment in video and music included in Prime subscriptions.
Amazon.com's upcoming original programming includes drama Sneaky Pete, co-created by Bryan Cranston, and an untitled Woody Allen project. Amazon purchased a number of titles at the Sundance Film Festival, including Wiener Dog, a comedy by Welcome to the Dollhouse filmmaker Todd Solondz, and Author: The JT LeRoy Story, a documentary about a fictitious literary persona created by novelist Laura Albert.
"We're working on a great amount of content for Prime members," Olsavsky said.
Asked about the possibility that Prime could reach a saturation level, Olsavsky pointed to the company's monthly membership option. "That's one of the thoughts behind our monthly plan," he said. "We want to create flex for consumers to try Prime in a low-cost way."
The Amazon Web Services cloud computing business is on pace to exceed $10 billion in sales a year. For the first quarter, the business posted $2.56 billion in revenues, a gain of 64% from the first quarter a year ago. Operating income for AWS was $604 million, more than three times the level from a year ago. By comparison, Amazon.com's core North American business generated nearly $17 billion in sales but had $588 million in operating income.
"Margins are going to be bumpy," Olsavsky said regarding the unit's future profitability. Future investment, cost reductions and other factors could cause variations in the profitability of AWS.
As sales grow, the company said it would reduce the price of AWS. "We are not in the business of raising prices," said Phil Hardin, director of investor relations.
Amazon expects second-quarter sales of $28 billion to $30.5 billion, which would represent gains of 21% and 32%, respectively from the same period in 2015.