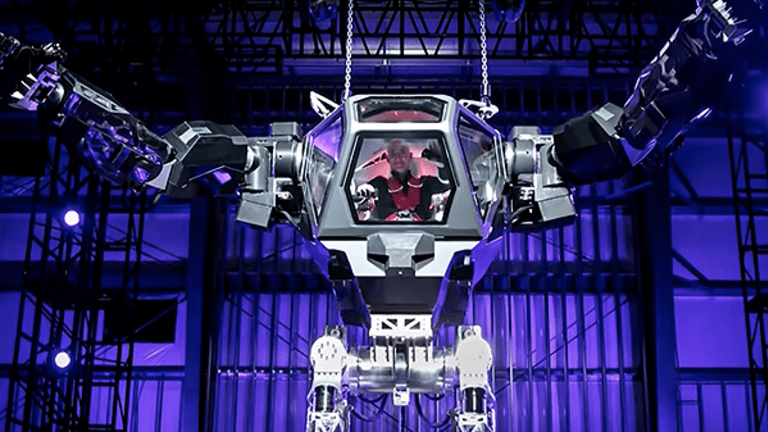 Amazon Could Be Most Valuable Company on the Planet and Basically Crush Everyone Alive
It's Amazon's world and we just happen to be here.
Amazon (AMZN) - Get Amazon.com, Inc. Report is pure madness. 
Shares of e-commerce giant were rising over 0.8% following a bullish note from investment firm Macquarie arguing the e-commerce giant will "be the most valuable company on the planet one day."
"We see few competitive threats to its core retail/marketplace business, and while AWS [Amazon Web Services] is seeing increased competition from (MSFT) - Get Microsoft Corporation Report and (GOOGL) - Get Alphabet Inc. Class A Report (among others), we think its lead there is well established," Macquarie analyst Benjamin Schachter noted.
Schachter increased his 12-month price target on Amazon's stock to $1,130 from $1,060, representing a 10% upside from Friday's close.
"In terms of the core fundamentals, we see more of the same, continued solid rev growth, with near-term margins likely pressured by investment," he wrote. "Yet, given the company's track record, we expect that investment in India, video, Prime Now, grocery, and other areas will be welcome."
Earlier on Monday, Amazon received praise from TheStreet's founder Jim Cramer, saying that he "still believes in the Amazon world domination theory."
All in all, just another day covering Amazon.
Yours truly is all for creating new businesses -- and winning. But, at the rate Amazon is going, it may disrupt every single industry -- materially -- within the next 10 years. Just look at the seven companies Amazon has helped torch this year alone. That said, it's time to call a spade a spade -- Amazon is very close to a monopoly that should be looked into by the government. Like the Microsoft monopoly deep dive that occurred many years ago.
As TheStreet's Lindsay Rittenhouse points out, Amazon could see some issues with getting its big Whole Foods (WFM) deal approved.
For if something isn't done, Amazon will own the entire apparel and grocery industries (maybe even appliances -- thanks, Sears (SHLD) ), operating it out of former Macy's (M) - Get Macy's Inc Report stores and new Whole Foods sites. While it's selling bras and panties for $90 each because of its monopoly, it will be offering $10 bananas from the nearby Whole Foods Amazon Market down the road.
Here comes the inflation.
Watch More with TheStreet:
O.J. Simpson Wasn't the First or the Last Athlete to Kiss a Major Endorsement Goodbye