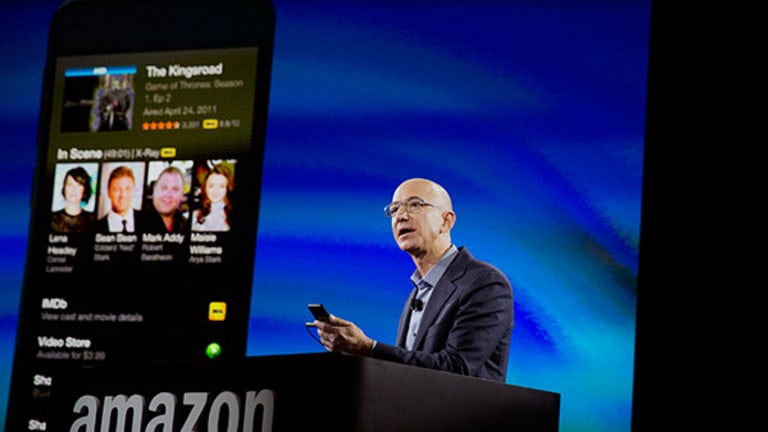 Amazon Could Be Developing Its Own Pay TV Channel
The move would be a way to capitalize on Amazon's growing portfolio of premium content, but it's not necessarily a slam dunk.
Editors' pick: Originally published Feb. 13.
With its growing portfolio of award-winning movies and TV shows, e-commerce and cloud giant Amazon (AMZN) - Get Free Report is reportedly hatching plans to develop a new pay channel solely for its original high-end dramas and movies. The channel, which would be a separate streaming site for Amazon's original content, is still in its early stages and not guaranteed to launch, according to the reports.
Amazon has gradually been accelerating its transition into a global entertainment and media powerhouse. Amazon Studios, its six-year-old content production arm made history by taking home two Golden Globes in early January. It was also the first internet streaming company to have received an Academy Award nomination for Best Picture for Manchester by the Sea.
"This could serve as a catalyst for the company to ramp up its spending on content even further. I think that they could tighten their movie content spending and potentially one day do a blockbuster type of film," said Tom Forte, senior president at Maxim Group. "Imagine Amazon has its own version of Frozen where it can sell not only the content to its consumers but also its licensed merchandise."
Amazon already sells Prime Video by itself for $8.99/month (about $108/year), and that comes with all of their original content. The Prime Video standalone is an especially good deal, though since the full Prime service, which includes free two-day shipping for eligible purchases and unlimited streaming of movies and TV shows with Prime Video, is available for either $10.99/month or $99/year.
As a result, Amazon might be planning instead to sell a paid TV channel similar to Time Warner's (TWX)  HBO or CBS's (CBS) - Get Free Report  Showtime. Another approach might be for Amazon to offer a version that comes with a full Prime subscription to get customers hooked on Prime, which is a huge focus for the company since its Prime members are so much more 
Amazon Prime video's rival Netflix (NFLX) - Get Free Report could also be a possible format for the potential standalone streaming site, according to Forte of Maxim Group.
"So the idea would be that a consumer that solely consumes video on cable or satellite would be able to access the site like a premium channel such as HBO or Showtime. At the same time...a consumer who is interested in over-the-top distribution would be able to access the channel via the growing number of venues for that to occur via either a dedicated app or via smart television," said Forte.
A dedicated premium TV-like channel is not the only avenue that Amazon has come up with so far to further monetize its investments in content. Amazon recently launched standalone streaming services for anime content, and is also reportedly thinking of launching one to stream sports content with global appeal, competing with Walt Disney's  (DIS) - Get Free Report  ESPN.
Despite Amazon's content expansion success, not all analysts are buying into the likelihood of Amazon offering a premium TV channel at this time.
"I suppose they could expand that and offer it domestically, but that would serve as a disincentive to join Prime, and their sole motivation in offering video content is to drive Prime membership. Thus, I don't think it's likely," said Michael Pachter, a Managing Director at Wedbush Securities.
Amazon did not respond to a request for comment for this story.