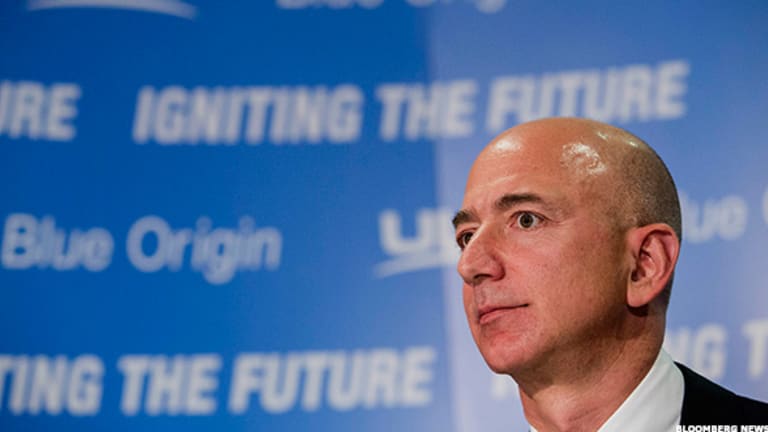 Amazon.com Stock Is Headed for a Huge Selloff, This One Chart Shows
In-depth technical analysis shows that shares of online retail giant Amazon.com (AMZN) are about to embark on a massive decline. Will you be ready?
Amazon.com (AMZN) - Get Free Report are on the verge of a huge selloff, in-depth technical analysis reveals, and investors would be foolish to ignore the warning signs.
We last analyzed Amazon.com one month ago using the objective decision support engine, which gave readers specific levels that would indicate that Amazon's rise from at least the August low, near $450, was over. The decision support engine showed that $620 was the line in the sand, below which a very sharp decline would be confirmed to be underway. Until that break occurred, a final rise couldn't be ruled out. That is exactly what has happened; a rise from early December has finally reached the $692 +/-$8 zone that was given in that chart. The daily bar chart below updates the chart in that earlier article and shows additional warning signs of a historic decline that should begin soon. 
Click here to see the following chart in a new window
At the Dec. 29 high, last week, $696 was seen. This extreme tested the higher end of the ideal price zone, while the close on Dec. 31 ($675) is already well below. At that $696 level, price was able to, briefly, exceed the upper Bollinger Band (purple dashed line), which it wasn't able to do at the November or early December peaks. In other words, the highest bullish enthusiasm was seen at last week's peak/reversal than at any other rally extreme since July (except one moment in time in October -- the middle of the post-August rise). Unlike the July peak, which occurred at nearly the upper four-standard-deviation band (statistically containing 99.9% of normality), as seen at the (3) label near the red line, none of the subsequent rally highs have seen an extreme that moved past 2.7 standard deviation bands, and last week's made it to only 1.9 standard deviation bands. This sequence shows marked loss of momentum into the ideal target zone, which the decision support engine generated in October, 30 and 60 days before the zone was reached at the two December tests. Additionally, as the dark blue lines (across the higher highs in prices and lower highs in stochastics) illustrate, there have been two bearish divergence sell signals since the middle of November.
All of this suggests that Amazon is lining up to be one of the greatest short sales since big tech names in the first week of January 2000. Still, we can't yet rule out a final thrust into the pink box, just above last week's $696 peak. The decision support engine continues to generate the same parameters as given in our last analysis; a break of $620 will confirm a major decline has begun. Once confirmed, $430 +/-$20 is the highest-value target for a meaningful low.
However, $620 is a long way down from current levels, and that is a lot of pain to withstand if you are too long. So, we ran a shorter-term DSE analysis to see if an objectively generated higher sell stop level could be obtained. In fact, risk can be trimmed significantly to either the Dec. 23 swing low near $657, or the Dec. 14 low near $635. A happy median can be found around $645, where the lower Bollinger Band (purple dashed line) should provide bullish support. If it doesn't, ominous weakness will be implied, and $635 should break in a hurry, putting the longer term confirmation level of $620 at immediate risk of breakage.
Speaking of longer-term risk, in addition to these daily stochastics recently reaching the extreme overbought 90% threshold (now reversing in a crossed-down sell signal), the weekly and monthly degrees of trend both show their stochastics above 90%, as well. The rarity of these all reaching 90% should not be overlooked, as the synchronicity of such an overbought condition hasn't been seen since December 2013. That occurrence was followed by a 31% decline in the five months that followed. If that is mirrored in 2016, Amazon shares would now be in the verge of a decline from $675 to approximately $495 +/-$15. This targeting method is not too far away from the initial target zone, in the green box in the chart, making $475 +/-$20 an enhanced bulls-eye for the next 12-24 months. 
For more of this kind of analysis, try our many DSE-based services with a free week of full-access to our highest level membership. Special pricing is available for TheStreet.com readers who subscribe AFTER a no-obligation, complimentary trial week.
This article is commentary by an independent contributor. At the time of publication, the author held no positions in the stocks mentioned.