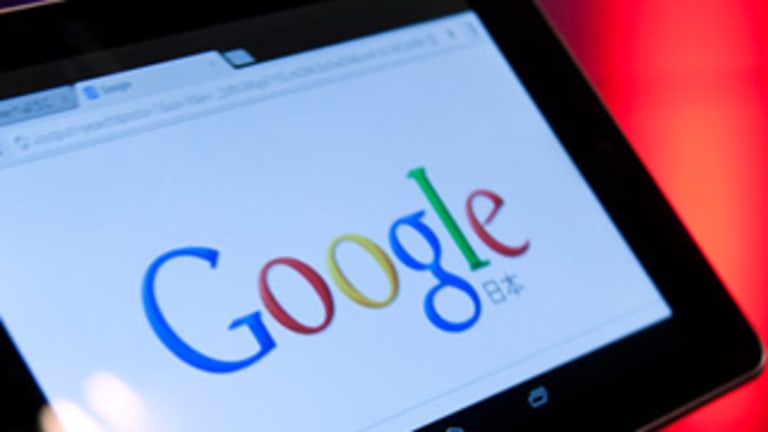 Amazon, Apple, Facebook and Google Report This Week
Here's what to expect from four tech sector biggies' earnings.
NEW YORK (TheStreet) -- Here's a brief analysis of the four big tech sector earnings reports due this week: Apple (AAPL) - Get Apple Inc. Report, Google (GOOG) - Get Alphabet Inc. Class C Report, Amazon (AMZN) - Get Amazon.com, Inc. Report and Facebook (FB) - Get Meta Platforms Inc. Class A Report. 
Apple reports today after the close. I've been long on the stock since summer. I expect the stock will rally after it reports. 
Because Apple refreshed both the iPad and the iPhone, sales for the holiday quarter seem to have been even stronger than usual. In the fall, (in the beginning of the soon-to-be reported quarter), the new iPhone 5S and 5C received immensely higher demand than analysts expected. 
This bodes well for the company going into the quarter. The new iPad Air and iPad Mini are also expected to have done well. In this case, I would have expected shares of Apple to run higher into the earnings report. But they haven't. In fact, Apple feels like a hated stock in many regards, as it continues to stall out after short moves higher and fail to move higher in a significant manner. 
Because sentiment still doesn't seem very positive, and because the holiday quarter was likely very strong, I expect Apple to exceed first quarter expectations. Although guidance can oftentimes trip up even the best report, the deal with China Mobile Limited (CHL) - Get China Mobile Ltd. Report will likely save Apple. 
I don't expect the deal to add a lot of sales to Apple's most recent quarter. Instead, I think the Chinese New Year will drive sales in the region for Apple's fiscal second quarter, when it reports in April. Because of this, guidance should be good too.
The only other "mystery" in the quarter will likely have to do with the company's cash pile and if management has any plans on what to do with it. Overall, I expect a strong quarter with acceptable margins and a solid outlook. 
Facebook
Facebook reports fourth quarter results on Wednesday after the close. In all fairness, I am also long this stock for earnings only via a risk-defined position in call options. 
Needless to say, I also expect shares of Facebook to do well following the report. Last quarter, the company reported strong earnings, with a 30% beat on analysts' EPS estimates and a top-line beat that resulted in a 60% increase from year ago figures. 
Before management spoke on the conference call, the stock rallied more than 15% on its third quarter results. Ironically, the stock is back to the same level today as it was when it last reported earnings. So despite the big beat, the stock's value is the same. 
Investors certainly aren't buying the stock into the quarter, which sets it up for a possible jump following the results. Growth will likely be strong. But, that's not what's in question and valuation is not the reason of the last selloff. It was because of management. 
On the previous conference call, management expressed concern about teens leaving the Facebook platform in favor of other social media outlets. Of course, this was a major buzzkill on what was otherwise a great quarter. 
Thus, management will be the wild card in this one. It would surprise me if there was an analyst on the call who didn't probe about this issue. So it's vital that management responds with the correct answer. Aside from that, advertising on Facebook and Instagram will likely be a bright spot, especially video ads on the former. 
Google
Google reports earnings after the close on Thursday. This is sort of a tough quarter to work with. I have concluded that I expect the stock to fall following the report. 
Since reporting third quarter results in October, Google shares rallied more than 30% before this recent two-day pullback. Regardless, the stock is still up more than 25% and while cheap compared to many peers, the valuation is stretched based on its historical average. 
The large, post-earnings move makes up about half of Google's 2013 performance, which ended the year about 50% higher than where it started. I don't like when a stock is outrageously higher than it was just one quarter ago. Below $850 I'll admit, it was cheap. But above $1,150 just a few months later? Meh.
Go back and look at a five-year chart. Since 2010 and with the exception of 2013, Google almost always comes into its fourth quarter results a little too hot. Investors take pause, realize profits and reassess their investment thesis. I expect that to happen once again. The buying tends to pick back up in June.
While the stock has had a fierce rally, EPS estimates for the quarter have actually dropped slightly in recent weeks, according to Yahoo! Finance. However, it has missed seven of the previous eight quarterly revenue estimates. 
Lower estimates, paired with what we know was a strong online holiday season makes it plausible that Google could indeed rally after the report. Even more so, the stock has pulled back to within a stone's throw of its 50-day moving average after closing below its 21-day moving average for the first time since November. 
But a rally does not fit my expectations. Google could even beat these lowered estimates and still fall. Because at current levels, I think investors want to see big numbers. Big earnings beats. Without that, I think it declines and a retest of that opening gap from October could be possible. That's near $975, although I'd suspect $1,000 may hold as a key psychological level. 
Amazon
Finally, Amazon will also report after the close on Thursday. The stock tends to move higher following its fourth quarter results. When I say "tends to move higher," I'm not just talking about the following day or after-hours move. In this particular case, I'm referring to the general trend until the next quarter. 
EPS estimates have fallen to 66 cents per share, down more than 14% in the past 90 days and more than 8% in the past 30 days, from 77 cents per share and 72 cents per share, respectively. 
But let's be honest, despite the lowered earnings expectations, investors have never really cared about EPS. That's what the bears always shoot against: Valuation and profits. And they've always been wrong. Investors truly care about revenues, and revenue growth this quarter will be strong. 
Analysts are looking for sales of $26.03 billion, which would represent an increase of 22.4% from last year's revenue of $21.27 billion. As you can read in my recent article, Bricks and Mortar Died. Where Did it Go?, I explain the absolutely massive shift to online shopping in 2013. 
I won't get into the intricate details of it -- you can read the above article if you'd like those details -- but Amazon's traffic was absolutely incredible during the period. From year ago figures, sales jumped 44.3% on Cyber Monday and 25.2% from Thanksgiving Day through the third week of December. 
I think Amazon will beat that $26.03 billion revenue estimate. Shares have rallied during the past month, so the post-earnings reaction may be a little muted. However, if I had to pick a direction, I think investors will find the quarter acceptable and push shares through the $400 level that is acting as current resistance. 
In as "brief" of a summary as possible, these are my earnings predictions. They might all be wrong. But, that's what I see in this week ahead. 
DISCLOSURE: At the time of publication, the author was long FB and AAPL.
This article represents the opinion of a contributor and not necessarily that of TheStreet or its editorial staff.
-- Written by Bret Kenwell in Petoskey, Mich.
Bret Kenwell currently writes, blogs and also contributes to Robert Weinstein's Weekly Options Newsletter. Focuses on short-to-intermediate-term trading opportunities that can be exposed via options. He prefers to use debit trades on momentum setups and credit trades on support/resistance setups. He also focuses on building long-term wealth by searching for consistent, quality dividend paying companies and long-term growth companies. He considers himself the surfer, not the wave, in relation to the market and himself. He has no allegiance to either the bull side or the bear side.