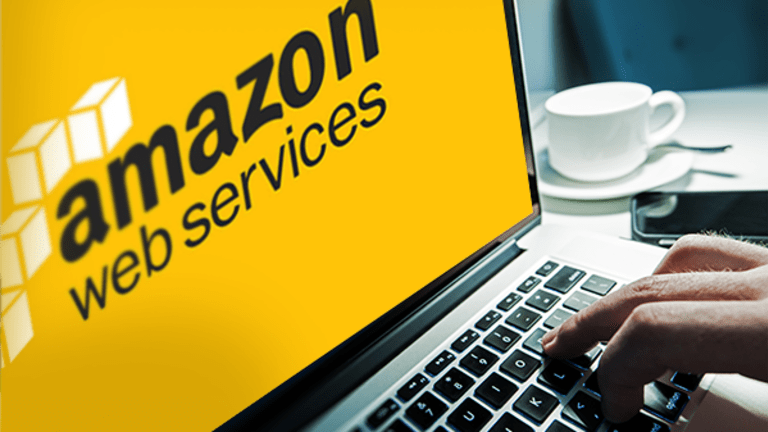 Amazon, Microsoft and Google Are Still Dominating the Cloud, But These Rivals Are Carving out Niches
Alibaba, IBM and others are finding ways to stand out, according to the latest research.
The 2016 edition of research firm Gartner's widely-read cloud infrastructure (IaaS) Magic Quadrant report made it clear that Amazon.com Inc. (AMZN) - Get Report , Microsoft Corp. (MSFT) - Get Report and to a lesser extent Alphabet Inc./Google (GOOGL) - Get Report were ahead of the pack in the booming IaaS market, and unlikely to relinquish their lead.
This year's version doesn't paint a significantly different picture regarding the big-3's competitive positions. But it does suggest that smaller rivals are getting better at carving out niches by focusing on cloud offerings that have some chance at standing out.
This column originally appeared on Real Money, our premium site for active traders. Click here to get great columns like this.
For those unfamiliar: Gartner places companies it covers in a Magic Quadrant report into one of four quadrants on a chart. Where they're placed depends on how highly Gartner rates their ability to execute within a market, and how complete the firm considers a company's vision for its offerings within the market to be.
Those considered above-average in both fields are placed into the "Leaders" quadrant, and those seen as below-average in both into the "Niche Players" quadrant. Those deemed above-average in one and below-average in the other are placed in either the "Visionaries" or "Challengers" quadrant.
As shown above, Amazon and Microsoft are deep within the Leaders quadrant, and Google is on the verge of breaking in. All three companies saw their placement on the "Ability to Execute" axis rise slightly relative to 2016, while remaining close to where they were before on the "Completeness of Vision" axis.
Alphabet is a holding in Jim Cramer's Action Alerts PLUS Charitable Trust Portfolio. Want to be alerted before Cramer buys or sells GOOGL? Learn more now.
But whereas Google was alone in the Challengers quadrant last year -- everyone besides the big-3 was labeled a Niche Player -- Alibaba Group (BABA) - Get Report , IBM Corp. (IBM) - Get Report and Oracle Corp. (ORCL) - Get Report managed to break into the quadrant this year. Some of this may be due to a more lenient attitude towards ranking smaller players on Gartner's part. But it also might say a thing or two about how each company has learned how to stand out.
Alibaba, which reported its "cloud computing" revenue rose 103% annually in the March quarter to RMB2.16 billion ($314 million), was naturally praised for its leading position in China's burgeoning IaaS market. Though Amazon Web Services (AWS) and Microsoft's Azure have entered China, Gartner notes Alibaba's AliCloud remains popular with Chinese tech companies and government agencies. And that AliCloud has developed a strong ecosystem of local software firms and managed service providers (MSPs).
At the same time, Gartner notes Alibaba's international cloud offerings, which launched last year, are pretty limited. And that potential international clients might still have security and compliance concerns about relying on a Chinese public cloud provider.
IBM's ranking appears to have gotten a boost from its efforts to create a next-gen cloud infrastructure for enterprises that relies on proprietary IBM hardware and management software. Gartner also took note of IBM's ability to use its global footprint to set up cloud data centers in 16 countries, and the potential to use its developer ecosystem to drive adoption of infrastructure services built on top of its Bluemix platform, which initially focused just on cloud app platform (PaaS) services for developers.
However, Gartner added IBM's current infrastructure offerings were developed by its SoftLayer unit (acquired in 2013) -- they've seen limited improvements over the last four years, and are considered by Gartner to be better suited for startups and gaming firms than large enterprises. The firm also deems IBM's current cloud experience "disjointed," since some services are offered via Bluemix and others via SoftLayer.
Oracle is praised for the revamped IaaS platform it launched last year, which includes support for "bare metal" servers running no virtualization software, and for having a "sensible engineering roadmap" to make up for lost ground. Gartner also likes that Oracle has an end-to-end cloud strategy covering IaaS, PaaS and cloud apps (SaaS), a large developer ecosystem and the ability to use its database to reel in clients.
But while Larry Ellison might argue otherwise, Gartner considers Oracle's IaaS platform a "minimum viable product" for the time being, lacking the advanced features larger rivals in this field can offer. It adds Oracle has just begun creating a cloud infrastructure partner ecosystem, and warns customers to wary of "high-pressure sales tactics" meant to drive cloud deals.
Dell Technologies' (DVMT) Virtustream cloud unit, acquired when the company bought EMC last year, is still in the Niche Players segment, but now close to crossing over to the Visionaries segment. Gartner notes Virtustream does a good job of running mission-critical enterprise apps from the likes of SAP and Oracle, and is expanding the number of regions and workloads it serves. But it cautions Virtustream is (with good reason) focused on its mission-critical enterprise niche rather than trying to offer a broader set of services.
While smaller players get some praise in Gartner's report, it still pales relative to what's shown for the big-3. Not surprisingly, AWS is said to be "the [IaaS] thought leader and the reference point for all competitors," and the platform most frequently chosen for large-scale data center migrations. Amazon's unmatched ecosystem of software and consulting partners also get a shout-out, and Gartner notes many enterprises are now spending over $5 million annually on AWS, which has reached a $14 billion revenue run rate.
Gartner pegs Azure's run rate (never disclosed by Microsoft) to be around $3 billion as of the end of 2016, with a few clients now spending over $5 million per year. It notes Microsoft is speeding the pace at which it launches new cloud features, has made inroads with open-source developers and is popular with companies that have extensively deployed Microsoft's on-premise server software. One point of criticism: Microsoft's support services could be better.
Google's ability to provide cloud clients with technologies and software tools developed to support its consumer services is seen as a strong point; last year, Gartner talked up Google's AI and analytics services. The web giant is also said to have greatly improved its ability to sell to enterprises over the last year. However, Gartner adds its clients typically choose Google as a secondary cloud provider rather than a primary provider, and that its feature set still isn't as broad as Amazon and Microsoft's.
A January Morgan Stanley survey found that on average, CIOs expect the percentage of all business app workloads to run on public clouds to grow from 16% to 46% by the end of 2020. Amazon, Microsoft and Google's clouds will claim a large portion of those migrated workloads, but as Gartner's commentary drives home, there are ways for smaller rivals to claim a chunk of them if they're able to differentiate and resist the urge to try and build a full-blown AWS rival.
For companies like IBM, Oracle and Dell, creating profitable small-scale cloud infrastructure businesses, even with other other cloud offerings layered on top, might be cold comfort -- these firms need significant cloud growth to offset declining traditional IT hardware, software and services revenue streams. But ultimately, this is a better result than losing money in a vain attempt to fully what match Amazon or Microsoft is doing.
Amazon's shares rose 0.1% to $996 on Tuesday morning. Microsoft's fell 0.4% to $70.58.
Visit here for the latest business headlines.