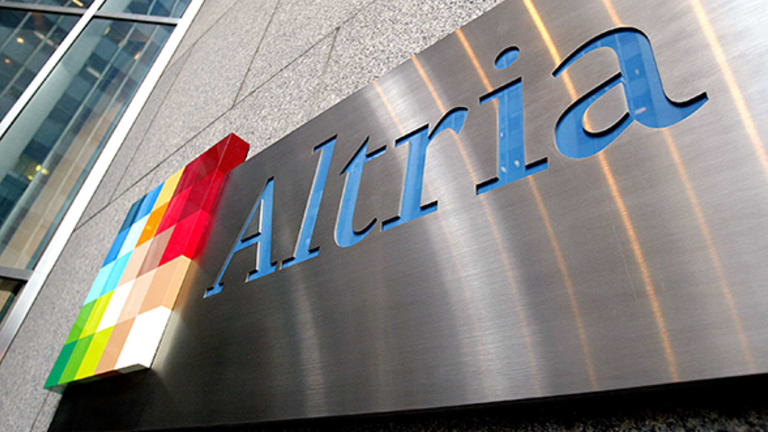 Altria Shares Drop After Earnings Report: Is It Time To Buy More?
This supposedly 'boring' stock again proves that investors don't have to buy shares in fast technology or risky companies to reap seriously big returns.
Cigarette maker Altria (MO) - Get Report reported mixed second-quarter earnings early Wednesday, and the stock has come under pressure since then, but it is a smart defensive growth investment.
Altria reported earnings of 81 cents a share on revenue of $4.88 billion, compared with analyst estimates of earnings of 80 cents a share on revenue of $5.01 billion. The company reported earnings of 74 cents a share on revenue of $4.88 billion a year earlier.
In the latest quarter, Altria also reported that shipment volumes of smoke-able products declined by 4.9% to 31.82 million units. But due to higher prices, the company maintained the same revenue.
Furthermore, despite the same revenue, falling costs and a lower share count helped the company return a higher profit. 
Altria spent $173 million buying back 2.7 million shares of its own stock in the second quarter. For the year to date, the company has spent $376 million on share buybacks and expects to spend the remaining $624 million of its $1 billion share repurchase program by the end of the year.
If the stock price remains in the $65 range this year, Altria will buy back about another 9 million shares
Altria also spent $1.1 billion in the quarter paying out its dividend of $0.565 per share, and it has paid out $2.2 billion in the form of dividends this year. The company has a target dividend payout ratio of 80% of its adjusted diluted earnings per share.
Returning capital to shareholders in the form of dividends and share repurchases has been Altria's story for decades. But with the rise of the e-cigarette, Altria has been forced to change with the times and fight back.
Lower volumes are likely due to at least some smokers switching to e-cigarettes. Altria's answer its Nu Mark unit.
Altria says that its MarkTen XL e-cigarette is sold in 50% of retail stores that sell such devices.
Overall, however, the company says very little about how well the MarkTen XL is doing and what kind of market share Altria has in the e-cigarette category. But, it has said that it is working with the Food and Drug Administration on how the product can be marketed and what labels and product risks need to be on the packaging.
Despite the slow growth that Altria is experiencing and the emergence of the e-cigarette, the stock has risen 14.6% this year, outpacing the S&P 500.
Some may think of Altria as a "boring" business, but it does well in both good and bad times. Returning capital to shareholders, having a No. 1 market share in traditional smoke-able products and making headway in the e-cigarette business are signs that Altria should continue to be a growth stock winner.
Investors should get on board now.
---
Tired of seeing some stocks tank by more than 5%, 10% or even 20% in one day? Check out this list of stocks and never worry about massively declining stock prices again.
This article is commentary by an independent contributor. At the time of publication, the author held stock in Altria.