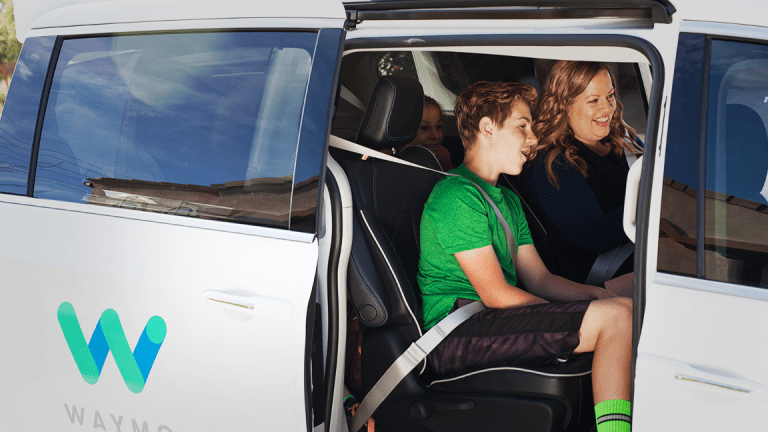 Alphabet's Waymo Is Now in the 'Prove It' Stage of its Self-Driving Journey
The self-driving firm has seen some negative coverage lately regarding stalled talks with automakers and issues with test cars. However, it still appears to have a technology lead.
After getting a fair amount of good publicity earlier this year, Alphabet's (GOOGL) - Get Alphabet Inc. Class A Report Waymo has seen a pickup in negative coverage in recent months.
There are two distinct reasons for this. One is a better understanding of the reluctance that many top-tier automakers still have when it comes to partnering with Waymo, in spite of its considerable hardware and software advances. The other is a better appreciation of how much more work needs to be done before autonomous cars are ready to take over from human drivers in most (never mind all) real-life situations.
Limited Traction with Top Automakers
A recent Bloomberg article provided an up-close look at the first issue: It reported that Honda (HMC) - Get Honda Motor Co., Ltd. Sponsored ADR Report , which recently struck a deal to invest $2.75 billion in General Motors's (GM) - Get General Motors Company (GM) Report Cruise self-driving unit over 12 years, reported that prior talks between Honda and Waymo failed in part because Waymo "wasn't willing to share" its self-driving tech with Honda, and was "seeking to cut a deal that would focus on Honda providing the cars."
Bloomberg added that over the last two months, Honda workers were able to "examine Cruise's code and get a close look at [its] technology," something that Waymo doesn't like to do. It also noted that Waymo likely wouldn't have been willing to sell a stake to Honda the way that Cruise did.
For the moment, only one top automaker -- Fiat Chrysler (FCAU) - Get Fiat Chrysler Automobiles N.V. Report  -- has even said that it's in talks to use Waymo's technology within cars that it would sell to consumers. Fiat, along with Jaguar Land Rover, is one of two automakers that Waymo has struck deals with to buy and retrofit up to tens of thousands of cars for Waymo's own use.
Waymo's Strengths
This reluctance among major automakers to adopt Waymo's platform exists even though Waymo's fleet has driven over 8 million miles autonomously on public roads (far more than any rival project), and has also simulated over 5 billion miles of driving within Google data centers. All of this work has gone a long way towards aiding the ability of Waymo's driving algorithms to handle difficult and unpredictable real-world conditions.
Waymo has also invested in building detailed maps for its system, and in creating LIDAR sensors that it claims are much cheaper than third-party offerings used by rivals. And with the help of those retrofitted cars, the Alphabet unit is pushing ahead with plans to launch a driverless taxi service (currently in the trial stage) along designated roads in the Phoenix area, with the expectation of launching in additional markets next year.
Why Automakers Have Been Wary
As Bloomberg's report suggests, the fact that automakers remain wary about surrendering control of a car's user experience -- something that they've zealously guarded over the years -- to Waymo has stood in the way of inking major technology supply and licensing deals. There still seems to be quite a lot of nervousness among automakers about having a relationship with Waymo similar to the ones that top PC makers have with Microsoft (MSFT) - Get Microsoft Corporation (MSFT) Report -- or for that matter, the relationship that major Android OEMs have with Google.
Alphabet and Microsoft are holdings in Jim Cramer's Action Alerts PLUS member club. Want to be alerted before Jim Cramer buys or sells GOOGL or MSFT? Learn more now.
And with the general consensus within the auto industry being that cars supporting Level 4 autonomy (able to drive themselves in many, but not all, situations) being 2-to-3 years away from becoming commercially available, automakers for now feel comfortable pushing ahead with their own self-driving projects instead of rushing to team with Waymo.
Many of these projects, it should be noted, make use of silicon and software supplied by either Nvidia (NVDA) - Get NVIDIA Corporation Report or Intel's (INTC) - Get Intel Corporation (INTC) Report Mobileye unit. Waymo's systems use Intel CPUs, programmable chips (FPGAs), Ethernet chips and 4G modems, but not Mobileye's chips or software.
Recent Issues with Test Cars
Separately, a much-discussed August report from The Information about Waymo's Phoenix trial indicated that the company's driverless taxi service isn't quite ready for primetime. Among other things, the article noted that the cars have trouble navigating T-intersections, can struggle to predict how individuals within a group of pedestrians will move and sometimes will miss a turn because they fail to get into the proper lane in time. More than a dozen locals are said to have voiced their dislike of the cars.
In addition, it was recently learned that a Waymo test car was involved in a highway crash near Google's Mountain View, CA headquarters. However, unlike the Uber self-driving car that fatally struck a pedestrian earlier this year, Waymo's car wasn't in autonomous mode at the time. Reportedly, the car's driver fell asleep at the wheel and failed to heed warnings to take control of the vehicle.
The Big Picture
As Gartner analyst Mike Ramsey has noted, autonomous driving has entered the trough of disillusionment -- the point within the technology hype cycle where excessive initial hype about the technology's pending adoption has given way to excessive pessimism. And while Waymo isn't by any means the only autonomous driving player to be hurt by this shift in perceptions, it has taken more of a hit than most peers.
There might be some parallels here with how 3G -- a mobile technology that was hyped to the moon during the Dot.com bubble -- suffered from delayed launches, battery life issues and limited phone availability during the first few years of the 2000s, before taking off in a big way later in the decade. 3G's large-scale adoption didn't stem from a "Eureka" moment where everything fell into place, but rather steady, persistent efforts by industry players to work out its problems.
And eventually, that allowed the technology to make good on a lot of its initial hype. The same might hold for autonomous driving in a few years' time -- particularly for Waymo, which has a larger base of R&D and test-driving work to lean on as it tries to work out bugs in its system.
As for the reluctance of many automakers to partner with Waymo, this is hardly the first time that companies worried about ceding control of the user experience to a third party have acted this way. And it's worth noting that many similar efforts carried out in the past have fallen flat.
Google of all companies should know this well. Over the years, the company has frequently seen Android OEMs and mobile carriers embrace rival operating systems due to worries about becoming too dependent on Google. The list includes Nokia's embrace of Windows Phone, Samsung's embrace of Tizen and efforts by a slew of international carriers to support the now-discontinued Firefox OS.
It's unlikely that Waymo will ever see the kind of market position that Android, aided by its developer ecosystem and bundling of Google apps and services, has achieved. However, given the meaningful technology lead that Waymo appears to have built in the self-driving wars, there's a good chance that it will eventually win over some of the automakers that are currently reluctant to license its technology.