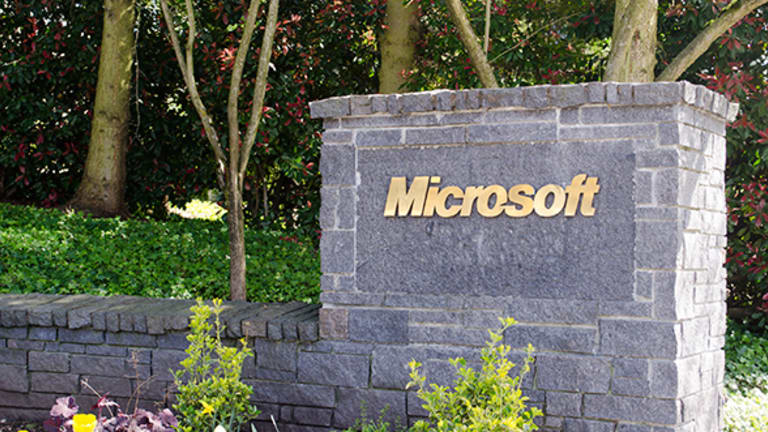 Alphabet's Surging Share Price Spells Advantage Over Microsoft for Investors
The parent company of Google is well-suited to adapt to the migration from desktops and laptops to mobile devices.
The biggest technology players are on a tear this earnings season. That raises the question which tech stock is the best investment?

Amazon, Microsoft (MSFT) - Get Microsoft Corporation Report , Alphabet (GOOG) - Get Alphabet Inc. Report (GOOGL) - Get Alphabet Inc. Report and most recently Apple have reported stellar earnings, surpassing analysts' expectations.
Particularly in the spotlight are Alphabet, which replaced Google as a stock and made some unprecedented announcements, and Microsoft, which has been scrutinized by investors since Satya Nadella's newly crowned leadership of Microsoft.
And so, which of the two would you pick? Decoding the numbers below will help investors make a decision.
Alphabet
Investors gave a thumbs up to Alphabet, the parent-company of Google, for its third-quarter performance as the stock hit an all-time high of $730 before retreating to close at $702 on earnings day. Yet, the stock was still up a sweet 7.7% in a mere 24 hours.
Commentators say one of the major reasons for the success was the unprecedented move to repurchase $5.1 billion worth of shares.
(In true Google style, the company decided to go with buying back shares worth $5,099,019,513.59. Why? Because 5.09901951359 is the square root of 26, the number of letters in the English alphabet.)
The search engine giant, with interest in self-proclaimed "moon shot" projects such as driverless cars, beat expectations on revenues and earnings.
The company announced third-quarter EPS of $7.35, beating EPS consensus estimates of $7.21. Net income was the real high point, skyrocketing 45% from a year ago, completely at the other end of the 7% decline seen in the third quarter last year. Revenues also surged 13% year over year compared to 20% growth last year in the same quarter.
Despite this robust performance, the issue of ad revenues still plagues Google. While the company is better prepared to adapt to the migration from desktops and laptops to mobiles with its Android OS, it still faces advertiser criticism from those who aren't sure about displaying their messages on relatively smaller smart phone screens.

Microsoft Corp.
After Satya Nadella took over in February last year, Microsoft seems to be moving in the right direction.
The company is building its focus on the cloud business and is reaping huge benefits. In the first quarter, revenue from the "Intelligent Cloud" division which comprises Windows Server and Azure climbed 8% to $5.9 billion, with revenue from the latter alone doubling.
This acceleration comes against the backdrop of companies such as IBM, Hewlett-Packard, Oracle, and EMC witnessing a slowdown in the adoption of their traditional hardware and software offerings, in favor of cloud services. The cloud shift is a clear advantage for Microsoft.
Another pleasant surprise was the launch of Windows 10, already installed on 110 million PCs. The credit mostly goes to the company's free upgrade strategy; it's yet to be seen if Windows 10 can be the next XP or 7.
Overall, the tech giant reported adjusted earnings of $0.67 a share versus estimates of $0.59 a share. It also beat revenue estimates of $21.04 billion and reported a figure of $21.66 billion. Despite beating expected results, revenue fell 12% year over year, though EPS did rise 6% from the last quarter.
The verdict
It's close, but the advantage goes to Alphabet.
Between the two, Alphabet's stock is cheaper and its share price has grown by 15% more than Microsoft's in 2015 already.
Microsoft's stable dividend yield of 2.7% is in sharp contrast to Alphabet's lack of a dividend, but Alphabet's potentially greater capital appreciation more than compensates. Plus, even at its all-time high price, Alphabet's share repurchase is a steal for investors. Go with Alphabet.
Not all tech investments are big, well-known names. Even Apple had to start out as an unknown small cap. To learn about other, exciting tech stock opportunities that could be the next Apple or Alphabet, click here.
This article is commentary by an independent contributor. At the time of publication, the author held no positions in the stocks mentioned.