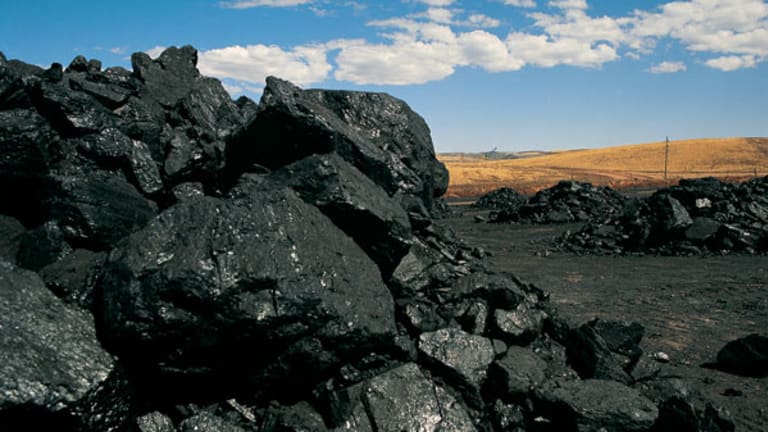 Alpha Natural Resources Is Worth the Gamble
Reports of coal's demise have been greatly exaggerated.
NEW YORK (TheStreet) -- Coming to terms with missing a great selling opportunity is a hard thing to do for many investors. It's usually at the point when you're asking yourself, "How much worse can things get?"
With losses of more than 65% since January 2012, Alpha Natural Resources (ANR) has been anything but a great stock. Investors who have put their faith in a revival in a coal industry -- which has suffered from low natural gas prices and weak steel production -- have no doubt placed the wrong bets.
But those who held true to their convictions (I won't say stubbornness) are feeling a little better today about their positions because ANR shares have finally bottomed.
Although the sector's coal misery, which has also hit rivals Arch Coal (ACI) - Get Albertsons Companies, Inc. Class A Report and Consol (CNX) - Get CNX Resources Corporation Report, seem far from over, ANR shares have gained more than 50% since August to close Wednesday at $7.32.
But it's not because the risks associated with this debt-heavy company are suddenly gone. Rather, I believe the Street has finally decided ANR has taken enough punishment. It's not a glowing endorsement. But it's enough to satisfy the question that things won't get any worse -- at least, for now.
[Read: Is BlackBerry a Buy Yet?]
In sort of a counterintuitive way, the prevailing pessimism surrounding anything associated with metallurgical coal, which is used in making steel, actually helped ANR in its recent quarter. Basically, despite ANR posting year-over-year revenue declines of close to 30% to $1.19 billion, revenue was still able to beat estimates. That speaks to the low expectations the Street has for this company.
But the good news is that on a sequential basis, not only did coal revenue post a more respectable 8% decline, but ANR was able to increase overall tons of coal sold by 1%, which suggests there's moderate relief on the horizon. Don't, however, mistake this for an "all is clear" signal. There are still risks in this operation.

In fact, after the stock broke north of $7 per share, Citigroup analyst Brian Yu downgraded ANR from neutral to sell while also cutting $2 off his price target to $5.10 per share. Essentially Yu believes there's roughly 40% of downside risk from current levels.
Be that as it may, given that domestic thermal coal inventories continue to trend down along with decent (not great) advances in metallurgical coal, I believe ANR is worth a gamble here despite trading near all-time lows. As noted, the entire sector has been a disaster. But that didn't stop Arch Coal, whose stock is down more than 40% year-to-date, from also posting a narrower-than-expected loss.
What this means is that even amid tough market environments, operational efficiency can still be a key differentiator. That ANR was able to beat the Street's adjusted earnings-per-share estimates by 20% suggests management's operational improvements, including plans to further reduce operating and support expenses, have begun to pay dividends. Management feels confident these initiatives will help save the company $200 million annually beginning in 2014.
What this means is that while ANR's debt situation, which ballooned upon acquisition of Massey Energy for $7.1 billion in 2011, continues to be an overhang, the annual cost savings will help to service that debt. Massey, hit with class-action and negligence litigation because of an accident at one of its mines that killed 29 workers in 2010, before the merger, has failed on its promise of producing value to ANR shareholders.
[Read: Best Credit Cards for Your Holiday Shopping]
For now, it's certainly a step in the right direction that ANR seems ready to put the class-action lawsuit behind it. The company said that of the proposed $265 million settlement, it expects insurance will cover $70 million. It was an unfortunate event. But this disaster heightened awareness of the sort of labor risks that have been ignored in this industry for years.
In that regard, investors and ANR employees have to be encouraged two of ANR's operations, the Chesterfield preparation plant and the Roaring Fork No. 4 facility, received Sentinel of Safety awards. Essentially, there are now positive signs re-emerging into what was once a horrific story.
From an investment perspective, making a play for ANR here requires a certain comfort level about the future demand of coal. These shares, which are trading on the assumption that coal prices won't increase at all, still seem cheap.
While I'm not betting on an overnight recovery, I don't share the Street's pessimism for coal's infinite demise. With management's cost-cutting plans, which should add a boost to operating cash flow, these shares should reach a fair market value of $10 over the next 12 to 18 months.
At the time of publication, the author held no position in any of the stocks mentioned.
Follow @saintssense