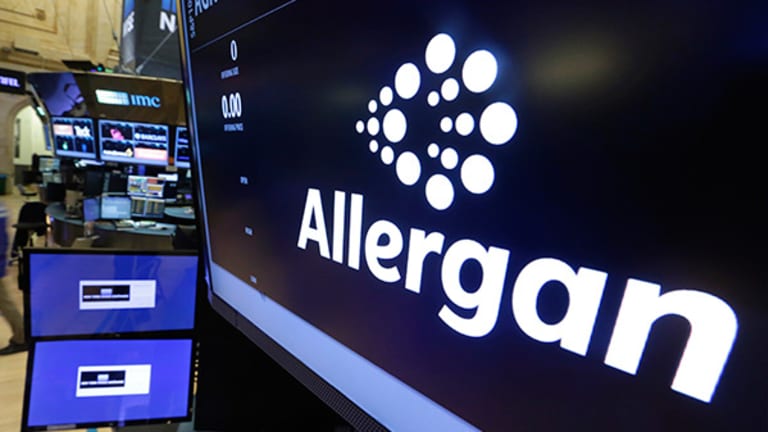 Publish date:
Allergan Needs a Shot of Investor Confidence
Jim Cramer bought this stock for his charitable portfolio. Should you?
Jim Cramer bought this stock for his charitable portfolio. Should you?
Allergan Pharmaceuticals (AGN) - Get Report  is a volatile stock at a time when drug stocks are under the microscope. Shares, currently trading around $213, are down almost 32% for the year to date.
Despite the drop, I think the stock can be cured. AGN reports third-quarter earnings on Wednesday.
Allergan has had a busy year. Its tax inversion deal with Pfizer (PFE) - Get Report  was derailed by federal regulators, the company dumped its generic drug business on Teva Pharmaceuticals (TEVA) - Get Report and management has gone on a dilutive acquisition spree that has kept downward pressure on the stock.
On Aug. 11, Allergan announced it would acquire eye care company ForSight Visions. On Sept. 6, AGN cut a deal to buy Retrosense Therapeutics and then on Sept. 14, management decided to purchase Vitae Pharma.
If that wasn't enough deal making, on September 20, Allergan announced it would acquire Tobira Therapeutics (TBRA)  for an upfront payment of $28.35/share in cash, and up to $49.84/share in Contingent Value Rights. AGN is paying a massive 498% premium for the company. TBRA had an $89 million market cap before the announcement that AGN would pay approximately $533 million for the company. Investors weren't too thrilled with the deal!
Tobira is focused on developing and commercializing therapies for non-alcoholic steatohepatitis (NASH) and other liver diseases. NASH is believed to affect 5% of the U.S. population so a successful therapy could represent a huge opportunity. The company estimates the NASH market is worth $8 billion annually.
Once the air clears, I think investors will focus on the company's strong drug pipeline and the stock will turn around.
TheStreet's Jim Cramer, whose Action Alerts PLUS portfolio holds Allergan, is a long-term bull on the stock. In a recent note, he and co-portfolio manager Jack Mohr maintained their confidence that "the company's fundamentals will shine above its competitors, especially considering its focus on R&D and pricing controls, both of which should satisfy regulators."
Allergan has nearly 15 drugs that could receive Food and Drug Administration approval and over 65 drugs in various stages of development. The company has 40 branded drugs on the market that are still growing. Year to date, Allergan has 13 major Pharma and device approvals and 9 major submissions under its belt.
For example, in the second quarter, total branded drug sales increased 8.1% sequentially. Drugs like Linzess grew 34%, Restasis grew 19.82% and even Botox was up 16.8%. Allergan's eye care franchise, which includes drugs like Restasis, Combigan and Ozurdex, were up 9% to $955 million. Recent drug launches like Viberzi, Kybella and Vraylar have a promising future. Some investors worry about competitive attacks on the company's blockbuster dry eye medicine, Restasis, but Allergan should be able to hold off any meaningful competition for another few years.
For the third quarter, investors are looking for revenue of $3.688 billion and earnings of $3.57.
Management gave fiscal 2016 guidance of 10% branded net revenue growth to between $14.750 billion and $15.0 billion. Gross margin is expected to be 89% and adjusted fully diluted earnings per share should be between $13.75 and $14.20. Analysts think the company can earn as much as $16.75 next year.
Since the first quarter, the company has reduced its debt by $9 billion and has promised to restart its share repurchase program. Management expects to buyback as much as $5 billion worth of stock.
Typically large Pharma companies trade between 17 and 19 times forward estimates. If investors were to renew their focus on the company's pipeline and less on its dilutive deal making, the shares would trade well over $250. I think this stock can be cured, but it may take a few months of choppy performance to get back on track.
This article is commentary by an independent contributor. At the time of publication, the author held no positions in the stocks mentioned.